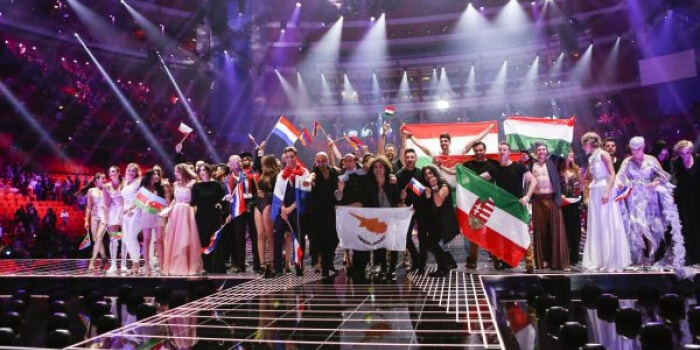 Semi-final 1: The 10 songs qualified for the Grand Final
The happy 10 qualified for the Grand Final on Saturday: Armenia, Austria, Azerbaijan, Croatia, Cyprus, Czech Republic, Hungary, Malta, Netherlands, Russia



Eurovision Song Contest 2016 has begun! The first Semi-final has just finished in Globen Arena. 18 songs competed for the 10 tickets to the Grand Final on Saturday 14 May 2016. The running order in the Grand Final will be determined by a draw (which half of the semi-final each country will compete in) and the broadcaster SVT after Thursday's Semi-final 2.



Semi-final 1 result
Running-order
Hungary
Pioneer

Freddie

Freddie
4
Croatia
Lighthouse

Nina Kraljić

Nina Kraljić
5
Netherlands
Slow Down

Douwe Bob

Douwe Bob
6
Armenia
LoveWave

Iveta Mukuchyan

Iveta Mukuchyan
7
Russia
You Are the Only One

Sergey Lazarev

Sergey Lazarev
9
Czech Republic
I Stand

Gabriela Gunčíková

Gabriela Gunčíková
10
Cyprus
Alter Ego

Minus One

Minus One
11
Austria
Loin d'ici

Zoë

Zoë
12
Azerbaijan
Miracle

Samra

Samra
14
Malta
Walk on Water

Ira Losco

Ira Losco
18
Finland
Sing It Away

Sandhja

Sandhja
1
Greece
Utopian Land

Argo

Argo
2
Moldova
Falling Stars

Lidia Isac

Lidia Isac
3
San Marino
I Didn't Know

Serhat

Serhat
8
Estonia
Play

Jüri Pootsmann

Jüri Pootsmann
13
Montenegro
The Real Thing

Highway

Highway
15
Iceland
Hear Them Calling

Greta Salóme

Greta Salóme
16
Bosnia & Herzegovina
Ljubav Je

Dalal & Deen feat. Ana Rucner & Jala

Dalal & Deen

feat. Ana Rucner & Jala

17
Voting & Points


Each of the countries participating in Semi-final 1 plus France, Sweden and Spain.
Each voting country's jury and televoters each gave 1,2,3,4,5,6,7,8,10 and 12 points.
The detailed voting & points in Semi-final 1 will be revealed after the Grand Final on Saturday 14 May 2016.


Eurovision Song Contest 2016


The 61st Eurovision Song Contest takes place on 10, 12 and 14 May 2016. The contest is hosted by Stockholm, Sweden, and produced by the Swedish broadcaster SVT.


Place: Globen Arena, Stockholm, Sweden
Participants: 42
Semi-final 1: Took place on 10 May 2016 with 18 participants. The 10 songs with highest points advanced to the Grand Final
Semi-final 2: Takes place on 12 May 2016 with 18 participants. The 10 songs with highest points advances to the Grand Final
Grand Final: Takes place on 14 May 2016 with 26 participants; Sweden (host), Big-5 (Germany, Spain, France, Italy and United Kingdom), 10 best from Semi-Final 1, 10 best from Semi-Final 2