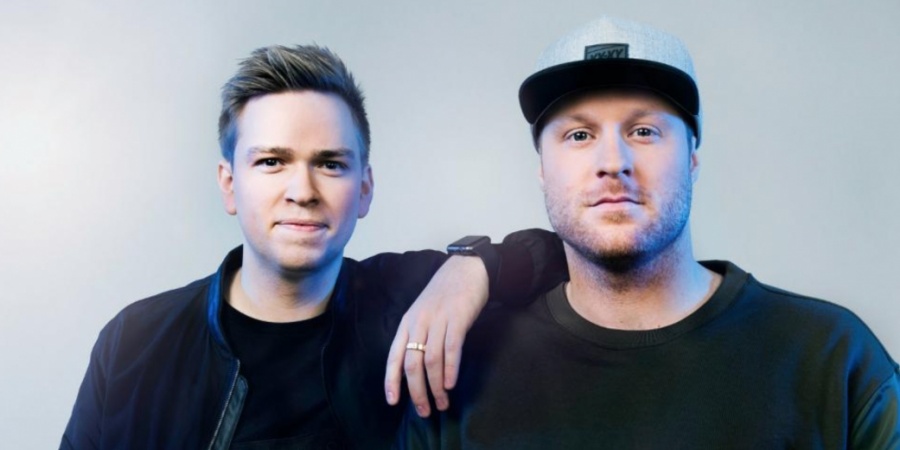 Joakim With Steen (aka JOWST) and Aleksander Walmann (Photo: NRK)
JOWST from Norway: We're in it to win it
INTERVIEW: JOWST and Aleksander talk about Eurovision, dreams, nerves and stepping out of the comfort zone. And they reveal some of their plans for Kyiv 2017



"Grab the Moment" is about stepping out of the comfort zone, following your dreams, and just… grab the moment!

We talked with the guys behind the Norwegian entry for Eurovision 2017, Joakim With Steen (aka JOWST) and Aleksander Walmann two weeks after their victory in Melodi Grand Prix in Norway. They are in the studio preparing for Kyiv in May, and feel ready for the Eurovision stage:

– We are super excited, and I think we have a great shot, says Aleksander who is the front singer in the band. He continues:

– Our song has a really international sound, and the messages in the lyrics are really good. Our goal is to go out on that stage and have fun, and inspire other singer-songwriters, producers, anyone, to follow their dreams and grab the moment.



"Grab the Moment" – From MGP 2017

"Grab the Moment" – Lyrics video




Grab the Moment: Important message


The song title "Grab the Moment" is used again and again in our talk – and there's a good reason for that. The title and lyrics mean a lot to both of them:

– I'm very focused on the lyrics, and I was very involved writing them. Jonas (Jonas McDonnell) wrote the main part of the lyrics, and I told him that I wanted the lyrics to be based on motivating people, and bring out that message. It is not a song about love, sex, drugs, or anything like that, but a song with a good meaning, says Joakim, who composed the music for Grab the Moment.



So when it's all or nothing

I put my nerves in the coffin

I'm gonna kill that voice in my head

I don't care about falling

I'm gonna grab the moment

From the lyrics of "Grab the Moment"

Aleksander fully agrees:

– The reason I said yes to the project at first, was the lyrics. Because it was so relatable to me. So, I just grabbed the moment and said yes to the project with Joakim. I have faith in the song.

– The main message in the song is to follow your dreams, and stepping out of the comfort zone.

Joakim adds:

– But not only to have the dreams, but to really take those steps to accomplish your goals. People having these dreams, and people are saying to them: "You can't do this, you can't do that". That is like the voice in your head that you have to kill.



When it's all or nothing, I put my nerves in the coffin


Eurovision Song Contest is just one and a half month away, and in May they are going to be a part of the biggest music event, with more than 200 million people watching. What about nerves? Can they put their nerves in the coffin, when it's all or nothing?

– It will be like an overload of nerves. I think I will be like being on auto pilot when we're there, says Joakim.

For Aleksander, it's different:

– For me it's not auto pilot. Music is emotions, and I really just want to be in the moment there, and remember it, and be present, and just take a look at Joakim and see he's having a good time behind his desk, just rocking out in front of… 200 million people! Aleksander laughs, and continues: That's crazy to say!

Joakim laughs:

– I don't believe that. 200 million people. Crazy!

– But Joakim, you can hide behind your LED mask, lucky bastard, says Aleksander still laughing, and continues:

– Yeah, being on stage in front of millions of people. It's our dream, and I'm so happy that I said yes to join.


No big changes in the stage show


When they won Melodi Grand Prix in Norway, the stage performance was influenced by their electronic song, and it is important for Joakim and Aleksander, that the music and the song stay in focus in Kyiv:

– It is based on the same setup as in Norway. It's almost similar, but bigger. We will have to change the confetti with something else, and we will not have any dancers on stage, says Joakim and continues:

– We will change our clothes, and we will get some new drums on the stage.



The music and the song is the most important in our show. Just making it bigger for Eurovision

Aleksander Walmann

Aleksander adds:

– We're going to be 4 people on stage. Just the band. We are working on the graphics. We're going to do some more graphics, and some more surprises that we can't reveal.

– The most important part for Joakim and me, is just to get the message in the song out. The music and the song is the most important in our show. Just making it bigger for Eurovision, but to keep the focus on the song and the lyrics, says Aleksander.

– The changes we do, we do it for enhancing the song and the music, says Joakim.

And Joakim will – of course – put on his LED mask again.


Request for a change in the Eurovision rules


In the song "Grab the Moment" there are some electronic voices after the chorus, and the Eurovision rules states that everyone has to sing live. It is not allowed to have any human voices recorded on the music track. Joakim explains their plans:

– We have made like an instrument with voices. So, when I play a keyboard note, the voice is triggered. It's not like a sample, it's just like an electric piano, says Joakim and continues:

– And we are believing that maybe the rules will change this year, so we have made two versions. We have made one version, with the voices (recorded) on the music track, and we have made a new version without the voices on the track, that we will take, if we are not allowed to use the first.

– We are hoping that they will change the rules, says Joakim

Have you heard about a possible rule change?

– We have heard that its possible, but I have not got it confirmed yet.

So, you have asked EBU?

– NRK (The Norwegian broadcaster) is working on it right now and they are positive.

– They want the change too, because this is like a big part of pop music, this is like what music is all about. On the top 20 Spotify list, you always hear songs with electronic voices. So, it's time for a change, and follow the time, says Joakim.


We're in it to win it


Aleksander started listening to the 42 other Eurovision songs two days ago, while Joakim has listened to all of them already:

– The Danish song is one of my favorites. I think our biggest competitor is Italy, because they have got all this publicity, but I think the strongest song, apart from our song (laugh) is the song from Israel: Imri. That is a very good song, says Joakim.

– Our goal is to win it. And I think we have a really really good song, says Aleksander, and Joakim follows up:

– And we're in it to win it!

They had faith in their entry before Melodi Grand Prix, and this hasn't changed:

– Joakim placed a bet, that we were going to win in Norway. He won a lot of money (both laughs), so I think he's going to place a bet that we're going to win in Kyiv.


Do you have a message to your fans?


– The general message is to really check out the song, and check out the lyrics. Read the lyrics while you're listening to the song, and think about them, says Joakim.

Aleksander gets the last words:

– And I just want to say thank you to all our Norwegian fans and European fans for all the support, and just have fun with music, keep chasing your dreams, and don't give up!