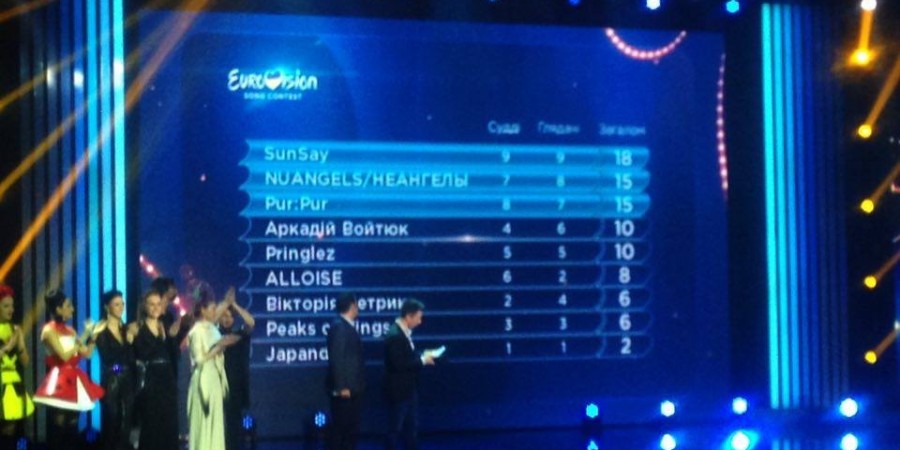 UKRAINE
Ukraine: All the finalists chosen
The two semi-finals has ended in Ukraine. Three finalists from each of the semi-finals have been chosen for the final. The last three finalists were chosen tonight and completes the line-up for next weeks final
Ukraine is back after one year of absence. This year they will choose their representative for Eurovision Song Contest 2016 in Stockholm, among 18 songs from two semi-finals.
The second semi-final took place this evening in Kiev with nine contestants. Only three of the contestants qualified for the final, and will be joined by Jamala, The Hardkiss and Brunettes Shoot Blondes from last weeks semi-final.
Semi-final 2

13 February
SunSay – "Love Manifest"
Pur:Pur – "We Do Change"
NeAngely – "Higher"
Peaks of Kings – "Last Hope"
Pringlez – "Easy To Love"
Victoria Petryk – "Overload"
Arkadij Vojtjuk – "Vse V Tobi"
ALLOISE – "Crown"
Japanda – "Anime"
Final
21 February
Jamala – "1944"
The Hardkiss – "Helpless"
Brunettes Shoot Blondes – "Every Monday"
SunSay – "Love Manifest"
Pur:Pur – "We Do Change"
NeAngely – "Higher"
Ukraine 2016
There are three shows in this year's Ukrainian selection:
6 February: Semi-final 1
13 February: Semi-final 2
21 February: Final
The three shows will be aired on the public "First Channel" and on the private channel STB. The winner will be selected by a 50/50-mix of televoting and a jury:


After one year's absence from Eurovision, Ukraine is back this year! They have participated 12 times since it's debut in 2003, and with great succes. Best result is when Ruslana won at Ukraine's second Eurovision Song Contest with the song "Wild Dances" in 2004. They finished 2nd two times (2007 and 2008), and 8 of the 12 times they finished in top-10.
Since the introduction of Semi-finals in 2004 Ukraine qualified to all the 11 Grand Finals.