Eurovision Song Contest 2017: Kyiv
In less than 50 days Eurovision Song Contest 2017 begins. Eurovision 2017 will be held in Kyiv, Ukraine on 9, 11 and 13 May 2017. Find all the information about Eurovision 2017: City, Hosts, Participants, Arena, Eurovision Village, Euroclub and Euro Fan Café
We will update this page with all the information about Kyiv 2017 as it appears.

When is Eurovision 2017?



The Ukraine broadcaster NTU has proposed the dates for the shows, with the Grand Final to be held on 13 May 2017. These dates have been confirmed.

Hosts of Eurovision 2017 are Oleksandr Skichko, Volodymyr Ostapchuk & Timur Miroshnychenko.


Participants


43 countries will participate in the contest (confirmed by EBU):




The Semi-final Allocation Draw took place on 31 January 2017. The allocation draw determines which countries take part in which of the two Semi-finals.

EBU Member Broadcasters, on behalf of their countries, had until mid-September 2016 to formally submit their applications to take part in Eurovision 2017. Broadcasters could withdraw their applications before 10 October 2016 without penalty.


Host City: Kyiv

Київ



Host City Kyiv Official Trailer

Two Ukrainian cities were in the run for hosting the contest: The capital Kyiv and Odessa, but after a long process Kyiv won the race and will be hosting Eurovision Song Contest 2017.

Kyiv (or Kiev) is the capital of Ukraine and also the largest city. Kyiv hosted the 50th Eurovision Song Contest in 2005 as a result of Ruslana's "Wild Dances" victory in 2004. Kyiv also hosted Junior Eurovision in 2009 and 2013.



Population: 2,900,920
Hotels: 265 hotels, capacity: 23,000 in Region (19,500 in Kyiv itself)
Airports: 2 international airports: Boryspil and Zhuliany
Urban transport: Metro, bus, tram, trolleybus, intra-city ring railway service



Arena: Kyiv International Exhibition Centre

Международный выставочный центр
Location: Brovarskiy Avenue 15, UA-02002 Kyiv, Ukraine Google Maps
Metro-station: Livoberezhna (Line

1

Sviatoshynsko-Brovarska)
Website: iec-expo.com.ua

The arena for Eurovision Song Contest 2017 will be "Kyiv International Exhibition Centre". The expo center is an indoor exhibition center spanning over an area of 58,000 square metres, hosting major exhibitions and trade fairs.

The capacity of Kyiv International Exhibition Centre will be up till 8,000 people for each of the three live shows and the six rehearsals, with around 1,500 standing and 6,500 seated spectators.

The Kyiv International Exhibition Center is an internationally recognized venue and prides itself as the biggest expo center in Ukraine. Spanning over an area of 58,000 square meters, the IEC comprises of three exceptional first-class exhibition pavilions which includes around 28,018 square meters of exhibition space. It consists of a congress hall, 14 conference halls, restaurants, cafes, negotiation rooms, parking facilities, checkrooms, and many more. Services offered by the center consists of internet facilities, banking services, office accommodation facilities and much more. The halls are flexible and can be used for several purposes.

The expo center is situated five minutes walk from Livoberezhna underground station at Brovarsky Avenue and only some stops by metro or 10 minutes away from the centre of the city. It also has good connection with Boryspil International Airport lying at 27 km distance.

The preparations inside the expo center will start on 18 March 2017, where the technical and creative team behind Eurovision 2017 take over the arena for the next couple of months, but some of the basics have already started.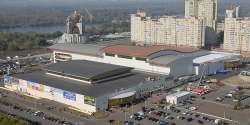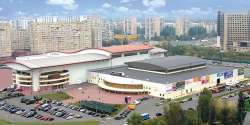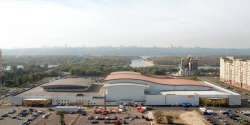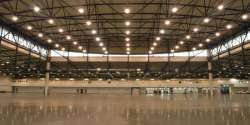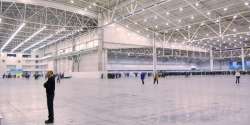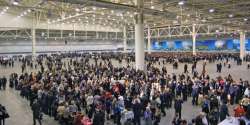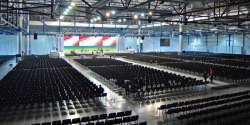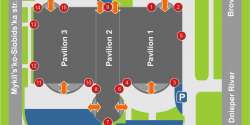 The stage is designed by Florian Wieder – a champion in stage design. The stage design is a circular footprint, which exemplifies the theme for the contest this year: Celebrating Diversity.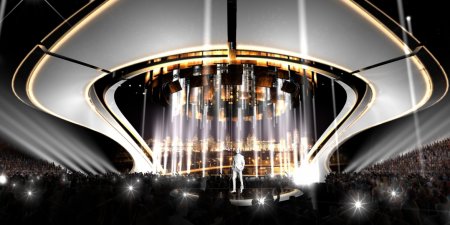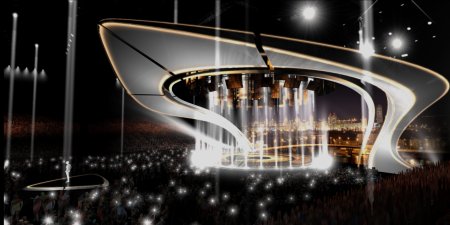 Tickets


The first batch of tickets for Eurovision Song Contest 2017 went on sale on 14 February 2017. Read more: How to get tickets for Eurovision 2017 in Kyiv


Red Carpet: Mariyinsky Palace

Маріїнський палац
Location: Mykhaila Hrushevskoho St, 5A, UA-01008 Kyiv, Ukraine Google Maps
Sunday 7 May 2017

The Red Carpet will take place on Sunday 7 May 2017 at Mariyinsky Palace. Mariyinsky Palace is the official ceremonial residence of the President of Ukraine in Kyiv.

At the Red Carpet all the contestants are presented for the press, fans and guests with lots of beautiful dresses, festivitas and selfies.

In Stockholm 2016 during the Red Carpet the big-5 countries (France, Germany, Italy, Spain and United Kingdom) made a draw for which half of the Grand Final they would perform in.

The Red Carpet event will be streamed live on YouTube. The Opening Ceremony will be held in Euro Club


Euroclub: CEC Parkovy

КВЦ Парковый
Location: Parkova Doroha 16a, UA-01601 Kyiv, Ukraine Google Maps
Website: parkovy.info

The Euro Club is the venue for some special parties, the official after parties and performances by participants. The Opening Ceremony will also be held in EuroClub. Needs official accreditation for access.

City of Kyiv will house the Euroclub at the Parkovy Convention and Exhibition Centre.

Access to Euroclub is only for accredited delegations, press and a small number of fans (max 10 per country). At Eurovision 2016 the city of Stockholm organized Euroclub and gave access to 2500 OGAE members with a special OGAE accreditation.


Eurovision Village: Khreschatyk

Хрещатик
Location: Khreschatyk street Google Maps

Eurovision Village is the official festival area in Kyiv during Eurovision Song Contest 2017. In Eurovision Village you can see live performances by artists, DJs, special events and public viewing of the shows broadcasted from the Arena. Open for everyone.

Khreshchatyk is the main street of Kyiv. The street has a length of 1.3 km and the street is included in the Top 20 of most expensive shopping streets in Europe.


Euro Fan Café

Location: Not announced yet

Euro Fan Café is open for everyone where you can mingle with other Eurovision fans, have a drink, get a bite, join some of the events like quizzes, competitions, performances and meets and greets with some of the artists.

The location of Euro Fan Café 2017 has not been decided yet.


Press


More than 1,500 journalists from all over the world will come to Kyiv to cover Eurovision Song Contest, along with delegations from 43 countries and thousands of fans.

The press centre in Kyiv will be in the Kyiv International Exhibition Centre.

Accreditation for press and fans attending Eurovision Song Contest 2017 is open until 2 April 2017, 12:00 CET.