Eurovision Song Contest 2018: Portugal
Eurovision Song Contest 2018 will be held in Portugal in May 2018. Find all the information about Eurovision 2018: Date, City, Participants, Arena, Eurovision Village, Euroclub and Euro Fan Café

We will update this page with all the information about Portugal 2018 as it appears.

Eurovision Song Contest 2018 will be organized by the Portuguese public broadcaster Rádio e Televisão de Portugal (RTP). The first meeting for arranging Eurovision Song Contest 2018 in Portugal took place on Monday 15 May 2017, chaired by the Director General of RTP, Nuno Artur Silva.


When is Eurovision 2018?


Eurovision 2018 will be held in May. The dates have not been announced yet.

The Eurovision week will have three shows: Semi-final 1 on Tuesday, Semi-final 2 on Thursday and the Grand Final on Saturday.

The possible dates for Eurovision 2018 are:


Semi-final 1

Tuesday

Semi-final 2

Thursday

Grand Final

Saturday

1 May
3 May
5 May
8 May
10 May
12 May
← Most possible dates
15 May
17 May
19 May
22 May
24 May
26 May
The UEFA Champions League Semi-finals are on 1st and 2nd May 2018
The UEFA Europa League will have a Semi-final on 3 May 2018
The German Football Cup Final is on May 19 May 2018
The UEFA Champions League Final is on 26 May 2018

The most possible dates are 8 - 10 - 12 May 2018 – It is still a guess. The dates are not confirmed or announced. EBU's Reference Group met on 13 June 2017 in Lisbon, but no provisional dates were announced.


Host City & Arena


The Portuguese public broadcaster Rádio e Televisão de Portugal (RTP) announced on 15 May 2017 that Eurovision Song Contest 2018 will be held in Lisbon, but later RTP said that they will look at the entire map of Portugal before they make a decision.

Besides Lisbon, other cities have shown interest for hosting Eurovision 2018: Guimarães, Gondomar, Faro and Santa Maria da Feira.

The arena for Eurovision 2018 has still not been confirmed, but everything points towards MEO Arena (originally Pavilhão Atlântico).

The European Broadcasting Union (EBU) has already suggested the Portuguese broadcaster RTP to chose MEO Arena as the venue for Eurovision 2018, and the Director General of RTP, Nuno Artur Silva, has also expressed the MEO Arena as a likely venue to host Eurovision 2018.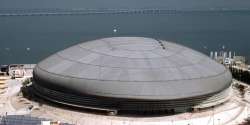 MEO Arena, Lisbon

The MEO Arena is perfect for a huge event like Eurovision Song Contest. With a capacity of 20,000 it is one of the largest indoor arenas in the EU. The arena is placed very central in Lisbon with well branched infrastructure.

The MEO Arena has hosted several big events, including:


1999: World Youth Championship in basketball (under 19)
2005: MTV Europe Music Awards
Concerts: Justin Bieber, Adele, Lady Gaga, Britney Spears, Kylie Minogue

EBU's Reference Group meets on 13 June 2017 in Lisbon. Maybe the MEO Arena can be official chosen as the arena for Eurovision 2017 at this meeting.


Participants


EBU Member Broadcasters, on behalf of their countries, have until mid-September 2017 to formally submit their applications to take part in Eurovision 2018. The final list of participating countries will be released close to the end of 2017.

21 countries have expressed their interest for participation in the contest, which is subject to change:




The Semi-final Allocation Draw takes place in January 2018. The allocation draw determines which countries take part in which of the two Semi-finals.


Tickets


Tickets usually go on sale in November/December the year before, so we expect the tickets for Eurovision 2018 to be released late 2017.


Eurovision Village


No information


Euroclub


No information


Euro Fan Café


No information