How to get tickets for Eurovision 2017
Here we will keep you update with all the information about getting tickets for Eurovision Song Contest 2017 in Kyiv. Tickets for Eurovision 2017 are likely to go on sale in January 2017
Usually the tickets go out early the same year or late the year before the contest. This year, the tickets for Eurovision Song Contest 2017 in Kyiv will likely go on sale in January 2017 according to European Broadcasting Union (EBU).



We will update this page with all the information about the Eurovision Tickets.


Like us on Facebook to get updates about tickets for Eurovision 2017:






UPDATE 15 November 2017:
EBU has announced, that tickets for Eurovision Song Contest 2017 are likely to go on sale in January 2017


Last year the ticket sale for Eurovision 2016 started on Thursday 26 November 2015 through the ticket partner axs.se.

The three previous years the tickets has been released in various batches, depending on the allocation of seats in the arena. Last year there were three batches of tickets: The first batch of tickets went on sale on 26 November 2015. The second on 29 February 2016 and the third on 8 April 2016.

It is strongly recommended that tickets are only purchased through official partners.


Special tickets for fans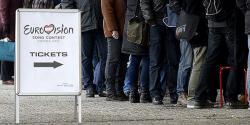 A number of tickets will be reserved for the members of one of the official Eurovision fan clubs around the world. These tickets are mainly for standing right in front of the scene in a special fan zone. The tickets are only sold in packages with six tickets to six shows: The three live-shows and the three jury-rehearsals. Read more about last year's OGAE fan packages.

The fan tickets will be sold through the official Eurovision fan clubs.