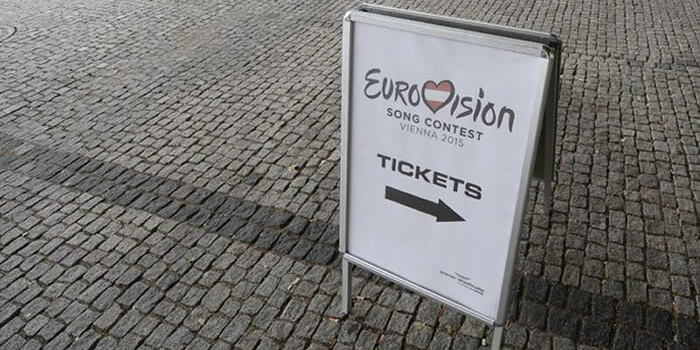 TICKETS
Eurovision 2015: 20,000 additional tickets on sale
From today more tickets for Eurovision Song Contest 2015 are available. The tickets will be released in batches from today and until the Eurovision week starts
The next weeks the last 20,000 tickets for Eurovision Song Contest 2015 in Vienna will be on sale. The tickets will be released in various batches from today and the next weeks depending on the allocation of seats in the arena, Wiener Stadthalle.
ORF, the Austrian broadcaster and producer of the show, will inform on Facebook and Twitter when the remaining tickets are available.
There has been three earlier batches of tickets: The first batch of tickets went on sale on 15 December 2014. The second on 29 January 2015 and the third on 27 February 2015.
Nine shows, Six categories, from €14 to €390
The tickets are offered in six different categories and sold in several batches. The prices varies depend on the particular show. They range from 14 Euros (Category D, Family rehearsals, Semi-finals) over a wide range in the medium price range up to 390 euros for tickets to the Grand Final on 23 May (Gold Category). There will be tickets for standing and seating.
All tickets can be purchased from the official ORF-ticketing partner:
oeticket.com
Or by phone:
ÖT Service Phone: +43 1 96096
Ticket categories & prices


Mon 18 May, 21:00 CET - Jury Semi-final 1 - rehearsal
Seats category Gold - €99
Seats category A - €69
Seats category B - €49
Seats category C - €29
Seats category D - €18 (restricted view)
Standing - €49
Tue 19 May, 15:00 CET - Family Semi-final 1 - rehearsal
Seats category Gold - €69
Seats category A - €49
Seats category B - €29
Seats category C - €18
Seats category D - €14 (restricted view)
Standing - €29

Tue 19 May, 21:00 CET - Semi-final 1 - LIVE TV-SHOW
Seats category Gold - €150
Seats category A - €120
Seats category B - €99
Seats category C - €59
Seats category D - €28 (restricted view)
Standing - €99

Wed 20 May, 21.00 CET - Jury Semi-final 2 - rehearsal
Seats category Gold - €99
Seats category A - €69
Seats category B - €49
Seats category C - €29
Seats category D - €18 (restricted view)
Standing - €49

Thu 21 May, 15.00 CET - Family Semi-final 2 - rehearsal
Seats category Gold - €69
Seats category A - €49
Seats category B - €29
Seats category C - €18
Seats category D - €14 (restricted view)
Standing - €29

Thu 21 May, 21.00 CET - Semi-final 2 - LIVE TV-SHOW
Seats category Gold - €150
Seats category A - €120
Seats category B - €99
Seats category C - €59
Seats category D - €28 (restricted view)
Standing - €99

Fri 22 May, 21:00 CET - Jury Grand Final - rehearsal
Seats category Gold - €120
Seats category A - €99
Seats category B - €79
Seats category C - €49
Seats category D - €18 (restricted view)
Standing - €79

Sat 23 May, 13:00 CET - Family Grand Final - rehearsal
Seats category Gold - €99
Seats category A - €69
Seats category B - €49
Seats category C - €29
Seats category D - €18 (restricted view)
Standing - €49

Sat 23 May, 21:00 CET - Grand Final - LIVE TV-SHOW
Seats category Gold - €390
Seats category A - €290
Seats category B - €220
Seats category C - €98
Seats category D - €42 (restricted view)
Standing - €220