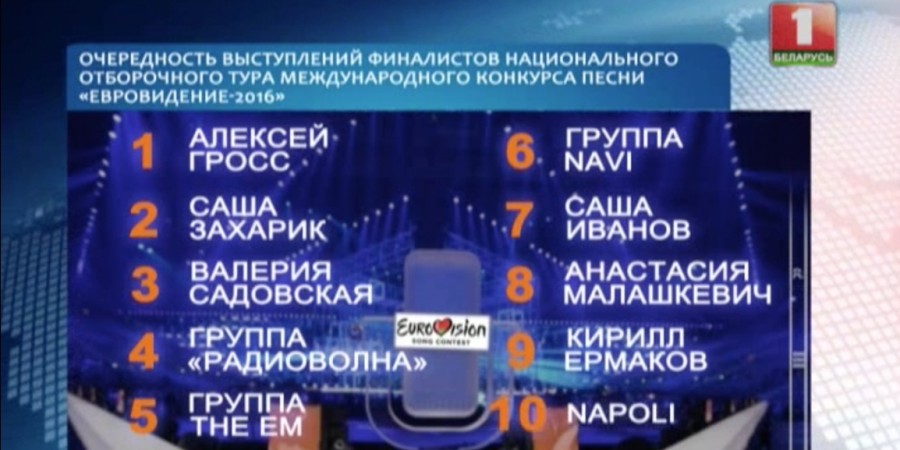 BELARUS
Belarus: The ten finalists announced
The national broadcaster of Belarus, BTRC, has decided the ten songs and artists for their national selection for Eurovision Song Contest 2016 after auditions in front of an expert jury. Watch and listen to the auditions of the ten here.
UPDATE 9 Dec: Running order announced
A professional jury picked the lucky ten to compete for the Belarusian ticket to Eurovision Song Contest 2016 in Stockholm. The national broadcaster of Belarus, BTRC, has held auditions in a studio in Minsk, where the jury watched and listened to 84 hopefull artists performing.
The representative of Belarus will be determined 100% by public televoting at the Eurofest 2016 to be held on 22 January 2016.
Finalists - running order
Alex Gross - "Flame"
Sasha Zakharik - "Glory Night"
Valeriya Sadovskaya – Not Alone"
Radiovolna - "Don't Go Mad"
The EM - "Turn Around"
NAVI - "This Land"
Alexander Ivanov - "How To Fly"
Anastasia Malashkevich - "Pray For Love"
Kirill Yermakov - "Running To The Sun"
NAPOLI - "My Universe"
Belarus haven't had the greatest succes in Eurovision history. They have participated every year since 2004, but only qualified for the Grand Final four times. Their best result is a 6th place with the 2007-entry "Work Your Magic" performed by Dmitry Koldun. This is their only Top-15 position in Eurovision.