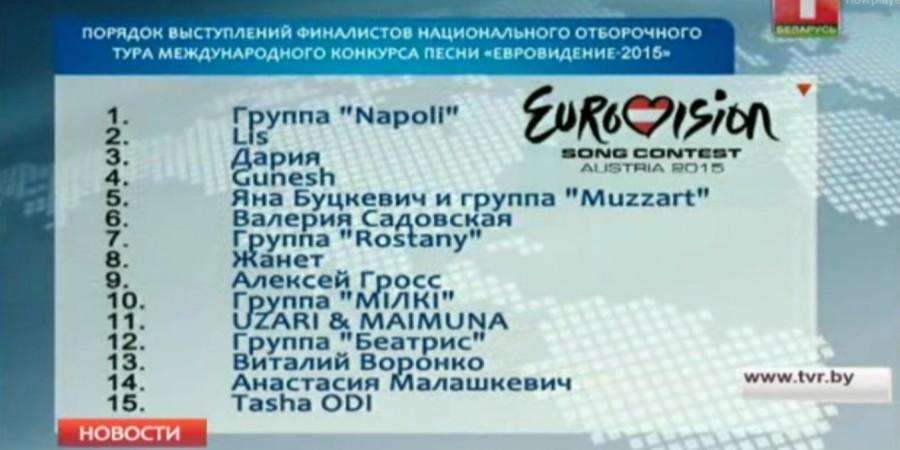 BELARUS
Belarus: 15 finalists announced
The national broadcaster of Belarus, BTRC, has decided the fifteen songs and artists for their national selection for Eurovision Song Contest 2015 after two days of online streamed auditions. The national final "Eurofest 2015" will be held on 26 december

A professional jury watched and listened to 89 performances perform directly in front of them in a studio in Minsk. The auditions for the national final in Belarus "Eurofest 2015" was streamed online. The two days of live auditions lasted more than eight hours.
The jury was a mix of music-producers, singers and musicians from Belarus, and also the head of the Department of Arts, Ministry of Culture of the Republic of Belarus was a part of the jury, who picked the 15 songs that will perform live in Eurofest 2015.
The representative of Belarus will be determined by the audience at Eurofest 2015. The show will be broadcastet live 26 December 2014 on the channels "Belarus 1" and "Belarus 24".
The finalists for this years Eurofest 2015 are:
1) Napoli - "My Dreams"
2) Lis - "Angel"
3) Daria - "Love Is My Colour"
4) Gunesh - "I Believe In A Miracle"
5) Yana Butskevich & Muzzart - "Only Dance"
6) Valeria Sadovskaya - "Summer Love"
7) Rostany - "Electric Toys"
8) Janet - "Supernova"
9) Alexey Gross - "Stand as One"
10) MILKI - "Accent"
11) Uzari & Maimuna - "Time"
12) Beatrys - "Fighter"
13) Vitaly Voronko - "Drive"
14) Anastasia Malashkevich - "Don't save my name"
15) Tasha ODI - "Giving Up Your Love"
Alexander Rybak as composer
The Norwegian winner of Eurovision Song Contest 2009 Alexander Rybak is the composerer behind song number 10, "Accent", performed by MILKI (МІЛКІ - Belarusian for "cutie"). Rybak and Culture Minister of Belarus, Boris Svetlov, announced back in April 2014, that Rybak was ready to prepare a Belarusian entrant for Eurovision 2015.
In the last weeks Rybak has organized some auditions in four different cities in Belarus, where he searched for talented singers to perform his entry. There were hundreds of girls for the auditions, and he picked five girls for the group MILKI.
Alexander Rybak is a Belarus-born singer and composer, who won Eurovision Song Contest 2009 with the song "Fairytale" for Norway. He still holds the record of the song with most points in an Eurovision Final. He and his song received 387 points from 41 countries. 36 of these 41 countries gave top-3-points (8, 10 or 12 points) to Rybak.
Belarus in Eurovision since 2004
Belarus haven't had the greatest succes in Eurovision history. They have participated every year since 2004, but only qualified for the Grand Final four times. Their best result is a 6th place with the 2007-entry "Work Your Magic" performed by Dmitry Koldun. This is their only Top-15 position in Eurovision.