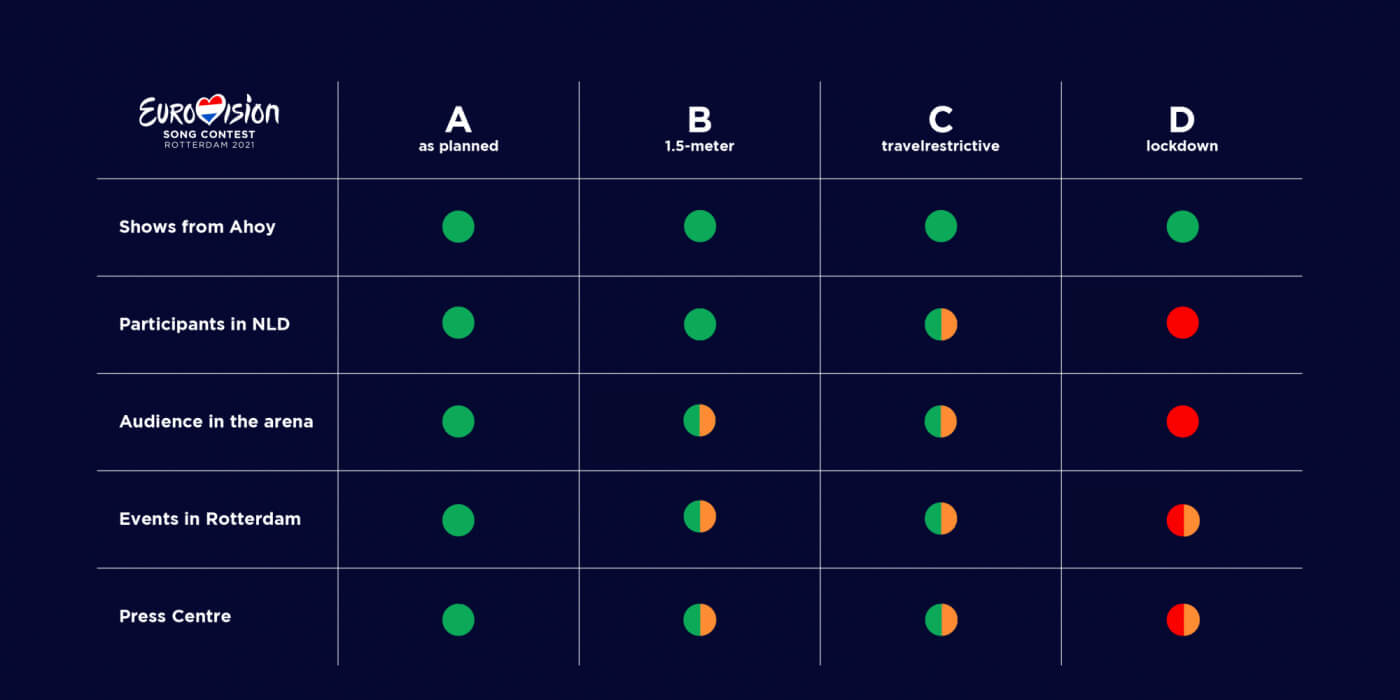 ROTTERDAM 2021
Eurovision 2021 and COVID-19: Here are the 4 scenarios
Eurovision Song Contest will definitely return in 2021. The European Broadcasting Union (EBU) is working on 4 scenarios depending on the status of the COVID-19 pandemic next year
The European Broadcasting Union (EBU) and Dutch Host Broadcasters NPO, NOS and AVROTROS have revealed 4 basic scenarios for hosting Eurovision 2021.
A decision will be based on the situation in the early months of 2021.
SCENARIO A
Normal
In this situation, the Eurovision Song Contest will be organized as normal from Rotterdam's Ahoy Arena with 9 shows (including the dress rehearsals) in a packed venue, with delegations and artists from all the participating broadcasters and numerous activities in and around Rotterdam.
The feasibility of this scenario largely depends on the roll-out of a possible vaccine for COVID-19 or the availability of reliable testing.
SCENARIO B
Social distancing
Everyone present at the Eurovision Song Contest in Rotterdam would need to practice social distancing and remain 1.5 meters from each other at all times.
Again, there would be 9 shows, with an audience in the arena, but with limited capacity to allow for social distancing.
Teams from each participating broadcaster would travel to Rotterdam, but with limits on the number of people in each delegation and on the number of press who could attend. Activities in and around Rotterdam would be adapted accordingly.
Because there would be less space for the audience in this scenario, a new seating layout would have to be made. If that happens, a fair draw will be held to decide who can still attend each show. There will be more information about this in the first months of 2021. Anyone who is unsuccessful in the draw will, of course, be refunded the full purchase amount for their tickets.
SCENARIO C
Travel restrictions
A Eurovision Song Contest, probably also socially distanced, from Rotterdam's Ahoy Arena as in scenario B, with 9 shows and a limited number of audience members in the arena.
If there are any delegations who cannot travel to Rotterdam, their artists will perform from their own country.
All performances in the shows will be brought together in Rotterdam. The entries of the countries that are allowed to travel and the opening and interval acts will still be performed live.
SCENARIO D
Lockdown
Should the Netherlands end up in a lockdown-like situation again, there will be a Eurovision Song Contest without an audience and probably without activities in and around Rotterdam.
The performances of the participants will all come from their own country and be brought together from Rotterdam's Ahoy arena, much like we will see at the Junior Eurovision Song Contest in November.