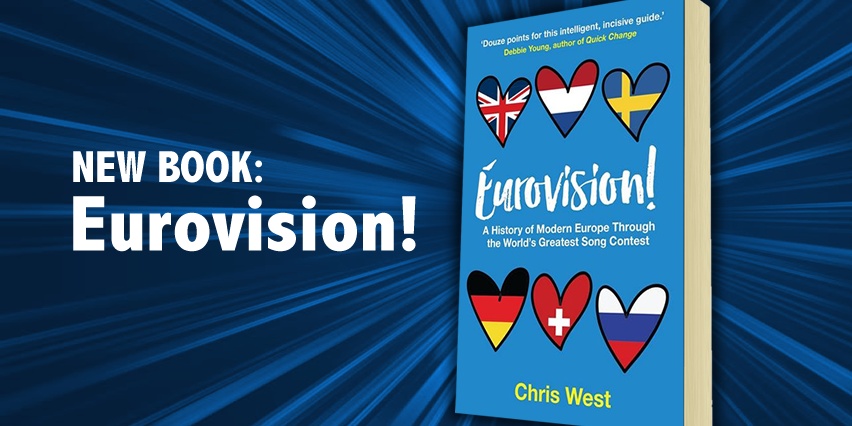 BOOK
New book: "Eurovision!"
The book "Eurovision!" takes you on a journey through the history of a continent, told through the world's greatest song contest. The book is out now
Put your mindset back to the 1950s where few had TVs, Europe was damaged by war and divided by an iron curtain, and a Swiss guy named Marcel Bezençon had a vision for Europe and an idea: A song contest.
Chris West tells you the history of Modern Europe through Eurovision Song Contest.
Every year from 1956 to 2016 has its own section, where Europe's history - seen through Eurovision glasses - is chronologically described year for year. Larger topics in history are addressed, such as dictatorships, cold war, AIDS, the collapse of USSR, the war in ex-Yugoslavia, the EU, sexual liberation. All seen from a Eurovision perspective. And of course, every single competition is handled with love, with all the facts, anecdotes and scandals. What was special about this year in Eurovision? What was cool? What was strange? The years are spiced up with the author's personal reflections, which at times may be a little too imaginative. But they are entertaining.
Historians still argue about what caused the sudden collapse of Communism. I'd like to put forward a new thesis. It was the Eurovision Song Contest. Riva won, and six months later, down came the WallChris West in Eurovision!
The fact that Eurovision is political is not a secret, despite the intentions of the opposite. Eurovision started politically. West mentions countless examples of how Eurovision is being used politically and how intersections between countries have affected Eurovision and how Eurovision has affected countries.
If you need to refresh the history of Eurovision and Europe - or just one of them - this book is for you. And if you are a hardcore fan you need to read the book. There are certainly facts and contexts you have never thought of before.
From the blurb on the back cover:
Do you think the world of the Eurovision Song Contest, with its crazy props, even crazier dancers and crazier still songs has nothing to do with serious European politics? Think again. The contest has been a mirror for cultural, social and political developments in Europe ever since its inauguration, when an audience in dinner jackets and ball-gowns politely applauded each song. It has been a voice of rebellion across the Iron Curtain, an inspiration for new European nations in the 1990s and 2000s, the voice of liberation for both sexual and regional minorities. It even once triggered a national revolution. Eurovision charts both the history of Europe and the history of the Eurovision Song Contest over the last six decades, and shows how seamlessly they interlink - and what an amazing journey it has been.

Portrait

Chris West is an author, ghostwriter and marketer. His books include Journey to the Middle Kingdom, The Beermat Entrepreneur and First Class: a History of Britain in 36 Postage Stamps. He lives in Hertfordshire with his wife and daughter.
Eurovision!
A History of Modern Europe through the World's Greatest Song Contest
Author: Chris West
Publish date: 20 April 2017
Price: £9.99
Pages: 320
Language: English
Publisher: mhpbooks.com
ISBN: 978-0-9934149-9-2
ebook: 9781911545002