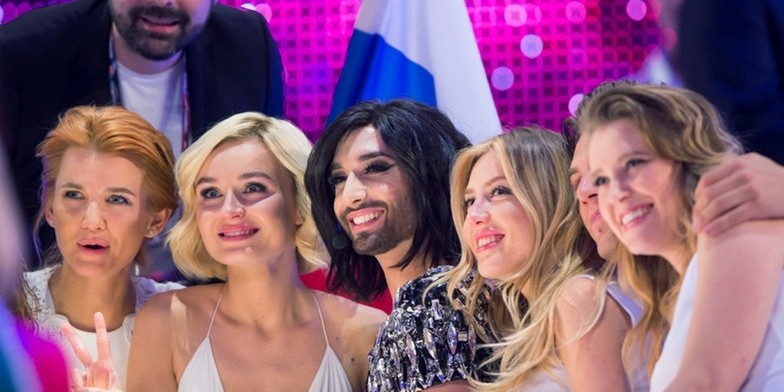 RUSSIA
Russia: Polina Gagarina betrayed her motherland, says Russian politician
The beautiful Polina from Russia has outraged some of her homophobic countrymen, after she posted a video of herself and last year's winner Conchita Wurst on Instagram.
Polina Gagarina finished second at this years Eurovision Song Contest in Vienna, with impressive 303 points - highest points for Russia ever. But now the Russian senator Vitaly Milonov describes Polina as a traitor, and Conchita as a bearded mentally sick pervert! Why? Because Polina talked with Conchita and gave her a kiss on each chin at a rehearsal before Semi-final 1.
Vitaly Milonov is one of the most controversial politicians in Russia, and one of the architects behind the homophobic "gay propaganda" law in Russia.
Vitaly Milonov states:

»Who gave her the right to represent Russia? She represents only the private media structure, where Christian values are not on the first place. … The results are always falsified, the winner of Eurovision has no relation to talent. … When Russia proclaimed its Christian values and went against the propoganda of sodomy, a bearded pervert in women's clothes went on to win Eurovision […] Why did Gagarina, a married woman, kiss another man? What is so precious in hugging a mentally sick pervert? It was on purpose, because this is a condition of the contest to push a country as deep as possible, excuse me, into Euro-s**t, using crude ways to affect the teenagers. I criticised Gagarina's kiss with this pervert, which she was doing with the name of Russia, but she immediately started arguing with us… Gagarina became part of the propoganda and she is a traitor of the Motherland – she betrayed Russia for some carpets, medals or something else … so she could become a propogander of Western sodomic values.«
Video posted on Instagram
The following text and video were posted by Polina on Instagram, and caused the outrage. Translation:
»Conchita herself came up after a rehearsal and said a huge collective of compliments ... Beautiful, amazing ... Nice! Cool! ✌️ @conchitawurst #eurovision2015 GUYS! I read the comments! It is wrong! Why is it so bitterly? She's just a stage persona, and she is working! She is excellent and very intelligent! I urge all to follow the words !!!!«
Not the first time Russian politicians react on Eurovision
After Conchita Wurst's victory at Eurovision Song Contest 2014 in Copenhagen, the Russian politician Vladimir Zhirinovsky stated:
»Fifty years ago, the Soviet Army occupied Austria. Our withdrawal was an error, we should have stayed. Then there would be no such people there.«

Another Russian politician, Dmitry Rogozin said about the result:
»The result showed supporters of European integration their European future - a bearded girl.«
Conchita responded:
»When an entire nation is scared that a young gay man with a beard who likes dressing up in women's clothes is so able to sway opinion that he could bring the whole society to the brink, I can only take it as a compliment!«