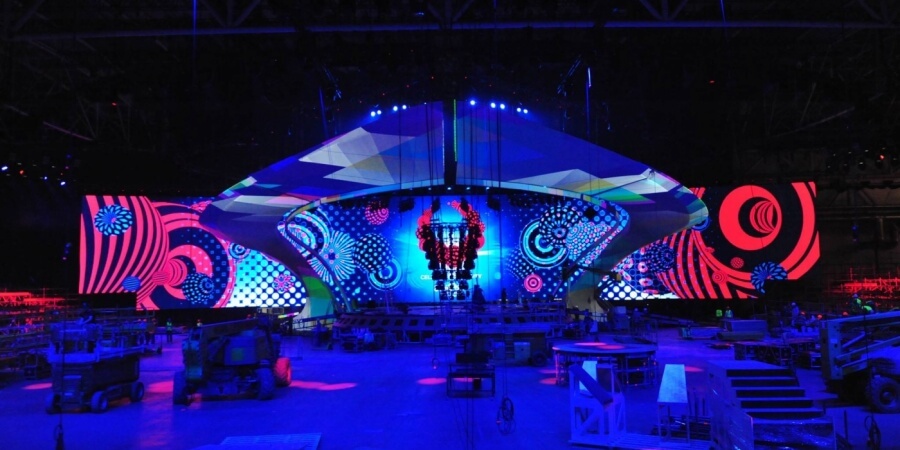 KYIV 2017
The Eurovision 2017 stage is taking shape
The constructions inside the Eurovision Song Contest 2017 arena has started, and the stage is taking shape. Watch the images of the construction here
The stage for the Eurovision Song Contest 2017 in Kyiv is taking shape.
It is a huge stage – Height: 14 meters, width: 70 meters, depth: 28 meters.
The stage floor measures 350 square meters and weighs 30 tons.
The stage is surrounded by two gigantic arches made for projections. The arches also contains LED strips. There will be 1000 square meters of LED Screens, with a 71 000 002 pixels resolution!
In the arena there will be 1816 lamps, consuming 854 000 watts. 61 km of cables are used just for the lighting.
Follow the construction inside the Kyiv International Exhibition Center here.
Gallery: Stage construction
Images: M & M Production and UA:PBC
In the back of the Kyiv International Exhibition Centre the Greenroom will be mounted. The spectator seating area will have around 7000 seats.
The Exhibition centre will also host the press centre and delegation area.
Kyiv International Exhibition Centre
The expo center is an indoor exhibition center spanning over an area of 58,000 square metres, hosting major exhibitions and trade fairs.
The capacity of Kyiv International Exhibition Centre will be up till 8,500 people for each of the three live shows and the six rehearsals, with around 1,500 standing and 7,000 seated spectators.
The Kyiv International Exhibition Center is an internationally recognized venue and prides itself as the biggest expo center in Ukraine. Spanning over an area of 58,000 square meters, the IEC comprises of three exceptional first-class exhibition pavilions which includes around 28,018 square meters of exhibition space. It consists of a congress hall, 14 conference halls, restaurants, cafes, negotiation rooms, parking facilities, checkrooms, and many more. Services offered by the center consists of internet facilities, banking services, office accommodation facilities and much more. The halls are flexible and can be used for several purposes.