American Song Contest 2022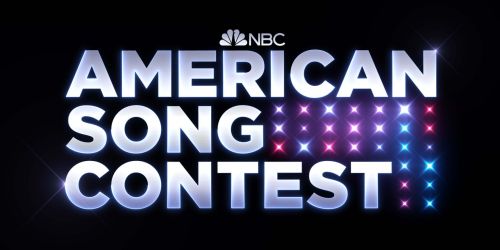 The concept of the American Song Contest was pretty similar to the Eurovision Song Contest but instead of countries competing, USA's 50 states, five territories and Washington D.C. competed.
A total of 56 artists were singing their own music, and the results were decided by viewers at home and a jury of music-industry experts.
The contest took place on all Mondays from 21 March to 9 May 2022 at 8pm Eastern / 7pm Central.
Shows
A total of eight shows were held:
5 Heats: 11 or 12 artists competed in each Heat. 4 artists qualified for the Semi-finals from each Heat.
At the end of each Heat, a jury selected one qualifier. 3 more qualifiers were chosen by a combination of a jury and online public votes and revealed during the next week's show.
2 Semi-finals: 10 artists competed in each Semi-final along with a wildcard act from the heats.
At the end of the each Semi-final, a jury selected one finalists. 4 more finalists were chosen by a combination of a jury and online public votes.
1 Final: The 10 finalists competed and the winner was decided by a jury in combination with public voting.
Voting
The jury consisted of 56 musical experts each representing a U.S. state, territory, or Washington D.C. The jury members evaluated the artists on their performances, artistic expression, originality, and the hit potential of their songs.
The public in US could vote on their favourites either on the NBC website , the NBC App or via TikTok.
American Song Contest followed a point system in which every state and territory voted with equal power, regardless of population.
Songs
State
Territory
Artist
Song
Michigan
Ada LeAnn
Natalie
Florida
Ale Zabala
Flirt
Oklahoma
AleXa
Wonderland
West Virginia
Alexis Cunningham
Working on a Miracle
Iowa
Alisabeth Von Presley
Wonder
Washington
Allen Stone
A Bit of Both
Virginia
Almira Zaky
Over You
Idaho
Andrew Sheppard
Steady Machine
Pennsylvania
Bri Steves
Plenty Love
Louisiana
Brittany Pfantz
Now You Do
Kansas
Broderick Jones
Tell Me
Hawaii
Bronson Varde
4 You
New Jersey
Brooke Alexx
I Don't Take Pictures Anymore
North Dakota
Chloe Fredericks
Can't Make You Love Me
Puerto Rico
Christian Pagán
Loko
Oregon
courtship.
Million Dollar Smoothies
Virgin Islands
Cruz Rock
Celebrando
New York
Enisa
Green Light
Texas
Grant Knoche
Mr. Independent
Missouri
Halie
Better Things
Rhode Island
Hueston
Held on Too Long
Wisconsin
Jake'O
Feel Your Love
Massachusetts
Jared Lee
Shameless
Guam
Jason J.
Midnight
South Carolina
Jesse LeProtti
Not Alone
Alaska
Jewel
The Story
Nebraska
Jocelyn
Never Alone
North Carolina
John Morgan
Right in the Middle
Montana
Jonah Prill
Fire It Up
Kentucky
Jordan Smith
Sparrow
Vermont
Josh Panda
Rollercoaster
South Dakota
Judd Hoos
Bad Girl
Illinois
Justin Jesso
Lifeline
Arkansas
Kelsey Lamb
Never Like This
Mississippi
Keyone Starr
Fire
New Mexico
Khalisol
Drop
Maine
King Kyote
Get Out Alive
Arizona
Las Marías
De La Finikera
Ohio
Macy Gray
Every Night
New Hampshire
MARi
Fly
Connecticut
Michael Bolton
Beautiful World
Washington D.C.
Nëither
I Like It
Alabama
Ni/Co
The Difference
Delaware
Nitro Nitra
Train
Colorado
Riker Lynch
Feel the Love
Wyoming
Ryan Charles
New Boot Goofin
Northern Mariana IslandsN. Mariana Isl.
Sabyu
Sunsets & Seaturtles
Utah
Savannah Keyes
Sad Girl
Maryland
Sisqó
It's Up
Georgia
Stela Cole
DIY
California
Sweet Taboo
Keys to the Kingdom
American SamoaAm. Samoa
Tenelle
Full Circle
Nevada
The Crystal Method
Watch Me Now
Tennessee
Tyler Braden
Seventeen
Indiana
UG skywalkin ft. Maxie
Love in My City
Minnesota
Yam Haus
Ready to Go
Heat 1
Jury qualifierJury & online qualifierWildcard
American Song Contest 2022 – Heat 1
Dates
21 March, 8pm ET / 7pm CT
22 March, 01:00 CET
Location
Universal Studios
City
Los Angeles, CA
Hosts
Snoop Dogg
Kelly Clarkson
Voting
Jury: 1 qualifier
Jury & online: 3 qualifiers
At the end of Heat 1, the jury chose one artist to qualify for the Semi-finals
Three more Semi-finalists were chosen by a combination of Jury and online votes and revealed during Heat 2
Wyoming's Ryan Charles received a wildcard for the Semi-finals after his song were among the two most streamed
Heat 2
Jury qualifierJury & online qualifierWildcard
American Song Contest 2022 – Heat 2
Dates
28 March, 8pm ET / 7pm CT
29 March, 02:00 CEST
Location
Universal Studios
City
Los Angeles, CA
Hosts
Snoop Dogg
Kelly Clarkson
Voting
Jury: 1 qualifier
Jury & online: 3 qualifiers
At the end of Heat 2, the jury chose one artist to qualify for the Semi-finals
Three more Semi-finalists were chosen by a combination of Jury and online votes and revealed during Heat 3
New York's Enisa received a wildcard for the Semi-finals after her song were among the two most streamed
Heat 3
Jury qualifierJury & online qualifier
American Song Contest 2022 – Heat 3
Date
5 April 2022, 02:00 CEST
Location
Universal Studios
City
Los Angeles, CA
Hosts
Snoop Dogg
Kelly Clarkson
Voting
Jury: 1 qualifier
Jury & online: 3 qualifiers
At the end of Heat 3, the jury chose one artist to qualify for the Semi-finals
Three more Semi-finalists were chosen by a combination of Jury and online votes and revealed during Heat 4
Heat 4
Jury qualifierJury & online qualifier
American Song Contest 2022 – Heat 4
Dates
11 April, 8pm ET / 7pm CT
12 April, 02:00 CEST
Location
Universal Studios
City
Los Angeles, CA
Hosts
Snoop Dogg
Kelly Clarkson
Voting
Jury: 1 qualifier
Jury & online: 3 qualifiers
At the end of Heat 4, the jury chose one artist to qualify for the Semi-finals
Three more Semi-finalists were chosen by a combination of Jury and online votes and revealed during Heat 5
Heat 5
Jury qualifierJury & online qualifier
American Song Contest 2022 – Heat 5
Dates
18 April, 8pm ET / 7pm CT
19 April, 02:00 CEST
Location
Universal Studios
City
Los Angeles, CA
Hosts
Snoop Dogg
Kelly Clarkson
Voting
Jury: 1 qualifier
Jury & online: 3 qualifiers
At the end of Heat 5, the jury chose one artist to qualify for the Semi-finals
Three more Semi-finalists were chosen by a combination of Jury and online votes and revealed during Semi-final 1
Semi-final 1
Jury qualifierOnline qualifier
American Song Contest 2022 – Semi-final 1
Dates
25 April, 8pm ET / 7pm CT
26 April, 02:00 CEST
Location
Universal Studios
City
Los Angeles, CA
Hosts
Snoop Dogg
Kelly Clarkson
Voting
Jury: 1 qualifier
Online: 4 qualifiers
At the end of Semi-final 1, the jury chose one artist to qualify for the Final
Four more Finalists were chosen by online votes
Semi-final 2
Jury qualifierOnline qualifier
American Song Contest 2022 – Semi-final 2
Dates
2 May, 8pm ET / 7pm CT
3 May, 02:00 CEST
Location
Universal Studios
City
Los Angeles, CA
Hosts
Snoop Dogg
Kelly Clarkson
Voting
Jury: 1 qualifier
Online: 4 qualifiers
At the end of Semi-final 2, the jury chose one artist to qualify for the Final
Four more Finalists were chosen by online votes
Final
American Song Contest 2022 – Final
Dates
9 May, 8pm ET / 7pm CT
10 May, 02:00 CEST
Location
Universal Studios
City
Los Angeles, CA
Hosts
Snoop Dogg
Kelly Clarkson
Voting
15% jury
85% televoting