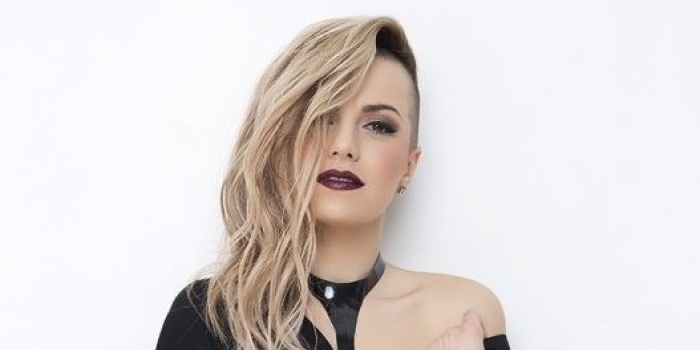 BULGARIA
Bulgaria: Poli Genova – "If Love Was a Crime"
The Bulgarian song for Eurovision 2016 "If Love Was a Crime" has been premiered today. It is sung by Poli Genova (Bulgaria 2011). Listen to it here
Today the Bulgarian Poli Genova released her song for Eurovision Song Contest 2016 in Stockholm. The song is titled "If Love Was a Crime", and is written by Borislav Milanov, Sebastian Arman, Joachim Bo Persson and Poli Genova.
Poli represented Bulgaria at Eurovision Song Contest 2011 with the song "Na Inat" (На инат). It finished 12th at the second Semi-final, just six points from qualifying to the Grand Final
The head of delegation for Bulgaria, Joana Levieva–Sawyer:
»Poli Genova is already widely popular internationally, especially within the Eurovision Song Contest community. She also did an amazing job as the presenter of the 2015 Junior Eurovision Song Contest, and these were big factors in our choice«
Poli Genova
Poli Plamenova Genova (29) was born in Sofia, and already started her career as a singer when she was four, in the popular children's vocal ensemble "National Palace of Children", and when she was eight, as a member of the children's vocal ensemble "Bon-Bon". Here Poli's voice became the trademark of Bon-Bon.
Together with Bon-Bon she won several awards, including "Golden Orpheus Song Contest" and the international "Slavianski Bazaar" festival.
In 2005 and 2006 she took part in the National Selection of Eurovision Song Contest as a member of the trio "Melody".
Poli has been singing together with famous Bulgarian pop singers like Georgi Hristov, Yordanka Hristova and Nelly Rangelova. She graduated from Lyubomir Pipkov National School of Music playing clarinet.
Poli is currently part of the UNICEF Charity Project "The Magnificent Six", singer in the "Azis' Show" and "Dani Milev Band", in the first edition of the reality show "Dancing with the Stars: Bulgaria".
Poli also hosted Junior Eurovision Song Contest 2015 in Sofia, Bulgaria.
Follow Poli Genova: Facebook • Instagram • Spotify • Soundcloud
---
Bulgaria has been participating in Eurovision Song Contest nine times, but without success. The best position is 5th place in 2007 (Elitsa Todorova & Stoyan Yankulov - "Water"), and this was also the only time they qualified for the Grand Final. Bulgaria returns to Eurovision Song Contest 2016 after a two-year absence following their withdrawal in 2014 due to financial limitations.
In Stockholm Bulgaria will compete in Semi-final 2 on 12 May 2016