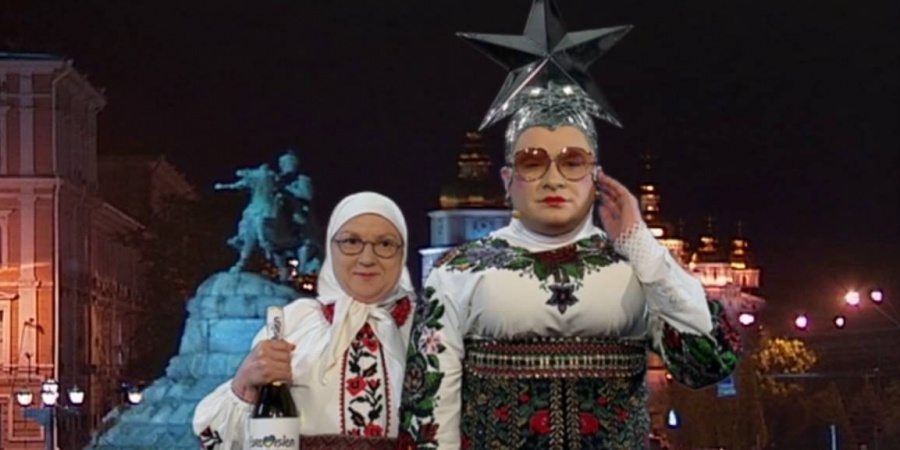 UKRAINE
Don't worry: Verka Serduchka continues her career
Verka denies the rumors about a farewell tour. Ukrainian media wrote on Thursday that the actor Andrey Danilko has decided to end Verka's career, but that is not true
Sieben, sieben, ein, zwei!
Tomorrow the iconic Verka Serduchka will open the Summer Festival in Odessa, Ukraine. Ukrainian media cited on Thursday that it would be Verka's last performance before her farewell concert tour, which is scheduled for 2019. But "the rumors about the termination of the career of Verka Serduchka are greatly exaggerated", as she writes on social media:
Verka Serduchka is the drag stage persona of Ukrainian actor Andrey Danilko. In 2007 Verka represented Ukraine at Eurovision Song Contest in Helsinki finishing 2nd with Dancing Lasha Tumbai. The song became a huge succes and breakthrough for Andrey Danilko – or rather Verka Serduchka.
Grotesque and Vulgar
When Verka was chosen as the Ukrainian representative at Eurovision 2007 it didn't went quiet.
One of Ukraine's radio stations organized a protest action against the appearance of a drag at an international song festival will turn Ukraine into a "cultural disaster and a loss of credibility and respect from Europeans".
Some members of the Ukrainian Parliament expressed that the character of Verka was both grotesque and vulgar, and that she disgraces Ukraine.
After the contest the invented words "Lasha Tumbai" caused some controversy because the words sounded like "Russian goodbye".
Breakthrough for Verka – and Danilko
The "Dancing Lasha Tumbai" single reached number 28 on The Official UK Singles Chart – the first time a non-British non-winning Eurovision song made the entry to the chart since 1974.
At Eurovision 2014 in Copenhagen Verka appeared in a short break between two songs, and in 2016 Verka announced the results from the Ukrainian jury.
Verka appeared in a role as herself in the American action comedy movie "Spy" in 2015 where she performed Dancing Lasha Tumbai at an open-air concert.
At Eurovision 2017 in Kyiv, short video clips titled "Verkavision" was shown, portraying the fictional story of Verka. She also appeared on stage during the Grand Final.
The last two years Andrey Danilko has been in the jury in the Ukrainian national selection.
Last year Danilko announced that he has decided not to perform on stages as Verka. Despite this, he continued his concert activity.