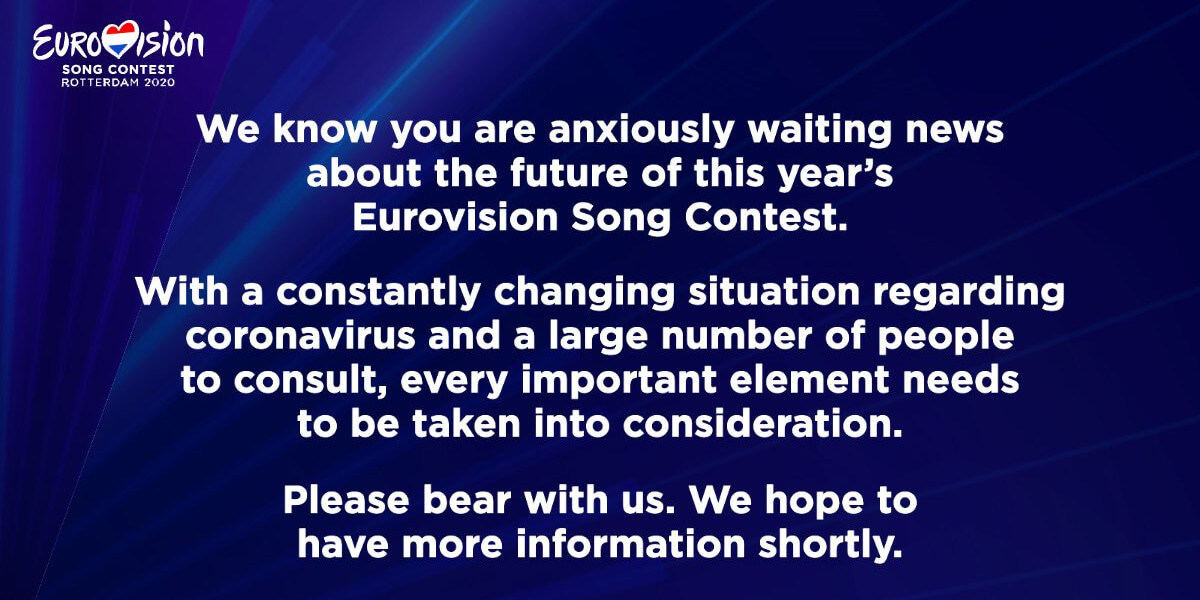 ROTTERDAM 2020
Eurovision 2020: More information will come shortly (hopefully)
EBU has announced that they hope to have more information shortly about the future of Eurovision Song Contest 2020
The European Broadcasting Union, EBU, has just tweeted that more information about Eurovision Song Contest 2020 hopefully will be announced shortly:
Today, the Eurovision Reference Group is having a meeting, where they apparently will decide what will happen to Eurovision Song Contest 2020.
The Reference Group is the Executive Committee for all member broadcasters. Its purpose is to control and guide the Eurovision Song Contest. The Reference Group currently consist of 10 members, and is required to take decisions in the general interest of Eurovision Song Contest.
Last Friday, 13 March 2020, EBU stated that they were closely monitoring the situation concerning the spread of the coronavirus and keeping abreast of the latest advice and guidelines from the WHO and national health authorities, and that they are working closely with Dutch Host Broadcasters NPO, NOS and AVROTROS and the City of Rotterdam to explore different potential scenarios for the Eurovision Song Contest 2020.
Several options
The European Broadcasting Union, EBU, has been working on different scenarios for organising and holding Eurovision 2020.
We have listed six possible options for Eurovision 2020:
No changes – Eurovision 2020 will be held as planned
No audience, arena – Limited amount of audience / no audience (in the arena)
No audience, TV studio – Broadcasting Eurovision in a TV studio without audience
National broadcast – Every country will broadcast the song from it's own location
Postponement – with a number of possible options
Cancellation – This option is NOT on the table at the moment