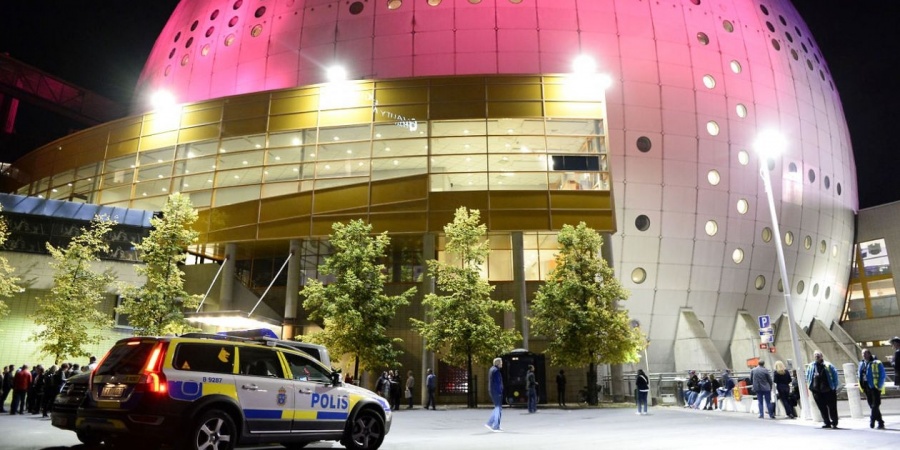 STOCKHOLM 2016
Fear of terror in Stockholm during Eurovision
Media: The Swedish organizers of this year's Eurovision held a meeting with the country's security police after terror warning
Information about a planned terrorist attack in Stockholm has led to a security meeting between the organization behind Eurovision Song Contest 2016 and the Swedish security police Säpo. According to the Swedish newspaper Dagens Nyheter there are concerns about the safety of the Eurovision event in Globen.
The Swedish security service Säpo has received information from an Iraqi security service that a cell of seven to eight Islamic State terrorists had entered Sweden to carry out an attack on civilian targets. The information is based on sources that have been in contact with the Swedish media Aftonbladet and Expressen.
Both Reuters and the American NBC have also spoken to several security sources that verify the information. According to Reuters, the leader of the terrorist cell is a veteran who should be close to Islamic State leader Abu Bakr al-Baghdadi.
The terror cell will conduct a special operation to force Sweden to withdraw from the international military coalition against Islamic State, according to Reuters' security source.
Security meeting
The US Embassy in Stockholm reminds Americans to check the US travel alert before going to Sweden and also the organizers of Eurovision 2016 raises awareness of potential danger.
– Both the guests and the audience are worried, says a source close to the Eurovision production to Dagens Nyheter.
The security police, Säpo, confirms that it has partnered with the Eurovision organizers:
– We (Säpo) cooperate with the police. At this event, it is the police in the Stockholm region working with the city of Stockholm who has the responsibility for security at Eurovision Song Contest, says press manager at Säpo, Sirpa Franzén.
The security police, Säpo, is reluctant to tell how they assess the threat level for Eurovision. The police spokesman Kjell Lindgren also attended the meeting, but he doesn't want to tell what specific issues were discussed at the security meeting.
High security – difficult for terrorists
The internationally renowned Counterterrorism expert Magnus Ranstorp emphasizes that the security level during Eurovision can make it difficult for terrorists:
– Events with huge audiences can be interesting, especially when it is broadcasted live to a broad audience. At the same time the security level is so high, that it is very difficult for terrorists to get in to the event, says the expert.
He also states that there are elements that argues against an attack in Globen:
– In a big city, there are so many other places where there are a lot of people who are totally unprotected. The pattern is that easy targets are chosen where you can attain a surprise effect, says Magnus Ranstorp.