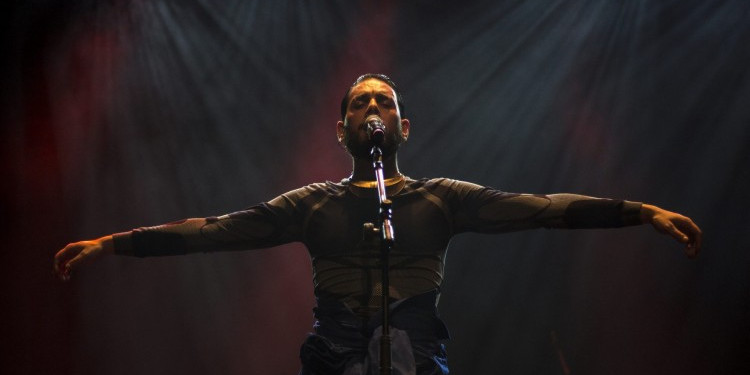 PORTUGAL
Festival da Canção 2019: Here are the four first finalists
The very first semi-final of the Portuguese Festival da Canção 2019 was aired tonight. Four acts were selected to the show's Grand Final to be held in Portimão next March, 2nd
Last year's host country has initiated its national selection to pick its 2019 representative. Portugal's Festival da Canção kicked things off tonight with eight acts competing for a place in the show's Grand Final. Four were selected.
After all was said and done Matay, Conan Osíris, Calema and Ana Cláudia were the ones that got through the show's first semi-final by being the ones who got the highest amount of votes from the jury and the public at home.
Portugal's 2018 "O Jardim" songwriter - Isaura - was amongst the jury panel.

Results
As explained before, 50% of the decision was made by a jury panel of seven members and the remaining 50% by the public at home who had the chance of voting for roughly an hour.
Matay – "Perfeito" (22 points)
Conan Osíris – "Telemóveis" (19 points)
Calema – "A dois" (18 points)
Ana Cláudia – "Inércia" (13 points)
João Campos – "É o que é" (13 points)
Ela Limão – "Mais brilhante que mil sóis" (11 points)
Filipe Keil – "Hoje" (8 points)
Soraia Tavares – "O meu sonho" (6 points)
There was a tie between Ana Cláudia and João Campos. The tie was broken by the jury who gave a highest score to "Inércia".

The Show
Hosted by RTP's Sónia Araújo and Tânia Ribas de Oliveira, the show lasted for about two hours. Before each song, there was a postcard aired that was recorded in Portimão, a city in the south of Portugal that will host Festival Da Canção's Grand Final on the 2nd of March.
Ana Cláudia – "Inércia"

In a black dress, Ana Cláudia performed first surrounded by images of what seemed to be waves of the sea. It is never easy to be the first performing but Ana was on key and delivered a strong performance with many hand movements that drew viewers into her song.
João Campos - "É O Que É"
With two guitarists and three backvocalists, João performed his song with a hat and a white shirt. "É O Que É" is a very simple song guided solely by acoustic guitars, therefore João was sitting throughout the entire performance delivering what was expected to be a very simple performance.
Soraia Tavares – "O Meu Sonho"
Soraia started all alone and her dress was surely the highlight for being pink and very long. Nonetheless, by the time the song started to grow, two contemporary dancers joined her and elevated the song to the most interesting one so far. Soraia delivered attitude and fierceness on stage.

Calema – "A Dois"

Dressed in black, the duo was joined by four backvocalists. Without a specific choreography attached, Calema performed one of the fan favorites of the evening in a very subtle and competent performance.
Conan Osiris - "Telemóveis"
Conan was surely the most anticipated performance of the night. In a black outfit and a weird metal mask, Conan was joined by a dancer and two backvocalists. As long as stage props concerns, there were stairs that Conan used in a specific part of the song.
Ela Limão – "Mais Brilhante Que Mil Sóis"
Wearing a red dress, Ela delivered a very simplistic performance with no props, only two backvocalists. The performance followed the song's mood.
Filipe Keil - "Hoje"
Filipe surely felt every bit of the words he was singing. The singer was wearing a green suit and did an eye makeup to express himself in the best way possible as well as his song.
Matay - "Perfeito"
It felt like a Disney movie. In a full suit, Matey was joined by a piano solely and surely created a magic environement in RTP's studios.
All of those performances are already available in Festival da Canção's YouTube channel.

Portugal has participated 50 times since 1964. It was a very bad start, as they managed to get Zero Points in the debuting year. Before Eurovision 2017 they have never won the contest, and never made the top-5. In fact Portugal held the record for most appearances in the contest without a win! But that changed in 2017, where Salvador Sobral won with "Amar Pelos Dois".
Since the introduction of Semi-finals in 2004 Portugal only qualified for the Grand Final 5 out of 13 times.