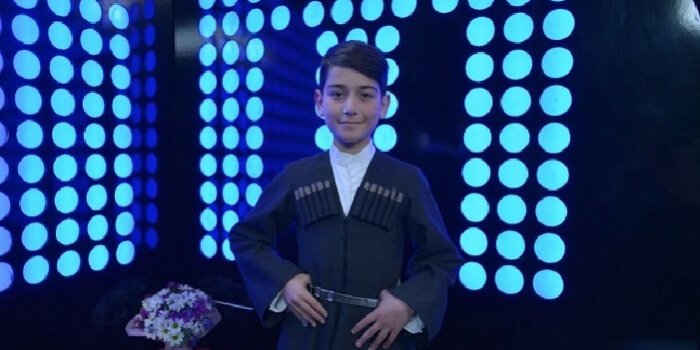 JUNIOR EUROVISION
Georgia: Giorgi Rostiashvili to Junior Eurovision 2019
The first artist for the 2019 Junior Eurovision Song Contest is known
As the 2019 edition of the Eurovision Song Contest has how ended, preparations for the 2019 Junior Eurovision Song Contest are now underway.
Georgia held "Ranina", a show which was used to select the Georgian representative. The format sees young singers perform a variety of styles with Georgian singers and musical icons.
Giorgi Rostiashvili has won the right to represent Georgia in Gliwice, Poland on Sunday, 24th November 2019.
Three singers competed this evening to represent the country at the 17th edition of the Junior Eurovision Song Contest. The presenters of the show were David Aladashvili and Lela Meburishvili while the final result was decided by juries, who scored each artist out of a maximum of 10 points.
The results of Ranina were:
Giorgi Rostiashvili
Ana Berishvili
Anastasia Garsevanashvili
Although Giorgi won the night, the finalists also received prizes. Ana will be the Georgian spokesperson for this year's contest, while Anastasia will travel to Poland with the Georgian delegation to watch the show. The song will be internally selected at a later date. Meanwhile you can watch the performance that made Giorgi win the competition in his home country:

To date, Albania, Australia, France, Georgia, Ireland, Netherlands, Poland, Portugal, Russia and Wales have expressed interest to participate in the 2019 Junior Eurovision Song Contest.
History of Junior Eurovision
Back in 2000 the Danish broadcaster Denmark's Radio (DR) held a song contest for children, and in 2002 the "MGP Nordic" was held together with Sweden and Norway. EBU picked up the idea for a song contest featuring children, and the first Junior Eurovision Song Contest was held in 2003 in Copenhagen, with 16 participating countries.
Back then the Junior Eurovision was based on entertainment for kids around Europe. On their level. It has later transformed itself to a copy of the "adult's Eurovision", lacking the soul and unique atmosphere it once had.
Junior Eurovision is only open for children aged 9 to 14.
Winners of Junior Eurovision
2003: Croatia (Dino Jelušić: "Ti si moja prva ljubav")
2004: Spain (María Isabel: "Antes muerta que sencilla")
2005: Belarus (Ksenia Sitnik: "My vmeste" / "Мы вместе")
2006: Russia (Tolmachevy Sisters: "Vesenniy Jazz" / "Весенний джаз")
2007: Belarus (Alexey Zhigalkovich: "S druz'yami" / "С друзьями")
2008: Georgia (Bzikebi: "Bzz..")
2009: Netherlands (Ralf Mackenbach: "Click Clack")
2010: Armenia (Vladimir Arzumanyan: "Mama" / "Մամա")
2011: Georgia (CANDY: "Candy Music")
2012: Ukraine (Anastasiya Petryk: "Nebo" / "Небо")
2013: Malta (Gaia Cauchi: "The Start")
2014: Italy (Vincenzo Cantiello: "Tu primo grande amore")
2015: Malta (Destiny Chukunyere: "Not My Soul")
2016: Georgia (Mariam Mamadashvili: "Mzeo")
2017: Russia (Polina Bogusevich: "Wings")
2018: Poland (Roksana Węgiel: "Anyone I Want to Be")
About the author: Steven Spiteri (Malta)
Steven has been a huge Eurovision fan since 1995. He follows all the national finals and Eurovision Song Contests every year while his all time favorite entry is the 2016 Italian entry "Nessun grado di separazione".