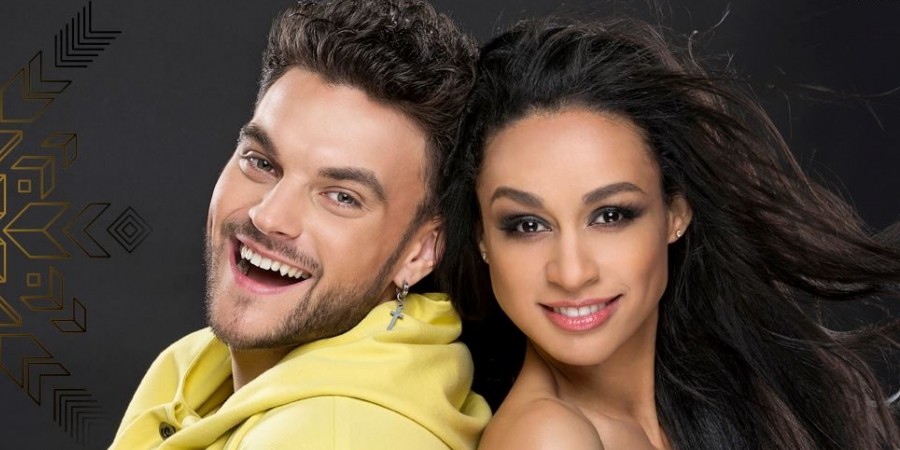 BELARUS
Uzari & Maimuna: Eurovision connected us
INTERVIEW: The Belarusian duet hope that their time in the 60th Eurovision Song Contest will end successfully. Their combination is strange and kind of experimental as a pop music composer forms a duo with a classically - trained lead violinist!
Uzari & Maimuna from Belarus speak exclusively with Eurovisionworld about their song "Time" in this year's Eurovision and reveal how they mixed their different styles of music for the sake of the competition.
Their song "Time" deals with time as something precious that affects everyone's lives. Could have been different? Everything can be beaten, apart from time. Everything has a start and when the time is over, it comes to the end.
What do you want to tell Europe with your song "Time"?

Uzari: »We wanted to do something different than the usual love songs or broken hearted songs. Time affects us all – we cannot see it, we cannot control it but have to make the most of every moment. This theme was one that everyone everywhere can understand. We wanted to have a song that makes you move and expresses the urgency behind time and the importance of valuing every moment.«

Maimuna: »Time is so precious and should not be wasted. My part of the duet is not singing in the normal sense, but singing by using the violin. I hope that it expresses the yearning and urgency of the message of the song.«
Which other songs in this year's competition do you like?

Uzari: »All of them. The other 39 are very different to ours, and they all have elements that I admire and show why they were chosen to represent their own country.«
Maimuna: »It is a bit daunting to hear the variety and quality and creativity of all of the other songs. I like them all too – each of them show the talents of Europe. Oh, and Australia too.«
Which is your favorite song of all time in the competition?
Uzari: »I've been following Eurovision ever since Belarus participated and it's hard not to want to pick my country's song each time. However, I also loved the songs that won – Fairytale by Alexander Rybak; Euphoria by Loreen, Only teardrops by Emmelie de Forest and of course the unforgettable Conchita... All of them just "grab" me – it's hard to explain exactly why. A song affects you or it doesn't.«

Maimuna: »I agree with all of those, and would also add Wild Dances by Ruslana and last year's "Dancing in the rain" by Ruth Lorenzo, "Undo" by Sanna Nielsen and "Coming Home" by Firelight.«
Which song from Belarus in Eurovision would you like to sing?

Uzari: »Should I say "I love Belarus" by Anastasia Vinnikova in 2011, because I was one of her backing singers?« (laughs)
Maimuna: »Teo's "Cheesecake" was my favorite: quirky and cute; plus he's a nice guy who's given us lots of good advice.«
With which position in Eurovision will you be happy?

Uzari: »We're not thinking about numbers or placings. Instead, we caught up with Teo a couple of weeks ago. He sang "Cheesecake" for Belarus last year and his advice to us was to enjoy every single moment of the crazy two-week-long Eurovision experience. So, I think we'll do that AND try to do our very best on stage.«
Maimuna: »I know that Eurovision rules say that I can't play my violin live but I'll be air-playing it with all of my heart, doing what I can to sing back to Uzari. No doubt we'll both be nervous, but we've been waiting for this chance for so long, it'll be hard not to stop smiling at each other!«
Do you have a premonition of which position you will take?

Uzari: »No idea! There are forty countries participating; all with very different songs and performances, so I wouldn't dare predict.«
Maimuna: »All we can do is our very best during Vienna and we're both trying hard to not read media and fan polls and predictions: it might be bad luck.«
How important is it that a new country, Australia, enters the competition?

Uzari: »That's a good question. I know that Australia loves Eurovision and has a population with many connections to Europe so it does make sense that they get to join in this year and be part of this huge event.«
Maimuna: »We have an Aussie working in our team this year and she tells us that SBS have always done a great job with Eurovision and the fans who watch and love the show keep increasing, so I'm looking forward to meeting Guy Sebastian and being interviewed by Julia Zemiro who also speaks French. Why not include more countries into the world's largest live entertainment event?«
Can you introduce yourself as artists?

Maimuna: »I loved playing the violin, and graduated from the Belarusian State Academy of Music, before working as first violin in the Presidential orchestra for seven years. I then wanted to play other kinds of music, so I made my first album, 'Queen of Africa,' and most recently released my second studio album, 'Showtime,' as a modern classical crossover. The incredible Vitaly Sudin was invaluable during the making of my second álbum. Eurovision has always interested me, and when I met Uzari, it was one of the many things we had in common.«
Uzari: »I too studied; first attending the Republican College of Music and then the St. Petersburg University of Culture, and participating in the "New Wave" contest gave me a lot of experience and lessons to learn. Being one of the backing singers for Anastasia Vinnikova at Eurovision in 2011 gave me an insight into the whole Eurovision world, and I wanted more of it.«
Can you predict who will be this year's winner?

Uzari: »No. Last year it seemed obvious that Conchita would win: she had the song, the message and the power of her image, but this year – who knows?«
Maimuna: »Yes, it was all about Conchita in 2014 but after listening to the other 39 entries, I feel so impressed and inspired by them all that it's impossible to guess.«
Follow Uzari & Maimuna:

Facebook: Uzari & Maimuna – Time
Twitter: @UzariAndMaimuna
Instagram: www.instagram.com/uzari.maimuna/