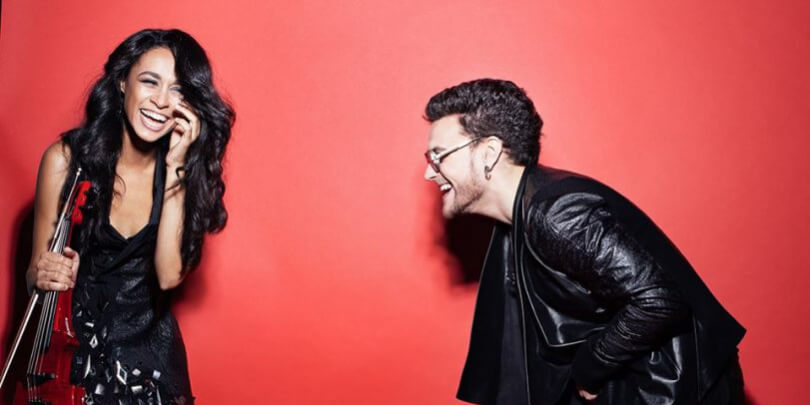 BELARUS
Belarus: Uzari & Maimuna to Vienna
15 acts performed live, and the public and the jury voted on "Time" by Uzari & Maimuna to be the Belarusian entry for Eurovision Song Contest 2015 in Vienna

The winner of the show Eurofest 2015 was Uzari (singer) & Maimuna (violinist) with the song "Time" composed by Yuri Navrotsky and Svetlana Geraskova. The national final was held in the capital Minsk, hosted by Olga Ryzhikova and Denis Dudinskiy, broadcastet live by the national broadcaster of Belarus, BTRC.
The 15 acts performed their songs live on the Belarusian channels "Belarus 1" and "Belarus 24". The viewers and a special jury voted for their favourite song to find the winner, which represent Belarus at Eurovision Song Contest 2015 in Vienna, Austria.
The 7 jury-members gave "Time" 12, 8, 12, 12, 10, 8 and 6 points, while the televoters only gave the winning song 8 points. The televoters gave 12 points to the song "Only Dance".
The finalists for Eurofest 2015
1) Napoli - "My Dreams"
2) Lis - "Angel"
3) Daria - "Love Is My Colour"
4) Gunesh - "I Believe In A Miracle"
5) Yana Butskevich & Muzzart - "Only Dance"
6) Valeria Sadovskaya - "Summer Love"
7) Rostany - "Electric Toys"
8) Janet - "Supernova"
9) Alexey Gross - "Stand as One"
10) MILKI - "Accent"
11) Uzari & Maimuna - "Time"
12) Beatrys - "Fighter"
13) Vitaly Voronko - "Drive"
14) Anastasia Malashkevich - "Don't save my name"
15) Tasha ODI - "Giving Up Your Love"
Belarus haven't had the greatest succes in Eurovision history. They have participated every year since 2004, but only qualified for the Grand Final four times. Their best result is a 6th place with the 2007-entry "Work Your Magic" performed by Dmitry Koldun. This is their only Top-15 position in Eurovision.