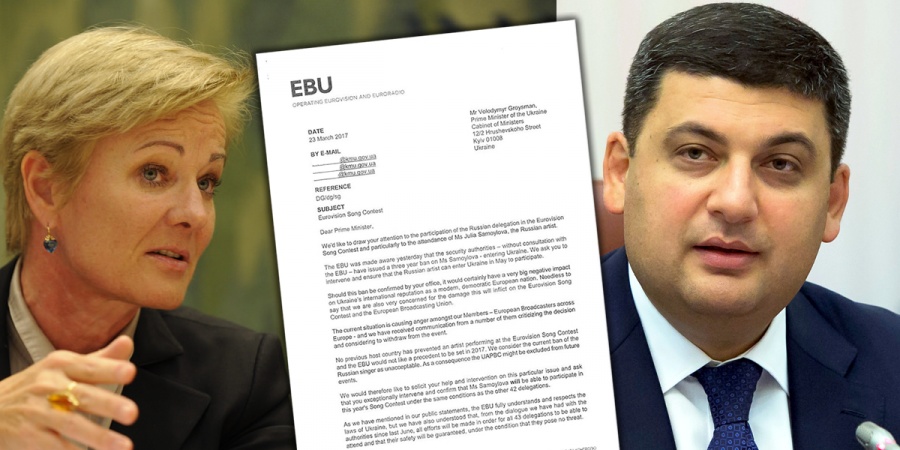 EBU
EBU: Countries consider to withdraw from Eurovision 2017
DOCUMENTATION: The head of EBU, Ingrid Deltenre's letter to the Ukrainian Prime Minister, Volodymyr Groysman. Without a solution, a number of countries considering to withdraw from Eurovision Song Contest 2017, and places Ukraine's future participation in ESC under threat
In a letter to Ukrainian Prime Minister, Volodymyr Groysman, the Director General of the European Broadcasting Union (EBU) Ingrid Deltenre, writes that "a number of (members) considering to withdraw from the event":
Should this ban be confirmed by your office, it would certainly have a very big negative impact on Ukraine's international reputation as a modern, democratic European nation. Needless to say that we are also very concerned for the damage this will inflict on the Eurovision Song Contest and the European Broadcasting Union.

The current situation is causing anger amongst our Members – European Broadcasters across Europe – and we have received communication from a number of them criticizing the decision and considering to withdraw from the eventIngrid Deltenre, Director General of EBU
The letter was sent on 23 March 2017, the day after Ukraine's Security Service, SBU, decided to refuse the Russian participant Yulia Samoylova to enter Ukrainian territory for three years. EBU later proposed that Yulia could participate in Eurovision 2017 via satellite, but that proposal was rejected by both Ukraine and Russia.
The Ukrainian Kiev Vlast has leaked the letter from EBU to Ukraine's prime minister. The authenticity of the letter has been confirmed by the EBU press office.
Dear Prime Minister,

We'd like to draw your attention to the participation of the Russian delegation in the Eurovision Song Contest and particularly to the attendance of Ms Julia Samoylova, the Russian artist.

The EBU was made aware yesterday that the security authorities – without consultation with the EBU – have issued a three-year ban on Ms Samoylova – entering Ukraine. We ask you to intervene and ensure that the Russian artist can enter Ukraine in May to participate.

Should this ban be confirmed by your office, it would certainly have a very big negative impact on Ukraine's international reputation as a modern, democratic European nation. Needless to say that we are also very concerned for the damage this will inflict on the Eurovision Song Contest and the European Broadcasting Union.

The current situation is causing anger amongst our Members – European Broadcasters across Europe – and we have received communication from a number of them criticizing the decision and considering to withdraw from the event.

No previous host country has prevented an artist performing at the Eurovision Song Contest and the EBU would not like a precedent to be set in 2017. We consider the current ban of the Russian singer as unacceptable. As a consequence the UAPBC might be excluded from future events.

We would therefor like to solicit your help and intervention on this particular issue and ask that you exceptionally intervene and confirm that Ms Samoylova will be able to participate in this year's Song Contest under the same conditions as the other 42 delegations.

As we have mentioned in our public statements, the EBU fully understands and respects the laws of Ukraine, but we have also understood that, from the dialogue we have had with the authorities since last June, all efforts will be made in order for all 43 delegations to be able to attend and that their safety will be guaranteed, under the condition that they pose no threat.

We have not been made aware of any information that that Julia Samoylova poses a security threat to Ukraine.

The EBU does everything it can to ensure that the Eurovision Song Contest remains a non-political event and we are increasingly frustrated, in fact angry, that this year's competition is being used as tool in the ongoing confrontation between the Russian Federation and Ukraine.

Please be aware that should we not be able to find an agreeable solution to this matter it will without doubt place the future participation of Ukraine in the Eurovision Song Contest under threat.

We are confident that you understand the urgency of this situation and that you will quickly find a solution.

Looking forward to hearing from you promptly on your decision.

Yours sincerely,

Ingrid Deltenre
Director General
Threat of exclusion from Eurovision
In the letter, EBU also threats Ukraine of exclusion from Eurovision Song Contest in the future, if an agreeable solution can't be found:
Please be aware that should we not be able to find an agreeable solution to this matter it will without doubt place the future participation of Ukraine in the Eurovision Song Contest under threatIngrid Deltenre, Director General of EBU
Ukraine: No concessions are being discussed
Ukrainian Foreign Minister Pavel Klimkin was asked whether Yulia Samoylova should be allowed to participate in Eurovision in connection with a possible boycott of the competition by other countries:
– No concessions, formal or informal, are being discussed, we are talking about implementation of the law. If the law is violated, we cannot talk about any steps, says Klimkin