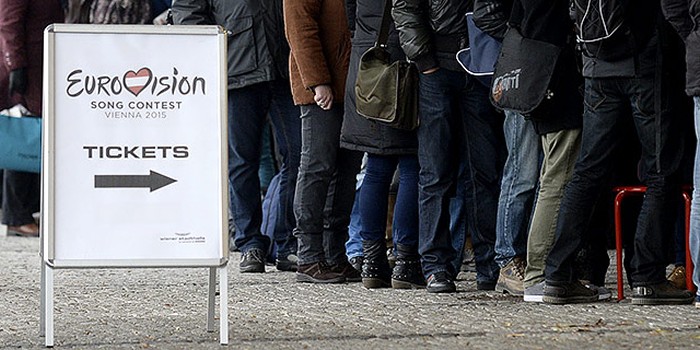 TICKETS
Eurovision 2015: More tickets on sale
The second batch of tickets for Eurovision Song Contest 2015 are on sale on Thursday, 29 January 2015 at 09:00 CET. Tickets will only be available for some of the shows
Now that we know the countries that will compete in semi-final 1 and semi-final 2, more tickets for these semi-finals will be on sale from Thursday, 29 January 2015 at 09:00 CET. Tickets for the Grand Final (both the rehersals and the live TV-show), will not be sold in this batch.
The first batch of tickets was sold out quickly. After 20 minutes all the tickets for the Grand Final on 23 May 2015 were sold out. After 1 hour all the tickets for the live-shows were gone. So be prepared when the second batch goes on sale, as the demand for tickets this year is very high.
Nine shows, Six categories, from €14 to €390
The tickets are offered in six different categories and sold in several batches. The prices varies depend on the particular show. They range from 14 Euros (Category D, Family rehearsals, Semi-finals) over a wide range in the medium price range up to 390 euros for tickets to the Grand Final on 23 May (Gold Category). There will be tickets for standing and seating.
All tickets can be purchased from the official ORF-ticketing partner:
oeticket.com
Or by phone:
ÖT Service Phone: +43 1 96096
Ticket categories & prices


Mon 18 May, 21:00 CET - Jury Semi-final 1 - rehearsal


Seats category Gold - €99
Seats category A - €69
Seats category B - €49
Seats category C - €29
Seats category D - €18 (restricted view)
Standing - €49



Tue 19 May, 15:00 CET - Family Semi-final 1 - rehearsal


Seats category Gold - €69
Seats category A - €49
Seats category B - €29
Seats category C - €18
Seats category D - €14 (restricted view)
Standing - €29



Tue 19 May, 21:00 CET - Semi-final 1 - LIVE TV-SHOW


Seats category Gold - €150
Seats category A - €120
Seats category B - €99
Seats category C - €59
Seats category D - €28 (restricted view)
Standing - €99



Wed 20 May, 21.00 CET - Jury Semi-final 2 - rehearsal


Seats category Gold - €99
Seats category A - €69
Seats category B - €49
Seats category C - €29
Seats category D - €18 (restricted view)
Standing - €49



Thu 21 May, 15.00 CET - Family Semi-final 2 - rehearsal


Seats category Gold - €69
Seats category A - €49
Seats category B - €29
Seats category C - €18
Seats category D - €14 (restricted view)
Standing - €29



Thu 21 May, 21.00 CET - Semi-final 2 - LIVE TV-SHOW


Seats category Gold - €150
Seats category A - €120
Seats category B - €99
Seats category C - €59
Seats category D - €28 (restricted view)
Standing - €99



Fri 22 May, 21:00 CET - Jury Grand Final - rehearsal (not on sale in this batch)


Seats category Gold - €120
Seats category A - €99
Seats category B - €79
Seats category C - €49
Seats category D - €18 (restricted view)
Standing - €79



Sat 23 May, 13:00 CET - Family Grand Final - rehearsal (not on sale in this batch)


Seats category Gold - €99
Seats category A - €69
Seats category B - €49
Seats category C - €29
Seats category D - €18 (restricted view)
Standing - €49



Sat 23 May, 21:00 CET - Grand Final - LIVE TV-SHOW (not on sale in this batch)


Seats category Gold - €390
Seats category A - €290
Seats category B - €220
Seats category C - €98
Seats category D - €42 (restricted view)
Standing - €220