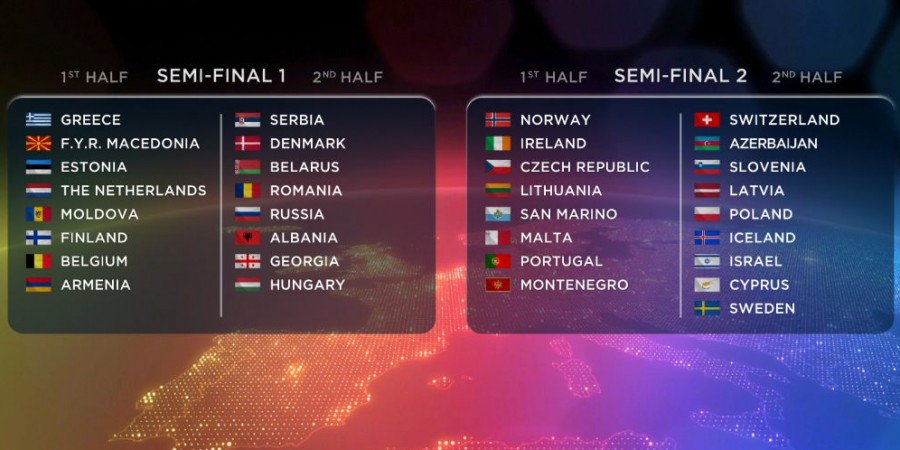 VIENNA 2015
Eurovision 2015: Who's in which Semi-final?
See the result of the semi-final allocation draw for Eurovision Song Contest 2015. The draw determined which countries are allocated to which of the two semi-finals
The allocation draw took place on 26 January 2015 in Vienna.
Facts about the allocation draw
The 33 countries were distributed into 5 allocation draw pots based on the voting pattern between them to avoid neighbour voting
After a country was drawn, a second draw determined whether that country will participate in the first or second part of the semi-final
The six countries pre-qualified for the Grand Final (Big-5 and Austria) were also drawn to decide in which semi-final these countries will vote
The final running order will be decided in mid March by the producer and broadcaster, ORF, and approved by EBU
Allocation Draw Pots
To ensure a fair voting and competition, the 33 countries were distributed into 5 Draw Pots, based on the voting pattern to avoid too much neighbour voting.
Pot 1: Albania, FYR Macedonia, Montenegro, Slovenia, Switzerland, Serbia, Malta
Pot 2: Denmark, Finland, Estonia, Norway, Sweden, Iceland, Latvia
Pot 3: Azerbaijan, Belarus, Georgia, Israel, Russia, Armenia, Lithuania
Pot 4: Belgium, Cyprus, Greece, Ireland, The Netherlands, San Marino
Pot 5: Hungary, Moldova, Romania, Portugal, Poland, Czech Republic
Host Insignia Exchange
Before the allocation draw, the Host Insignia Exchange took place. Here the mayor of Region Copenhagen, Sophie Hæstorp Andersen, handed over the "Eurovision Keys" (!!!) to the mayor of Vienna, Michael Häupl.