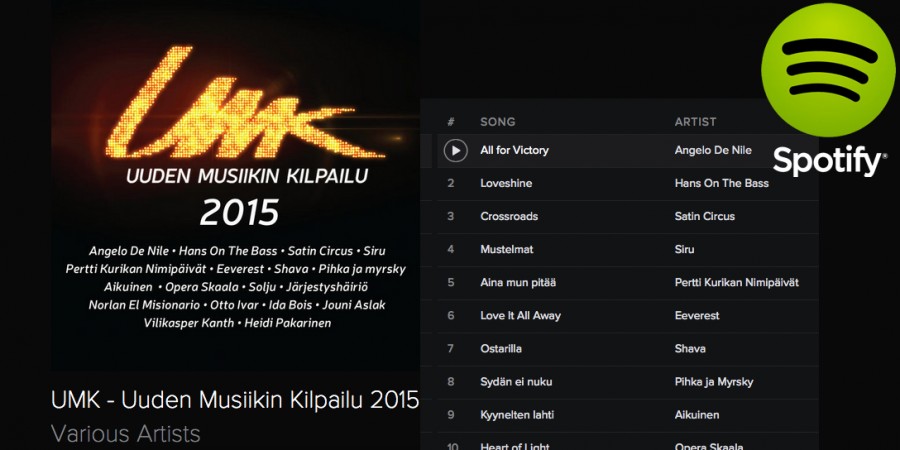 FINLAND
Finland: Artists and songs leaked on Spotify
Today the songs for Finland's Uuden Musiikin Kilpailu 2015 was leaked on Spotify six days before the official presentation
Six days before the official press conference the 18 songs for this years national selection for Finland, Uuden Musiikin Kilpailu (UMK), has been leaked trough Spotify.
You can listen to the 18 songs if you are a subscriber to Spotify.
The press conference will present the 18 entries on 13 January 2015 by the national broadcaster YLE.
Entries for Uuden Musiikin Kilpailu 2015
1) Angelo De Nile - "All For Victory"
2) Hans On The Bass - "Loveshine"
3) Satin Circus - "Crossroads"
4) Siru - "Mustelmat"
5) Pertti Kurikan Nimipäivät - "Aina Mun Pitää"
6) Eeverest - "Love It All Way"
7) Shava - "Ostarilla"
8) Pihka & Myrsky - "Sydän Ei Nuku"
9) Aikuinen - "Kyynelten Lahti"
10) Opera Skaala - "Heart Of Light"
11) Solju - "Hold Your Colours"
12) Järjestyshäiriö - "Särkyneiden Sydänten Kulmilla"
13) Norlan "El Misionario" - "No Voy A Llorar Por Ti"
14) Otto Ivar - "Truth Or Dare"
15) Ida Bois - "Kumbuya"
16) Jouni Aslak - "Lions And Lambs"
17) Vilikasper Kanth - "Äänen Kantamattomiin"
18) Heidi Pakarinen - "Bon Voyage"
An expert jury has selected the eighteen entries that will compete to be the Finnish entry at Eurovision Song Contest 2015 in Vienna.
Finland debuted in the Eurovision Song Contest in 1961 and has participated ever since, except for six years, mostly because of last years bad position. The country has won the competition once, in 2006 with the song "Hard Rock Hallelujah", performed by Lordi. Since then Finland's best result is 11th place in 2014.