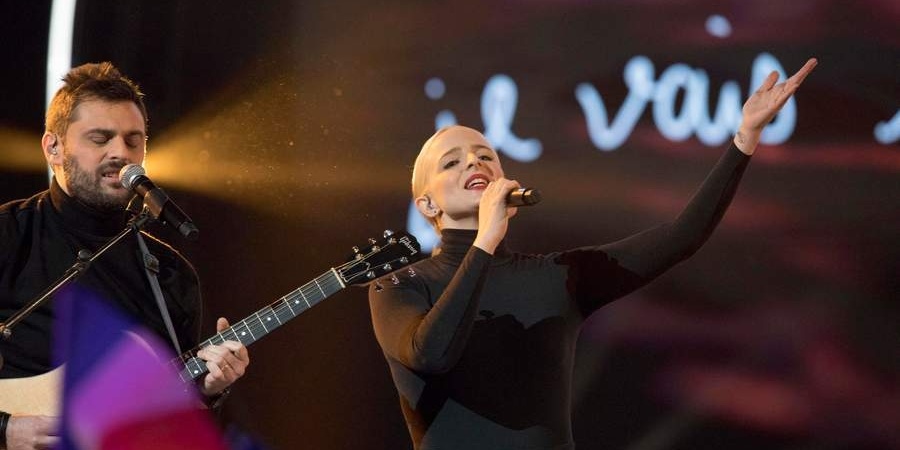 FRANCE
France Destination Eurovision 2018: Results of semi-final 2
The second semi-final in France was aired tonight. Four of the nine contestants proceeded to the final: Madame Monsieur, Max Cinnamon, Igit and Nassi
Broadcaster France Télévisions aired the last of two semi-finals tonight. Four of tonight's nine contestants qualified for the final on 27 January 2018, decided by determined by a French jury together with an international jury.
The four qualifiers from semi-final 2 join the qualifiers from last Saturday's semi-final 1: Lisandro Cuxi, Emmy Liyana, Malo' and Louka.
Destination Eurovision Semi-final 2 results
Madame Monsieur – "Mercy" (56 points)
Max Cinnamon – "AiIlleurs" (54 points)
Igit – "Lisboa Jérusalem" (46 points)
Nassi – "Rêves de gamin" (46 points)
Sweem – "Là-haut" (26 points)
Jane Constance – "Un jour j'ai rêvé" (8 points)
Sarah Caillibot – "Tu me manques" (8 points)
June The Girl – "Same" (8 points)
Lucie – "My World"
Qualifiers from semi-final 1:
Lisandro Cuxi – "Eva" (66 points)
Emmy Liyana – "OK ou KO" (50 points)
Malo' – "Ciao" (46 points)
Louka – "Mamma Mia" (30 points)
Destination Eurovision 2018
"Destination Eurovision" is a new format for selecting the French representative at Eurovision Song Contest. This year, the competition will consist of three shows.
Broadcasting dates:
13 January 2018 – Semi-final 1
20 January 2018 – Semi-final 2
27 January 2018 – Final
The semi-finals were recorded on 8 and 9 January 2018 and will be broadcast on 13 and 20 January 2018. The final will be aired live on 27 January 2018. All on France 2, TV5 Monde and Eurovision France's Facebook page.
The results of the semi-finals are determined by a French jury together with an international jury.
French jury:
Amir – Singer, songwriter, France 2016
Isabelle Boulay – Singer
Christophe Willem – Singer, winner of Idol 2006
International jury:
Christer Björkman – Head of Delegation for Sweden at Eurovision, Supervisor of Melodifestivalen, Sweden 1992
Nicola Caligiore – Head of Delegation for Italy at Eurovision
Olga Salamakha – Head of Delegation for Belarus at Eurovision
The result of the final will be determined by 50/50 televoting / international jury (the international jury from the semi-finals joined by jurors from Bulgaria, Armenia, Switzerland, Russia, Israel, Finland and Iceland). Each of the jury members awards 12, 10, 8, 6, 4, and 2 points.
France is a grand old country in Eurovision. They have participated 60 times since the start of Eurovision in 1956.
The best results are five victories in 1977, 1969, 1962, 1960, 1958. The latest victory was in 1977 - 40 years ago! The worst result was in 2014, where France ended last in the Grand Final, and in the last 15 years, they only managed twice to be in top-10.
France is a member of "Big 5", so they don't have to go through the semi-final-qualifications, but are automatically qualified for the Grand Finals.