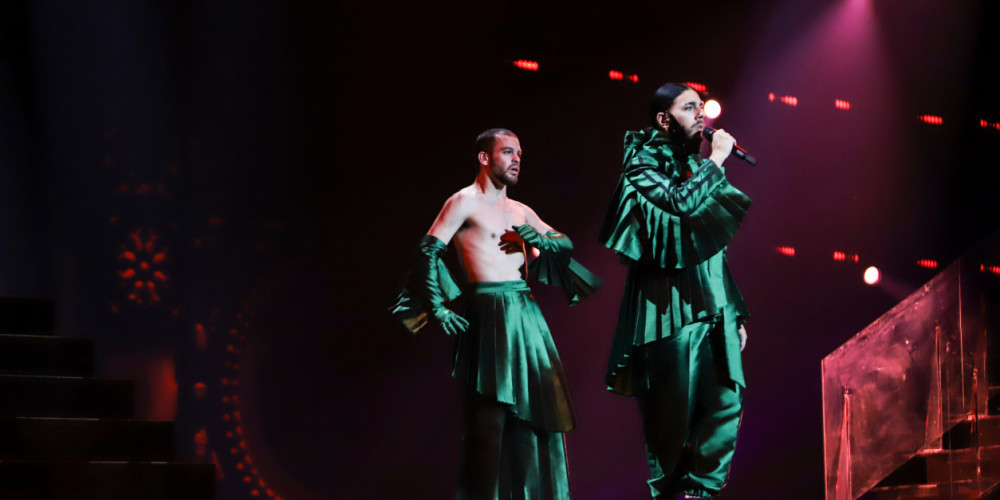 PORTUGAL
Portugal: Conan's dancer has injured himself
During Portugal's first rehearsals, João Reis - Conan Osíris' dancer on stage - avoided his famous death drop on stage. Eurovisionworld has now learned that it was due to a knee injury.
Once Conan Osíris was announced as Portugal's 2019 representative, many pointed last year's home country as this year's possible winner. Three months later after Festival da Canção's final, the hype for Conan has decreased, especially after the first official rehearsal.
The staging was the same as in the Portuguese final. And that didn't impress the media and fans who saw Conan's rehearsal: "When are we seeing the death drop again?" was one of the questions Conan got at the press conference, after noticing that the death drop was missing from the first set of rehearsals.
Conan went along and asked for some patience: "We are not giving everything away yet", he explained.
It looks like, nonetheless, there's more to the story than just that as we've learned that João has injured himself before coming to Tel Aviv. His knee was sore and hurting. João was seen by the doctors and started taking care of the issue but as the second set of rehearsals approach, we're told that the dancer is yet to recover at 100%.
Conan Osíris and João Reis are set to take the stage one more time tomorrow for the second set of rehearsals.

Portugal has participated 50 times since 1964. It was a very bad start, as they managed to get Zero Points in the debuting year.
Before Eurovision 2017 they have never won the contest, and never made the top-5. In fact Portugal held the record for most appearances in the contest without a win!
But that changed in 2017, where Salvador Sobral won with "Amar Pelos Dois".
Since the introduction of Semi-finals in 2004 Portugal only qualified for the Grand Final 5 out of 13 times.