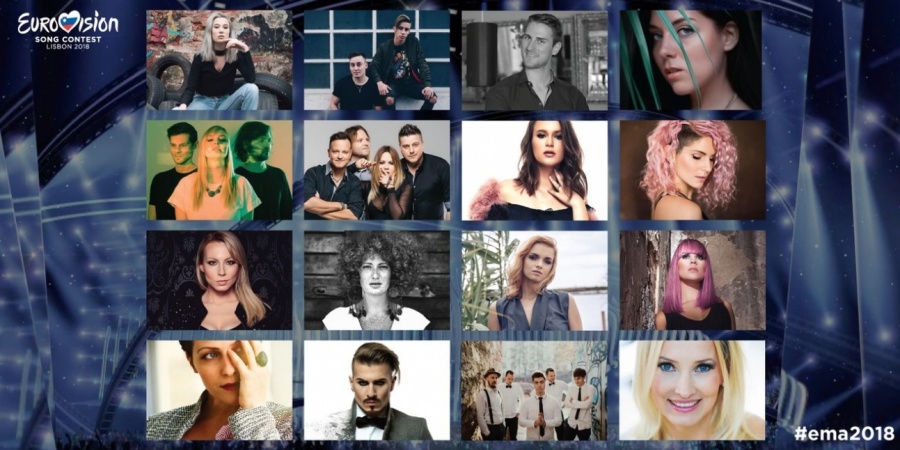 SLOVENIA
Slovenia: EMA 2018 artists announced
The Slovene national broadcaster RTVSLO has announced the 16 artists for EMA 2018. There will be one Semi-final and a Final, both held in February 2018
The Slovene broadcaster RTVSLO has announced the 16 artists for Evrovizijska Melodija (EMA) 2018, and revealed some changes to the competition.
EMA will be divided into two parts next year; the pre-selection and the final, which will be held in February. Sixteen song will be presented in the pre-selection, and eight of them will qualify for the Final.
EMA 2018 songs
Anabel – "Pozitiva"
BQL – "Ptica"
Gregor Ravnik – "Zdaj je čas"
Ina Shai – "V nebo"
Indigo – "Vesna"
KiNG FOO – "Žive sanje"
Lara Kadis – "Zdaj sem tu"
Lea Sirk – "Cirque"
ManuElla – "Dan potem"
Marina Martensson – "Blizu"
MILA – "Svoboda"
Nika Zorjan – "Uspavanka"
Nuška Drašček – "Ne zapusti me zdaj"
Orter – "Tisoč let"
Proper – "Ukraden cvet"
Tanja Ribič – "Ljudje"
Among the contestants, two have previously represented Slovenia in Eurovision Song Contest: ManuElla from 2016 with "Blue and Red" (14th in Semi-final 2). Tanja Ribič from 1997 with "Zbudi Se" (10th).

The 16 songs were selected among 108 applications by a professional jury with four members: Maja Keuc (Slovenia 2011), Eva Hren (musician and guitar teacher), Jernej Vene (music editor at Val 202), Tadej Košir (musician, guitarist and musician).
The biggest change in the submission rules for EMA 2018 was, that were only permitted in Slovenian language.
Changed voting system
All the 16 songs will perform in the Semi-final, and 8 will qualify for the Final of EMA 2018: 4 of the finalists will be chosen by a seven member jury and 4 will be chosen by televoting.
In the final the winner will be chosen by 50/50 jury/televoting.
In the Final there will be six juries with five members each:
Singers Jury
Composers Jury
Radio Jury
Television Jury
Fan Jury (members of OGAE Slovenia)
International Jury
Slovenia had its debut in Eurovision Song Contest 1993, and since then participated 23 times in Eurovision. They have never won the contest, and the best result for Slovenia is two 7th places in 1995 and 2001.
Since the introduction og Semi-finals in 2004, Slovenia only managed to qualify for the Grand Final 4 times out of 14.