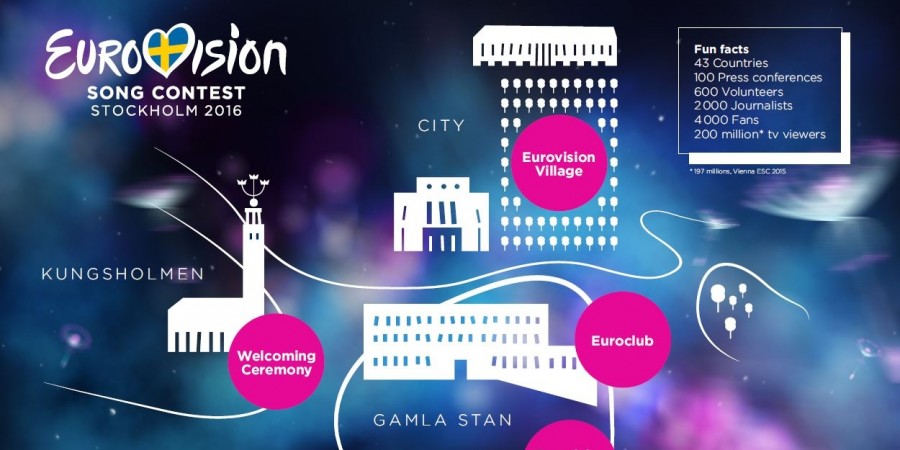 STOCKHOLM 2016
Stockholm 2016: Eurovision fans in focus
An 81 metre high attraction in Stockholm and invitation to all the OGAE-fans to the biggest Euroclub ever. That is the recipe for a succesfull Eurovision-week for fans in Stockholm
Eurovision Song Contest 2016 will let the fans "Come Together" more than ever before. Fans who are members of an official OGAE fan club, accredited press and delegations will all have access to the official parties in Euroclub in Stockholm.
Euroclub bigger than ever
When Eurovision was held in Malmö in 2013, the Euroclub was open to 1500 accredited fans, including press. This year, that number will be doubled to 3000 fans, including the press accredited and delegations. All the fans who are member of one of the official OGAE fan clubs will have access, according to Swedish broadcaster SVT.
»There will be people from all over the world to be a part of this event. Therefore it is amazing that the city of Stockholm as the first host city invites all OGAE fans to solve the accreditation to Euroclub, the official party venue for artists, delegations and media«, says Swedish Head of Delegation, Christer Björkman.
Euroclub will have three additional bars and a large stage where the participating artists will perform.
How to get access to Euroclub for OGAE fans
Registration will open from 15 March to 31 March 2016
Registration via a web form on: stockholm.se/euroclubaccreditation
Payment and retrieval of the Fans-accreditation to EuroClub and Euro Fan Café will occur in Stockholm, at the Globe Arena, next to the press center at Hovet. The accreditation center will open on 4 April.

A total of 2,550 fans have the opportunity to get an OGAE-accreditation for Eurovision Song Contest 2016 in Stockholm.

An OGAE-accreditation costs 500 SEK (≈ 53 €) and gives free access to both Euro Fan Café and EuroClub from 2 - 14 May, including the magnificent opening ceremony on 8 May and the closing ceremony immediately after the final.

You can only apply for an OGAE-accreditation if you are member of an OGAE fan club. Your application will be answered immediately after the registration period has ended.
81 metre high attraction
For the public who're not a part of the OGAE community, Eurovision Village is the place to be. The Eurovision Village is in the Royal Garden and is open to all.
In the middle of Eurovision Village there will be placed a 81 metre tower "City Skyliner", where visitors can go up the tower and get a breathtaking and unique view of the inner city of Stockholm.
»We are proud to offer a spectacular family attraction with 360 degree panoramic views over a stunning location. With its 81 meters the "City Skyliner" one of Stockholm's highest points. It will be a totally unique experience from a place that has never before been available« says Jesper Ackinger vice president of Stockholm Business Region and head of the city's Eurovision Organization.
"City Skyliner" will be one of the main attractions at the main venue. Skyliner, which is also accessible to wheelchair users, takes 60 people at a time and will cost 100 SEK (11 €).
Event
The host city is selected (Stockholm, in case you have been sleeping the last half year), and the dates are also set: 10, 12 & 14 May 2016.
The Arena is selected: Globen Arena in Stockholm, but we still miss to see some of the stage design
Eurovision Village will be located at Kungsträdgården.
Euroclub & Euro Fan Café will be merged this year, and placed at Skeppsbron.