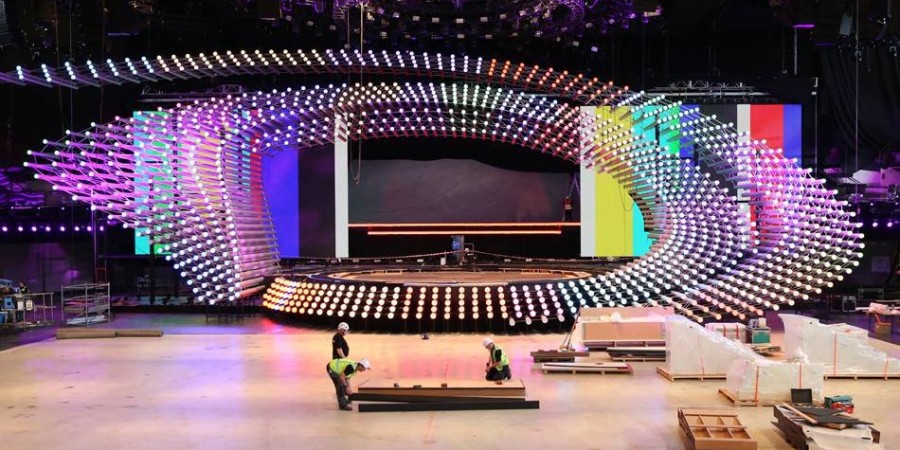 STAGE
The Eurovision 2015 stage is taking shape
The construction of the stage for Eurovision Song Contest 2015 has started, and the stage is taking shape inside the Arena. Watch the photos of the construction here
The stage for the Eurovision Song Contest 2015 in Vienna is taking shape. The Austrian broadcaster, ORF, has presented some photos of the stage construction inside the arena, Wiener Stadthalle.
The stage is surrounded by 1288 freestanding cylindrical pillars with LED light, shaped like a giant eye. Measurement of the scene is 44 meters in the width and 14 meters in height. The background is a large LED wall that can be pushed aside.
Gallery: Stage construction
Stage design by Florian Wieder - a champion in stage design
Florian Wieder is the Creative Producer and Production Designer, and has the task of designing the stage for this year's Eurovision Song Contest. It is not the first time he goes into stage design. In his portfolio is a wide range of scenes used for TV production: 16 MTV awards, "America's Got Talent", "Britain's Got Talent", Eurovision Song Contest in Dusseldorf in 2011 and in Baku in 2012, as well as the Austrian versions of "Star Mania", "Dancing With the Stars", "Heroes of Tomorrow" and "The Big Chance". He has also designed scenes to Beyonce, Jennifer Lopez and U2! About the challenge to design a stage like this, he says: "The challenge with the Eurovision Song Contest is the size of this production. And not only the physical size of it but also the 39 participating nations who all expect to have their act staged in the best possible way".
Lighting designer Al Gurdon - most renowned lightning designer in the world
Lighting design is in the hands of Al Gurdon. He is one of the most renowned lighting designer in the world. He has previously designed the light for mega events like the halftime show of the "Super Bowl" with Madonna, "Victoria's Secret", "American Idol", 2014 Winter Olympics in Sochi and Eurovision Song Contest in Moscow in 2009 and Oslo in 2010.

Wiener Stadthalle
Roland Rainer Platz 1, 1150 Wien
Metro: U6, station: Burggasse-Stadthalle
Metro: U3, station: Schweglerstraße
Wiener Stadthalle consists of six venues, swimming pool, two gymnasiums and an indoor ice rink. Eurovision Song Contest 2015 will be held in Hall D - the largest indoor arena in Austria.
Structure: 98 x 110 metres
Height: 26.6 metres
Floor area: 55.2 x 98 metres
Capacity: Up to 16.152 spectators (depending on the event)