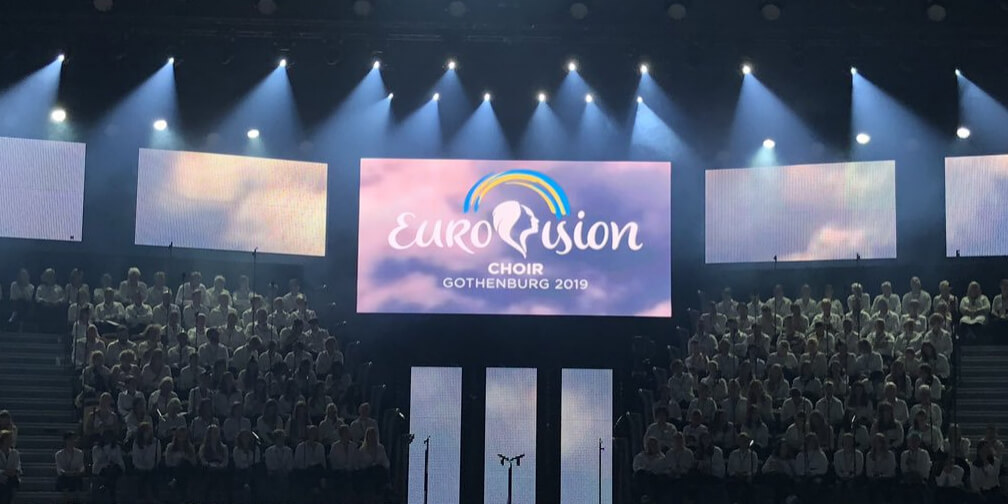 EUROVISION CHOIR
Tonight: Eurovision Choir 2019
The second edition of "Eurovision Choir" takes place tonight. Choirs from ten countries compete in the show live from Gothenburg, Sweden. Check out the lineup, format and how to watch
Tonight the second edition of Eurovision Choir takes place with ten countries participating, including a new member in the Eurovision family: Scotland.
The show kicks off at 20:30 CEST live from Partille Arena in Gothenburg, Sweden. Hosts are Ella Petersson (SVT) and Petroc Trelawny (BBC Radio 3). Eurovision Choir 2019 is combined with the Opening Ceremony of the European Choir Games, which also take place in Gothenburg.
Eurovision Choir 2019 - Lineup
Running
Country
Choir
Songs round 1
Songs round 2
1
Sweden
Zero8
Khourmi
Hej, dunkom så länge vi levom
Limu, Limu, Lima
2
Belgium
Almkalia
Made in Belgium (Medley)
Million Eyes
3
Latvia
Babite Municipality Mixed Choir Maska
Pērkontēvs
Nāc, Dievini
4
Germany
BonnVoice
O Täler weit
Die Gedanken sind frei
Air
5
Norway
Volve Vokal
Ønskediktet
Famine Song
6
Denmark
Vocal Line
True North
Viola
7
Scotland
Alba
Cumha na Cloinne
Ach a' Mhairead
Alba
An t-Iarla Diùrach
Innis dhomhsa cà il thu cadal
Siud a rud a thogadh fonn
8
Slovenia
Jazzva
Spomenčice
Bejži ptiček
9
Switzerland
Cake O'Phonie
Chante en mon cœur
La sera sper il lag
Poi
Le ranz des vaches
La ticinella
Beresinaliedet
Chanson d'ici
Believer
10
Wales
Ysgol Gerdd Ceredigion
Cúlna
Ar Lan y Môr
Yr Alwad
Eurovision Choir 2019 – Format
ROUND 1
Each of the 10 countries will be represented by a choir, and each choirs will have 4 minutes to perform a choral piece. The piece can include one or more songs. After each performance the three jurors will give their comments.
INTERVAL 1
After the 10 choirs have been on stage, there is a massed choir performance, where 300 singers will perform "Without You" by Avicii.
ROUND 2
The jury will now select the 3 best choirs to proceed to Round 2. Here each of the 3 choirs will perform a piece of one or more songs lasting 3 minutes.
INTERVAL 2
Performance by Eurovision Choir 2017 winners "Carmen Manet".
WINNER
The jury will select the winning choir, who will be crowned "Eurovision Choir 2019", and awarded with a specially designed trophy. On top of that, the choir will get a ticket for the World Choir Games in Belgium in 2020.
CLOSING ACT
Massed choir performance of ABBA's "Dancing Queen".
Eurovision Choir 2019 – How to watch
Belgium: La Trois – 20:30 CEST
Denmark: DR1 – 20:30 CEST
Germany: WDR – 20:15 CEST (pre-programme)
Latvia: LTV1 – 20:25 CEST
Norway: NRK1 & NRK Klassisk – 20:20 CEST
Scotland: BBC Alba – 19:30 BST
Slovenia: RTV1 – 20:40 CEST
Sweden: SVT2 – 20:30 CEST
Switzerland: RTS Un – 20:30 CEST
Wales: S4C – 19:00 BST (pre-programme)
The live stream from Belgium (La Trois) and Sweden (SVT2) will be available worldwide.
Eurovision Choir 2019 – Jury members
Deke Sharon (USA) is a performer, arranger, producer and coach and credited by many as being responsible for the current sound of modern a cappella. He has produced five seasons of "The Sing Off" for NBC, was arranger, music director and vocal producer for the "Pitch Perfect" films and was music director and guest judge on the BBC's "Pitch Battle".
John Rutter (United Kingdom) is a composer and conductor. Much of his early work consisted of church music and other choral pieces including Christmas carols. Today his compositions, including such concert-length works as Requiem, Magnificat, Mass of the Children, The Gift of Life, and Visions are performed around the world. His music has featured at a number of British royal occasions, including the two most recent royal weddings.
Katarina Henryson (Sweden) works within a broad range of music genres, from classical music to jazz and pop and is one of the founding members of the internationally renowned a cappella group "The Real Group". With her flexible altovoice, numerous compositions and distinct stage presence she has contributed to the group for 32 years and can be heard on 20 albums.
Eurovision Choir – History
The first edition of Eurovision Choir (called Eurovision Choir of the Year) took place at Riga Arena in Latvia on 22 July 2017, host broadcast by Latvijas Televīzija (LTV), and was won by Slovenian girls' choir Carmen Manet.
Nine countries sent choirs to this inaugural edition, which was hosted by Eric Whitacre and Eva Johansone, and adjudicated by UK composer and conductor John Rutter, Latvian mezzo-soprano Elīna Garanča and Swiss conductor Nicholas Fink.