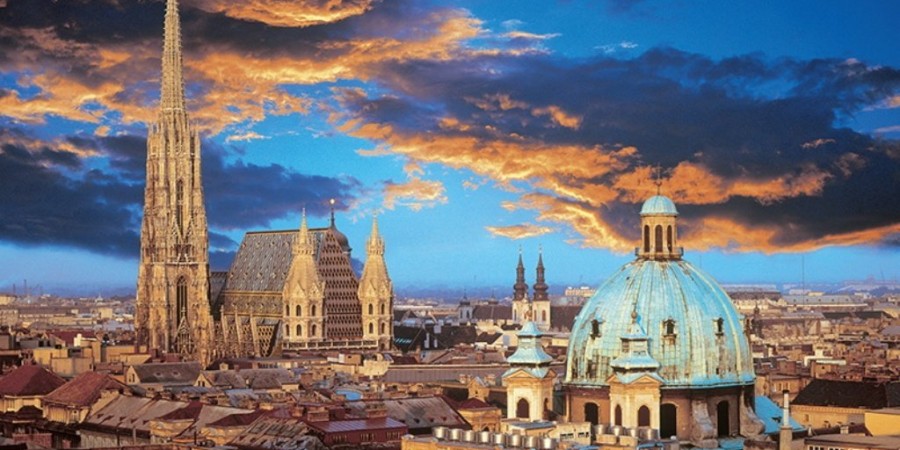 VIENNA 2015
Vienna is different
The host city of Eurovision Song Contest has everything. Delicious food, cool parties and cheap shopping. And it is one of Europe's most beautiful cities
You land at Vienna Airport, and the first thing you experience is how nice and clean the city is. The newly renovated and new terminals are also a big contrast to the beautiful buildings in the city center. Many of the buildings are on UNESCO's list of world heritage because of their important cultural and historical stories.
This romantic city is rich of culture, shopping and nightlife. Visit the famous Schönbrunn Palace or the Imperial Palace (Hofburg) and follow the footsteps of Sissi. Discover the cities musical history: Vienna has been synonymous with music for centuries, and was home to Mozart, Beethoven, Schubert and Johann Strauss. Their Wiener Philharmoniker is one of the world's top orchestras. This could be one of your most romantic and cultural Eurovisions ever!
The city is truly living up to it's slogan: "Vienna is different". There are so many contrasts in this imperial city, where history and culture walks hand in hand with nightlife and modern ways of living. Vienna has a very open mind towards gays and lesbians.
Vienna Top-5 must see list
Shopping and Tradition
During the day is Naschmarkt worth a visit. It is the city's largest market, and here you will find food, fruits and vegetables from all corners of the world. There are so many things that you completely forget to enjoy the beautiful Art Nouveau buildings, which are along the sides of the mile-long market – which is even larger on Saturdays when the market is extended by a flea market.
If you are more into established stores, you are sure to find something in Vienna which fits you and your budget. There are three main shopping streets: Kohlmarkt, Graben and Mariahilfer Straße. Here you will find everything from local specialty stores to the big chains like H&M, Forever 21, Nike and other brands.
Austria's most-visited sight
When you're tired of shopping, a must-see is the ancient imperial palace Schloss Schönbrunn. It is a rococo castle with no less than 1.441 rooms, with roots dating back to 1569. The palace also has an extremely beautiful castle garden and is on the list of world heritage.
A perfect place to relax is the beautiful Schönbrunn Zoo, right next to the Schönbrunn Palace. The zoo is the world's oldest existing zoo and has been named Europe's best.
If you are around between the different parts of the city, you can walk or take one of the beautiful, old trams or use the metro. It's easy to get around, and if you buy a day pass or a City Card it is also quite cheap.
Wiener Schnitzel
It's cheap to eat in Vienna. Typically you can get both starter and main course for 10 euros.
One of the classic dishes is of course Wiener Schnitzel, which you can find in almost all the restaurants in town. A classic starter is Frittatensuppe - a surprisingly delicious beef soup with pieces of pancake.
Another classic Vienna-dish is a wiener sausage. One of the city's best wiener sausage – at least according to Conchita Wurst – can be found at Bitzinger Wurstel, located right next to the opera house. Here are often long queues to buy one of the delicious sausages. But it goes fast, and it's worth the waiting.
Diverse urban life for gay & lesbians
The city is both friendly and open, and you will find something for everyone. You clearly sense that
diversity is an issue they care about in Vienna. They brand themselves even directly on their friendliness towards gays and lesbians. For example you can go into one of the city's tourist information and grab a free LGBT brochure with information about shopping, parties and other useful things for all colors of the rainbow.
Do not expect a district for the gay and lesbian nightlife. The bars and clubs are namely scattered over most of the city, with a slight predominance around Naschmarkt.