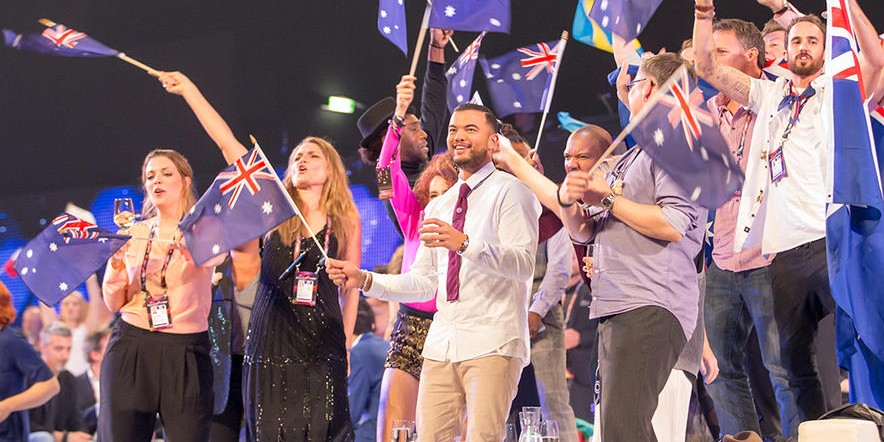 AUSTRALIA
Australia confirms Eurovision 2018 participation
Australia has again been invited to participate in Eurovision Song Contest. The fourth Australian representative could be decided in a national selection show
They were only meant to participate in 2015 to celebrate Eurovision Song Contest's 60th anniversary, but the celebration seems to continue for the fourth year in a row.
In 2015 Australia was granted a wildcard and invited to participate – but only once, according to EBU. In 2016 Australia again joined the Eurovision family because of the "...feedback we got from viewers, fans, press and the broadcasters...". In 2017 Isaiah Firebrace's "Don't Come Easy" amused the juries in Europe.
And now the Aussies are back for Eurovision Song Contest 2018, confirmed by Australian broadcaster SBS.
Many have been speculating whether Australia would be "moved" from the original Eurovision Song Contest to Eurovision Asia, after the new contest for the Asia-Pacific region was revealed last week – but that will not be the case. Maybe we will see Australia in both contests?
Reactions
SBS Managing Director Michael Ebeid says:
– SBS is proud to secure Australia's return as competitors in the Eurovision Song Contest for the fourth year, as the country's unique affection and passion for Eurovision continues to grow.
– In Guy, Dami and Isaiah, SBS has showcased the incredible talent of Australia's musical performers on the world stage, and in turn, the wonderful diversity that makes up Australia today.
– It's also great to be welcoming back hosts Myf Warhurst and Joel Creasey after they perfectly captured the spirit of the contest in their debut this year. We're looking forward to revealing more exciting news in the coming months.
The Australian Head of Delegation, Paul Clarke, says:
– It's wonderful that we're back! In the three years that we have competed in Eurovision we have achieved huge success, ranking second in the results overall behind Sweden. It's an exciting challenge for us to find a competitor who can fly the flag high for Australia, and we can't wait to begin that search.
National Selection
SBS may consider having a natinal selection – a competition to decide next year's Australian representative as the talent pool unearthed by other television reality contests drying up in recent years.
The Head of Delegation from Australia, Paul Clarke flagged that option after Firebrace's valiant efforts in Kiev, Ukraine in May.
At Eurovision Song Contest 2015 Australia was represented by Guy Sebastian and finished 5th in the Grand Final with the song "Tonight Again". Australia was granted a wildcard, with the right to vote in both semi-finals, and with a secured place in the Grand Final.
At Eurovision Song Contest 2016 Dami Im represented Australia and finished 2nd with the song "Sound of Silence". Best result so far.
In 2017 Isaiah Firebrace's "Don't Come Easy" amused the juries in Europe, but only the televoters in Denmark.