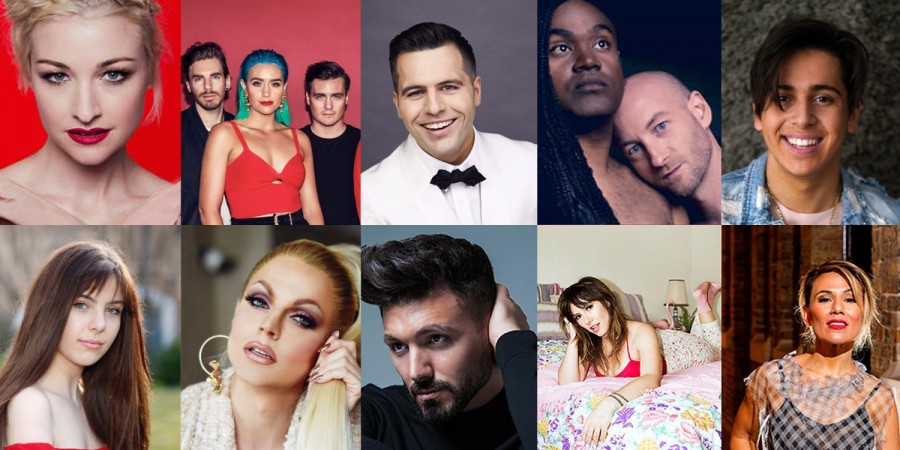 AUSTRALIA
Australia Decides 2019: Here are the ten artists and songs
Who will follow Guy, Dami, Isaiah and Mauboy? All the ten artists have been announced for "Eurovision - Australia Decides" – the show to select the Australian entry for Eurovision Song Contest 2019. Listen to the songs and vote in our poll
The first ever Australian national final for Eurovision Song Contest takes place on 9 February 2019 from Gold Coast, organised by Australian broadcaster SBS.
SBS has been dropping names for the show since December 2018, and now we finally know all the ten artists competing for the ticket to Eurovision 2019 in Tel Aviv.
Australia Decides 2019 – Acts
Running order
Ella Hooper – "Data Dust"
Electric Fields – "2000 and Whatever"
Mark Vincent – "This Is Not the End"
Aydan Calafiore – "Dust"
Courtney Act – "Fight for Love"
Leea Nanos – "Set Me Free"
Sheppard – "On My Way"
Alfie Arcuri – "To Myself"
Kate Miller-Heidke – "Zero Gravity"
Tania Doko – "Piece of Me"
Alfie Arcuri won the fifth season of The Voice Australia in 2016. His entry "To Myself" is written by himself along with Audius Mtawarira and Séb Mont.
Aydan Calafiore also competed in The Voice of Australia, finishing 4th in the seventh season. His song "Dust" is co-written with Cam Bluff and Dylan Joel
Courtney Act competed in the the first season of Australian Idol in 2003, but the drag queen is best known from the sixth season of RuPaul's Drag Race, and for participating in the UK Celebrity Big Brother 2018, which she won. "Fight for Love" is written by Danny Shah, Felicity Birt, Courtney Act and Sky Adams.
Ella Hooper was the lead singer of the rock band Killing Heidi, and is now a radio presenter on 2DayFM.
Electric Fields is a band made by Zaachariaha Fielding and Michael Ross. Zaachariaha often sings in his traditional languages of the Anangu people. Their song is called "2000 and Whatever", written by themselves.
Kate Miller-Heidke is 37 year old singer and actress from Brisbane with several albums on her CV. She was clasically trained but has been singing alternative pop for a while now.
Leea Nanos is a 16-years-old singer, who has been on the music scene the last couple of years. Including performances at The Olivia Newton John Wellness Walk and Research Run. Her song "Set Me Free" is written by Frank Dixon and herself.
Mark Vincent is an Australian tenor, who won the third season of Australia's Got Talent in 2009. He has released eight albums. Mark will compete with the song "This Is Not the End", written ny himself along with Isabella Kearney-Nurse and Roberto De Sa.
Sheppard is an indie pop band from Brisbane, formed in 2009. The band was behind the global hit Geronimo, which came platinum in USA and 20 other countries. The band has performed on The Ellen DeGeneres Show and The Tonight Show with Jimmy Fallon.
Tania Doko is one half of the band Bachelor Girl who had a huge hit with Buses and Trains in 1998. The song peaked at number four on the ARIA Singles Chart, reached number 6 on the charts in New Zealand, number 29 in Sweden and number 65 in the United Kingdom.
Eurovision – Australia Decides
The Australian broadcaster SBS will – for the first time – host a live national contest for selecting the Australian artist and song for Eurovision 2019. The previous four artists and songs have been selected internally.
The Australian national selection for Eurovision Song Contest 2019 in Tel Aviv will be called "Eurovision - Australia Decides". The contest will be held at the Gold Coast, Queensland, and will include a series of live performance shows on Friday 8 and Saturday 9 February. A Live Show will be broadcast on SBS on Saturday 9 February, where the decision will be made by the Australian public and a jury.
The show will be hosted by radio host, presenter and music buff Myf Warhurst, and comedian Joel Creasey.
Australia has participated in Eurovision Song Contest 4 times.
At Eurovision 2015 Australia was represented by Guy Sebastian and finished 5th in the Grand Final with the song Tonight Again. Australia was granted a wildcard, with the right to vote in both semi-finals, and with a secured place in the Grand Final.
At Eurovision Song Contest 2016 Dami Im represented Australia and finished 2nd with the song "Sound of Silence". Best result so far.
Australia qualified for the Grand Final 3 out of 3 times.