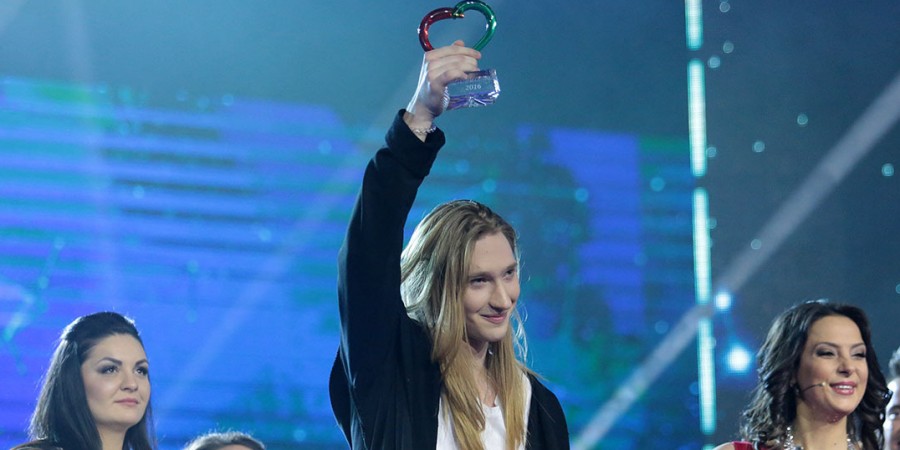 BELARUS
Belarus: Ivan to Stockholm with "Help You Fly"
Ivan (Alexander Ivanov) won the Belarusian Eurofest 2016 with the song "Help You Fly". He represents Belarus at Eurovision Song Contest 2016 in Stockholm

Tonight the final of Eurofest 2016 took place in Belarus. Ten songs competed for the ticket to Eurovision 2016 in Stockholm, and in the end Ivan (Александр Иванов / Alexander Ivanov) won with the song "Help You Fly". The song is written by the Russian producer and composer Viktor Drobysh.
The show was broadcasted live from the 600 Metrov studio in Minsk and was hosted by Olga Ryzhikova and Teo (Belarus 2014). Ivan considered as one of the favorites to win, especially due to the cooperation with the producer and composer Victor Drobysh. Ivan was also the bookmakers favorite to win Eurofest 2016.
Eurofest 2016 - Results
Alexander Ivanov - "Help You Fly" (23,167 votes)
NAPOLI - "My Universe" (22,399 votes)
Kirill Yermakov - "Running To The Sun" (13,555 votes)
NAVI - "This Land" (5,423 votes)
Alex Gross - "Flame" (3,202 votes)
Anastasia Malashkevich - "Pray For Love" (2,680 votes)
The EM - "Turn Around" (2,164 votes)
Valeriya Sadovskaya – Not Alone" (1,322 votes)
Radiovolna - "Don't Go Mad" (805 votes)
Sasha Zakharik - "Glory Night" (727 votes)
Ivan
Alexander Ivanov (Александр Иванов), also known as Ivan, was born in Gomel, Belarus. He has been a member of the band "Brown Velvet" for a long time. He participated in the show "Battle of the Choirs" where he ended at second place. Ivanov won the "Five Stars" in Yalta in 2014.
A total of 84 songs were submitted for the Belarusian broadcaster BTRC. After a session of live auditions, the final ten participants were chosen.
Belarus haven't had the greatest succes in Eurovision history. They have participated every year since 2004, but only qualified for the Grand Final four times. Their best result is a 6th place with the 2007-entry "Work Your Magic" performed by Dmitry Koldun. This is their only Top-15 position in Eurovision.