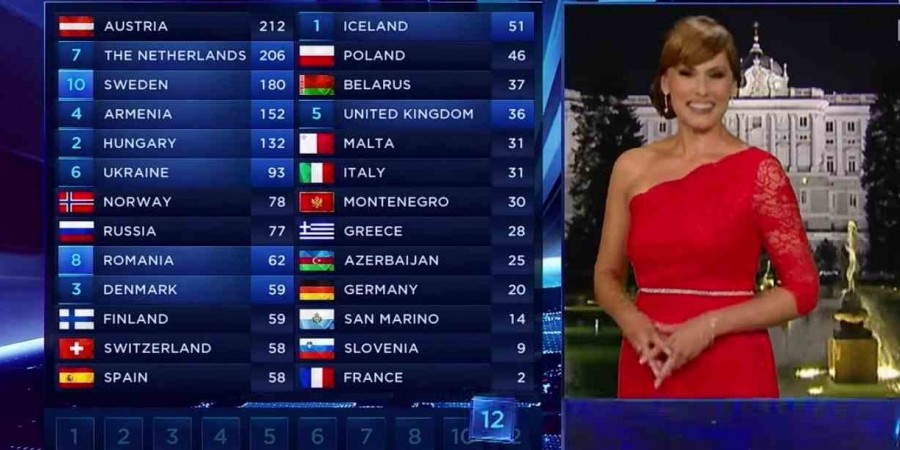 STOCKHOLM 2016
Eurovision 2016: Change in the voting
The voting procedure is getting Swedenised! The presentation of the voting will be changed in Stockholm: First the jury-points will be given individually from each country, then the result of all the televoting will be bundled and given combined
Eurovision is about to get a lot more exciting! With that teaser, EBU yesterday invited to follow the news release on eurovision.tv today. Yesterday we had some ideas on whats in the Eurovision-pipeline, included some changes in the voting-procedure and presentation.
EBU has now revealed the change: The voting will be presented in a new way. If you have seen the Swedish Melodifestivalen, you know how it works:
First: Jury
First each national professional jury will award 1,2,3,4,5,6,7,8,10 and 12 points to their favorites. In the Grand Final these points will be announced by the spokespersons from all participating countries in the usual way. Points from 1 to 10 will be shown graphically and 12 will be announced by the spokesperson.
Second: Televoting
Based on the televoting each country will award a second set of 1,2,3,4,5,6,7,8,10 and 12 points to the 10 songs they like most. The televoting points from all countries will be combined "bundled" and announced by the hosts, starting with country receiving the fewest points from the public and ending with the country that received the highest number of points from the televoting.
Why change things?
The current 12-points-system was introduced in 1975 – in Sweden! Last time Eurovision was held in Sweden (2013), SVT made some changes to the format: They removed the random draw, so the broadcaster could decide the running order. And national juries points were ranked. And this year, SVT again wants to change some things making it more "Melodifestivalen-alike".
Good TV
Eurovision Song Contest has turned more and more towards a TV-show instead of a contest the latest decades, and this means that excitement and "good TV" is getting more and more important.
The last 3-4 years the winner of Eurovision was known before the end of the voting, but with the new procedure (inspired by the voting system of Melodifestivalen in Sweden), the winner will not be known until the final moments of the voting procedure.
Eurovision Song Contest 2016 will be held in Stockholm on 10, 12 and 14 May 2016. Find all the information about Eurovision 2016: Hosts, participants, arena, Eurovision Village, Euroclub and Euro Fan Café here: Eurovision Song Contest 2016: Stockholm.