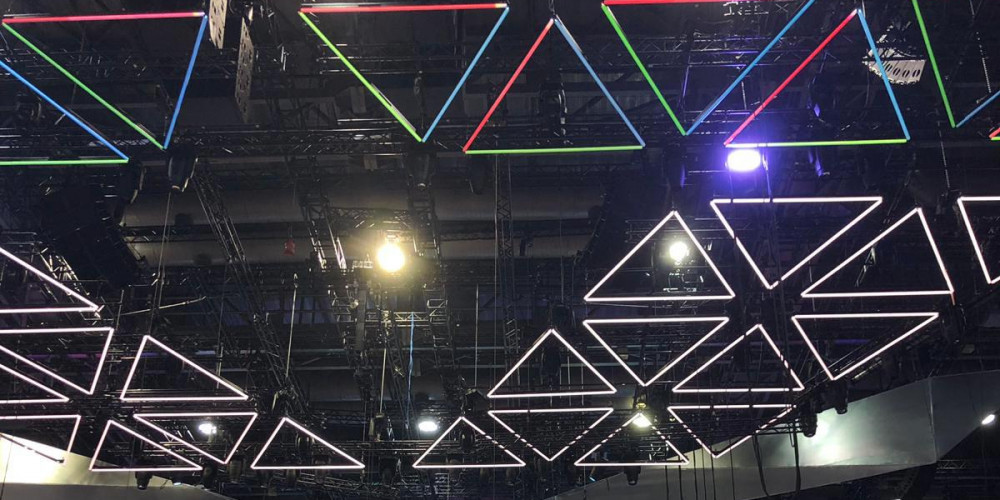 TEL AVIV 2019
Plagiarism? Eurovision 2019 stage design seen before
A company of stage lights and design is accusing this year's Eurovision 2019 stage of plagiarism. The triangles hanging on the roof of this year's Tel Aviv event seem to take us back to 2014
WHITEvoid is a German company focused on space, light and media design. The company is now accusing this year's stage designer Florian Wieder of plagiarism due to his Eurovision Song Contest 2019 stage.
The main focus relies on the small triangles hanging on the roof as the German company used a very similar structure back in 2014 for Brazil's Luan Santana stage design.
According to Florian Wieder, his main inspiration wasn't WHITEvoid. Instead, the stage designer revealed he was inspired by the Star of David – present in the Israeli flag – and that later became a symbol for the Jewish communities.
In the video below, from WHITEvoid, we can indeed find similarities between the Eurovision 2019 stage and Luan Santana's stage from 2014:
Spain's 2019 stage idea
To add on to all that, Spain's 2019 staging for "La Venda" is also being accused of plagiarism due to its similarities to DUNDU – the giants of lights.
In this post made by WHITEvoid back in May 18 accusing Florian Wieder of taking their ideas, the official DUNDU page didn't hold back either:
Good artists copy, great artists steal but then the result should be better and not poorer than the original.DUNDU through Facebook comments
While no legal action has been taken against EBU, Florian Wieder or Spain's stage director (Fokas Evangelinos), remind yourself of Miki's performance at the Eurovision 2019 Grand Final:
About the author: Pedro Santos (Portugal)
Pedro comes from Lisbon, Portugal. He's 26 years old and graduated in journalism. He has attended Eurovision Song Contest twice - 2018 and 2019 - but his first Eurovision memory takes him back to 2007 when Sarbel delivered his catchy "Yassou Maria" performance. Pedro's favorite Eurovision song is Albania's 2015 "I'm Alive" by Elhaida Dani which is also his favorite Eurovision edition.