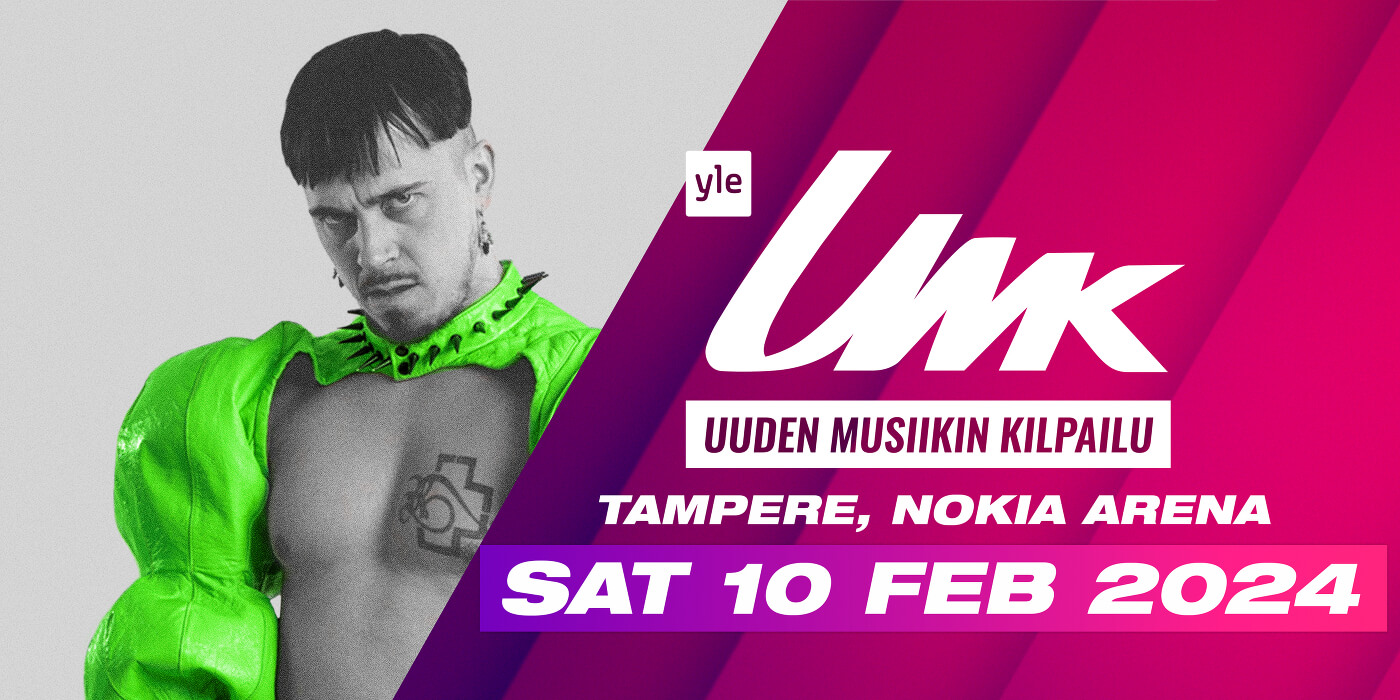 FINLAND
Finland: 7 artists to compete in UMK 2024 – Final on 10 February
Finnish broadcaster Yle has just announced their plans for UMK 2024. The selection will be held on 10 February 2024, with seven artists competing
What a year for Finland! Käärijä won UMK 2023 and was one of the favorites ahead of the Eurovision Song Contest in Liverpool with "Cha Cha Cha" and he certainly did not disappoint.
He was the viewers' clear winner with his legendary performance. However, the juries didn't entirely agree. They preferred solid pop from Sweden's Loreen instead, relegating Finland's Käärijä to a very respectable second place – Finland's second-best result in their entire 56-year Eurovision history.
Now Finnish broadcaster Yle is getting ready for another season of the famed Uuden Musiikin Kilpailu (UMK).
Next year's Finnish representative will be found among seven artists. They'll all be revealed on 10 January 2024.
UMK 2024 – Song Release Schedule
The seven songs for UMK 2024 will be released between 10 and 18 January at 23:00 CET:
10 January: song #1 released
11 January: song #2 released
14 January: song #3 released
15 January: song #4 released
16 January: song #5 released
17 January: song #6 released
18 January: song #7 released
UMK 2024
Uuden Musiikin Kilpailu 2024 will be held on 10 February 2024 at the Nokia Arena in Tampere. The show will start at 20:00 CET.
Ville Vilén, Creative Director at Yle says:
– The Contest for New Music UMK has become a real music institution, which absolutely deserves a much bigger venue. Turku has been such an amazing UMK city for so many years - we're very grateful for that. This year, the UMK train is heading north, and I think that Tampere and Nokia Arena are the perfect venue for a major Eurovision event. Now's the time for a really big show and a Eurovision atmosphere that will blow the roof off!
Anssi Autio, Executive Producer of UMK says:
– Looking back over the entire 13-year history of UMK, I can say that we're now in a better position than ever before. In the eyes of our Finnish and international audience, UMK has become an unparalleled hit factory and source of top-tier entertainment, whose move to a bigger venue is also served by the massive increase in Eurovision's popularity.
Tickets for UMK 2024 will be available on 5 October at 10:00 CEST on lippu.fi/umk.

Finland in the Eurovision Song Contest
Finland debuted in the Eurovision Song Contest in 1961, and has participated ever since, except six years, mostly because of previous years' poor results.
The Finnish have won the competition once, in 2006, with the song "Hard Rock Hallelujah," performed by Lordi. Since then, Finland's best result is a 2nd place finish in 2023.
Since the introduction of the Semi-finals in 2004, Finland has qualified for the Grand Final 11 out of 19 times.