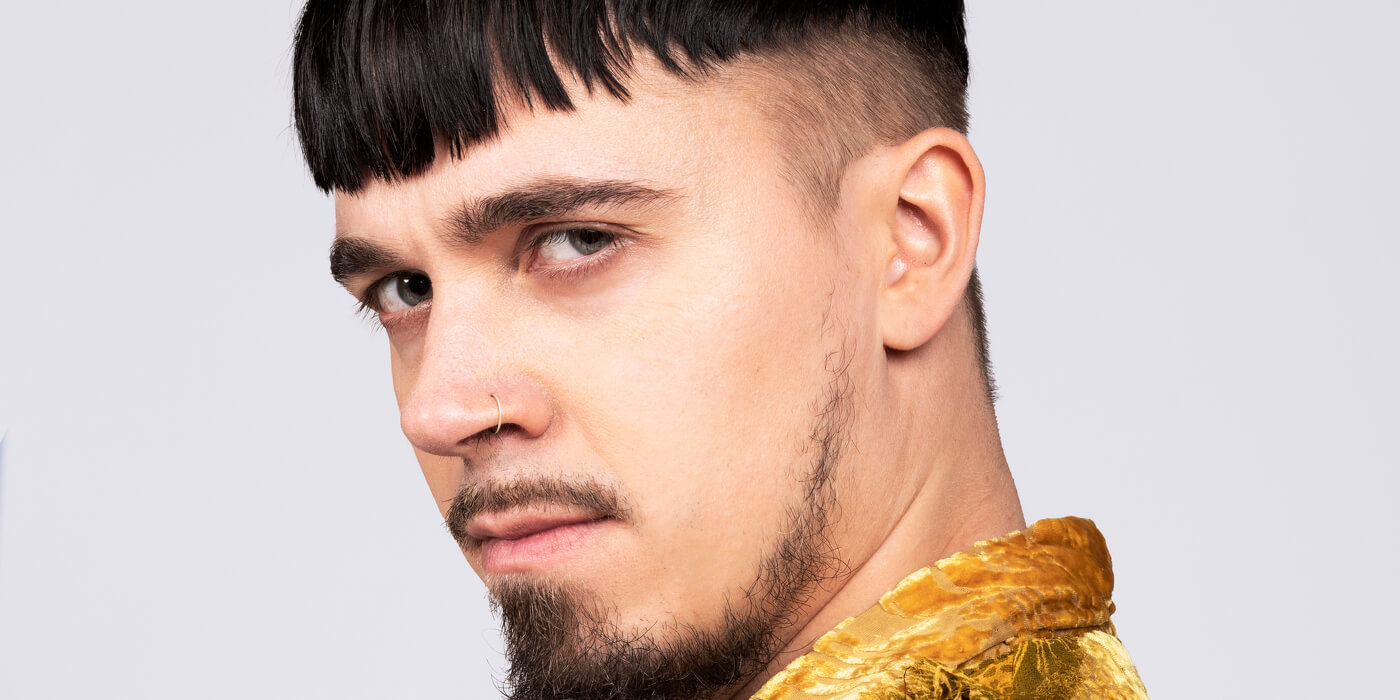 FINLAND
Käärijä from Finland: "Sometimes I feel like this is a dream"
INTERVIEW Käärijä speaks about the crazy adventure that Eurovision has been so far, and how he copes with all the heavy expectations for him as a possible winner
It's crazy... It's party... It's Käärijä!
It's been a while since Finland last saw so much interest in their Eurovision entry, and it's safe to say that all eyes are on Käärijä's "Cha Cha Cha," which since his victory in UMK has been on every Eurovision fan's lips.
Currently, the bookmakers give "Cha Cha Cha" a 23% chance of winning the Eurovision Song Contest 2023. A jump of 6% following Käärijä's first rehearsal in Liverpool that included a few surprises:
– We have been rehearsing a lot and there's something special coming...like a surprise. We will still have the dancers and wear the same colors, use some of the props, but there's something new. You'll see. I am a surprise man!
We now know Käärijä did elevate the stage by including a big wooden box, as well as adding a dynamic LED. Adding more elements doesn't necessarily help understanding what he is trying to do on stage.
– It's just a bunch of crazy things. I want to put on a crazy live show and make people think, "What the hell is going on there?" But, I will say I completely love the part where I get to control the dancers. When I do it, I think, "I am such a boss man!" he laughs.
He goes on to share that the overall performance is a product made by a whole team, and that not all we see was his idea. For instance, his outfit:
– The outfit was presented by someone else, and when they showed pictures of it I immediately said, "That's mine, I want to wear that." I had never seen anything like a bolero!
A potential Eurovision winner
As mentioned above, the chances keep growing for Finland. And Käärijä admits that sometimes it feels like a dream:
– It's great to be seen as a winner, but it's so crazy. I can't believe that people think I will win. Like what? Sometimes I feel like this is a dream, but it's really not. I am so happy, he says.
Despite Käärijä's position as one of the favorites, he's not nervous. And the fact that Finland's last (and only) Eurovision victory came 17 years ago with Lordi's "Hard Rock Hallelujah" was a trigger for Käärijä wanting to compete at the world's biggest music competition:
– We have only won with Lordi and it's time that someone new brings Finland another win. They're amazing, but it's been so long, he explains.
It was only a couple of years ago that participating in Eurovision became a goal for him, more specifically when the Finnish broadcaster YLE first approached him. They wanted Käärijä to compete in UMK, Finland's selection for Eurovision:
– It was about two years ago when they first approached me wondering if I wanted to compete, and that's when I started thinking about it. Back then we didn't have a song, but after coming up with "Cha Cha Cha" last year I became highly interested in competing.
He confesses he had "one or two other songs" up for consideration, but from the first time they heard his current entry, it became an obvious choice:
– It was obvious from the first time we heard the demo. We thought, "Maybe we can go, and maybe we can win." That's why we went to UMK because we believed in the song, we knew it was something new, and we thought it could work in Europe because it's so easy to say "cha cha cha." And, of course, we wanted to introduce Käärijä to everyone. Not a lot of people knew who I was before.
Käärijä was a huge favorite to win UMK 2023, and he knew that. Mostly because of how much faith he has in the song. But not only in the song:
– I knew I had good chances of winning. Besides the song, it's also about me and my style, it's a package. "Cha Cha Cha" and Käärijä together...it's power!
Sometimes I feel like this is a dream, but it's really not. I am so happy.Käärijä
What is your song about?
– It's a party song. We all have demons in our everyday lives, and during the week people are generally so tired of having to go to work and of waking up early. But once the weekend comes, things change, he explains.
– People want freedom and want to forget all problems. Some drink alcohol to do so and hit the dancefloor. I am not saying everyone needs alcohol, he adds.
That's precisely why the song has a genre switch in the middle of it:
– When the song's register changes, it represents the moment the character of the song gets a bit drunk after some piña coladas. At that point, he is free and wants to go to the dancefloor because he cares about nothing else and isn't afraid of anything. Whereas when the song starts, he sounds a bit upset...
"Cha Cha Cha" was written together with your friends. How did it happen?
– We had so much fun creating it and we laughed so much during the process. We actually wrote it in 30 minutes. We went to a bar with my producer to watch ice hockey and he said, "We have to do this cha cha cha song," and we did. We sat around a table to write it, and the next day we were in the studio recording it.

Käärijä: The alter ego
Käärijä's real name is Jere Pöyhönen. There's a reason why Käärijä refers to himself in third person. Despite having common aspects, Käärijä does things that Jere Pöyhönen wouldn't do:
– We're different people indeed. Käärijä is a humorous guy, and Jere, too. But, Käärijä does things Jere wouldn't. When I put that green bolero on, I feel like I can do it all, Jere wouldn't do that. I feel like they compliment each other.
– Käärijä is also this guy who wants to try something new. Something that nobody else ever did or is trying to. When he goes into the studio, he always wants to try crazy fusions. The music features elements of drums and bass, metal, pop, trap. There are no limitations, he says.
– All I want to do is make good music, and I want people to have fun and go crazy.
Still, about his stage name...how did it come about?
– It was born when I gambled for the first time. I put a coin in a machine and I won like 20 euros, so a friend of mine was like, "You're käärijä." In English it is something like, "You're the roller," or maybe, "The money maker," and I just took it, he laughs.
When I put that green bolero on, I feel like I can do it all.Käärijä
A lot has changed since then, but his love for Rammstein remains. In fact, they are the main reason Jere Pöyhönen pursued his music career:

– I started as a drummer, but what I truly wanted was to make my own music and share my own story. Rammstein inspired me to make music. The first time I saw them was on YouTube, and I was so young and thought, "Maybe someday I will do something similar."
The path to Eurovision
A few years later, his alter ego Käärijä was born. He started releasing his music independently and ended up getting signed to a music label. The shift truly happened after his victory in UMK 2023, and since then, so many things have changed:
– First, I don't have time to meet my friends or go on holidays. Everyone knows me and sometimes they just look at me, other times they ask for a picture or for a video. I don't even know what is truly happening because I can't sit down and think about things, I just go with it.
Käärijä is like a robot?
– Yes, I am like a circus monkey, but I am really happy because before I won UMK I had this fantasy of perhaps having a few gigs in Finland, playing at big festivals, and now that's happening. I love performing live and the energy of live shows, he says.
That may be the reason why he isn't completely exhausted after so many pre-parties and a tight schedule.
– I don't know how I do it but I am alive. I just go to those places and it's crazy. I am not sure where I get the energy from, probably from the live shows. I love when people scream and sing my song!
He hit a million monthly listeners on Spotify last month:
– It's really crazy. I have a Finnish song and I speak Finnish, and there are a million people listening to my music! I have never seen someone who sings in my language hit that mark! I didn't expect it and it's so nice.
We're only a few days away from Semi-final 1 when Käärijä will perform. This means that in less than two weeks, all of this will be over. What advice did former acts give him?
– Blind Channel did send me a message. They told me to take care of myself, he laughs.
– They said it wouldn't be easy and that I had to keep my focus. Lordi also spoke about me on a TV show and said basically the same things.
What's your goal for Eurovision?
– Maybe if I win, other countries will invite me to perform there? I also hope I will have the time because in summer I will have so many gigs in Finland, but who knows? Maybe a European tour!
Before we conclude our interview, we want to know: What are Käärijä's favorite entries?
– Well, mine of course, he laughs.
– It's hard to pick just one favorite, but I love Austria, and of course, Loreen. I also love Slovenia, the guys are very nice people, and Australia.
Käärijä will perform "Cha Cha Cha" in Liverpool Arena during Semi-final 1 of Eurovision 2023.