NORWAY
Norway: KEiiNO wins Melodi Grand Prix 2019
The Norwegian Melodi Grand Prix 2019 took place tonight live from Oslo Spektrum. KEiiNO won with the song "Spirit in the Sky" and will represent Norway at Eurovision Song Contest 2019 in Tel Aviv
10 artists competed in the 57th edition of Melodi Grand Prix in Oslo Spektrum tonight.
After three rounds of voting, the Norwegian representative at Eurovision Song Contest 2019 was decided: The group KEiiNO with Spirit in the Sky.
KEiiNO was also the clear favourite to win MGP among bookmakers and in our poll.
Melodi Grand Prix 2019 – Results
KEiiNO – "Spirit in the Sky"
Adrian Jørgensen – "The Bubble"
D'Sound – "Mr. Unicorn"
Anna-Lisa Kumoji – "Holla"
Mørland – "En livredd mann"
Hank von Hell – "Fake It"
Chris Medina – "We Try"
Erlend Bratland – "Sing for You"
Ingrid Berg Mehus – "Feel"
Carina Dahl – "Hold Me Down"
KEiiNO
KEiiNO is a Norwegian-Sámi-Finnish group, creating arctic pop-bangers mixing sami joik, nordic folk and camp pop in a synth-heavy sound.
The members are Sámi rapper Fred Buljo, singer Alexandra Rotan and singer-songwriter Tom Hugo.
The group was created in late summer 2018, with Melodi Grand Prix 2019 as the first goal – and now Eurovision Song Contest as their next big goal.
KEiiNO's song Spirit in the Sky is inspired by historical struggles for equality no matter what sex or sexual orientation you have.
Melodi Grand Prix 2019
Melodi Grand Prix 2019 was hosted by Heidi Ruud Ellingsen and Kåre Magnus Bergh. In tonight's show the Norwegian public and an international jury decided the outcome.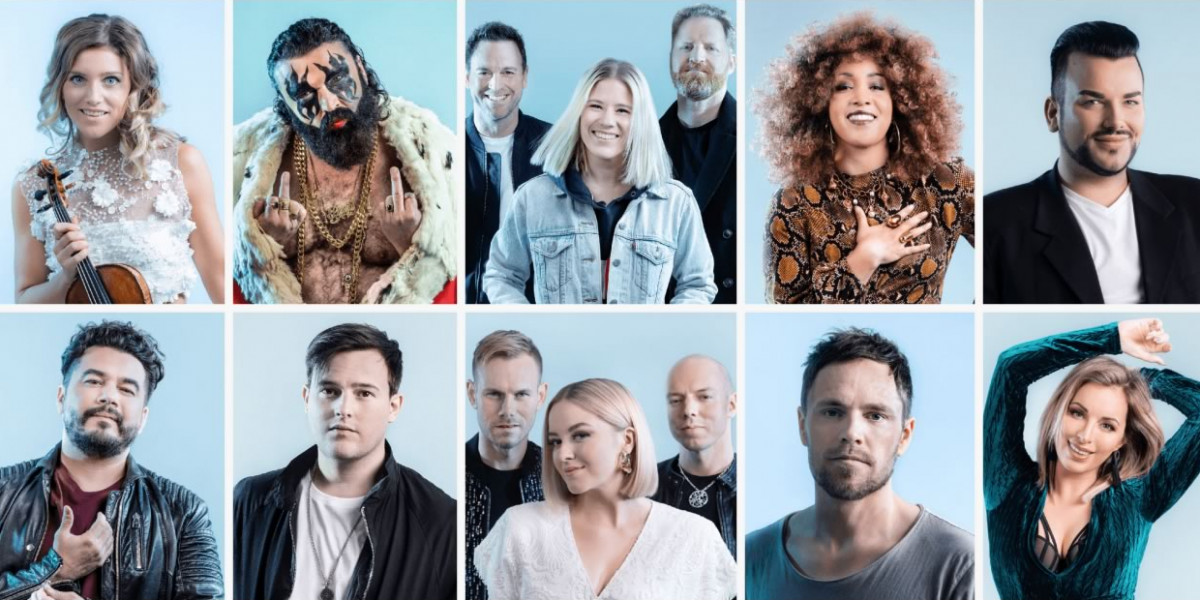 1st round
After the 10 songs were performed, the first voting took place. An international jury consisting of 10 countries and a total of 50 jurors cast their votes, which counted 50%. Then the points from the Public televoting was added (50%), and the top-4 artists proceeded to the 2nd round.
2nd round
In the second round of voting, the four were reduced to just two contestants. Now it was only the Norwegian public televoters who decided.
KEiiNO – "Spirit in the Sky"
Adrian Jørgensen – "The Bubble"
D'Sound – "Mr. Unicorn"
Anna-Lisa Kumoji – "Holla"
3rd round
In the third round, the final two artists performed again, and the public voted again. The votes from round two were added to the votes from round three.
KEiiNO – "Spirit in the Sky"
Adrian Jørgensen – "The Bubble"
Since the debut in 1960 Norway has participated 57 times in Eurovision. They have won the competition three times:
In 2009, Alexander Rybak's Fairytale was the song that has received most points with the old voting system: 387 points – got 12 points from 16 countries. But Norway holds another Eurovision record: The country that ended last most times – 9 last places!
Since the introduction of Semi-finals in 2004, Norway has been very succesful with qualification to the Grand Final 12 out of 14 times.