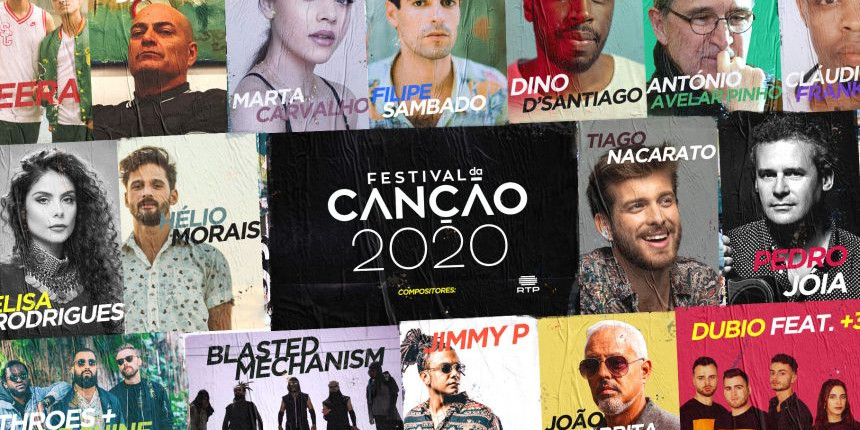 PORTUGAL
Portugal: Composers for Festival da Canção 2020 announced – Final on 7 March
The 16 composers that will compete at next year's Festival da Canção have been revealed by Portugal's public broadcaster, RTP. Alongside the list, RTP has also announced the dates for Festival da Canção 2020
Back in August, RTP confirmed Portugal's participation in Eurovision Song Contest 2020 and today – similarly to last year – the list of composers taking part at next year's Festival da Canção, Portugal's national selection for Eurovision, have been announced.
As previously reported, 14 out of the 16 composers were formally invited by the broadcaster – who has said that two of those have been confirmed since last year's Festival da Canção – while one of the composers was selected through a radio program on Antena 1 ("Master Class") and the final one through an open competition that was opened to every person living in the country or with a Portuguese nationality.
This year's lineup of composers features a couple of known names in the Portuguese music industry:
Dino D'Santiago has become a prominent name in the past two years due to his connections with Madonna, that has become a friend of his shortly after she moved to Portugal. Before that he was part of the Portuguese group, Expensive Soul, who are still quite popular.
Blasted Mechanism were formed in 1994 and are, as well, a big and well-known name in the country. Their music style varies between Alternative Rock and Electronic Music.
Not as popular as the two above, but known, are António Avelar Pinho (who has already been part of a few entries for the festival in 2006 and 2007), Jimmy P and Hélio Morais.

Festival da Canção 2020 – Composers
Rui Pragal da Cunha
Tiago Nacarato
Filipe Sambado
MEERA
Pedro Jóia
Throes + The Shine
Eliza Rodrigues
Marta Carvalho
António Avelar Pinho
João Cabrita
Hélio Morais
Dino D'Santiago
Jimmy P
Blasted Mechanism
Dubio ft. +351 (selected through open submission)
Cláudio Francisco António (selected by Antena 1's Master Class)
The 16 selected composers will have the task of picking the artists (or themselves) to perform their songs.
Festival da Canção 2020
Alongside the list of composers, RTP has also unveiled when the 54th edition of Festival da Canção will take place.
The 16 songs that will compete for the honour of representing Portugal at next year's Eurovision will be divided into two Semi-finals with 8 songs each:
Semi-final 1: 22 February 2020
Semi-final 2: 29 February 2020
Final: 7 March 2020
The semi-finals will be held at RTP's studios. The venue for the final is yet to be announced but it is expected that it will be held in the northern part of the country as Festival da Canção 2018 was held in Lisbon while the 2019 edition in Algarve – south of Portugal.
Portugal has participated 51 times since 1964. It was a very bad start, as they managed to get Zero Points in the debuting year.
Before Eurovision 2017 they have never won the contest, and never made the top-5. In fact Portugal held the record for most appearances in the contest without a win!
But that changed in 2017, where Salvador Sobral won with "Amar Pelos Dois".
Since the introduction of Semi-finals in 2004 Portugal only qualified for the Grand Final 5 out of 14 times.