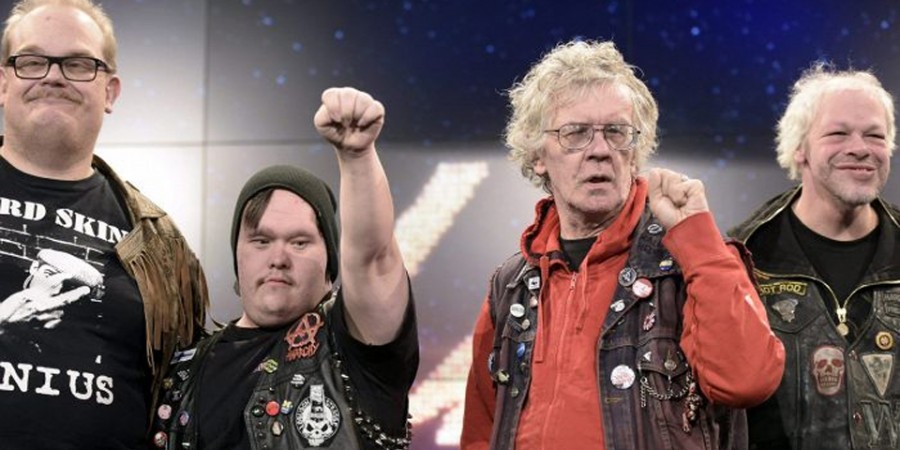 FINLAND
Presenting Finland 2015: Pertti Kurikan Nimipäivät
Four middle-aged, mentally handicapped men will represent Finland at Eurovision Song Contest 2015 with "Aina Mun Pitää", the shortest song in Eurovision history. The song is about having to do all the daily activities such as cleaning and washing-up
The winner of Uuden Musiikin Kilpailu 2015 was the punk rock band Pertti Kurikan Nimipäivät. They won with the song "Aina Mun Pitää" ("I always have to") with 37.4 percent of the public votes. The band members Pertti, Kari, Toni and Sami, are all mentally disabled and they play their music with a lot of attitude and pride.
The band: Pertti Kurikan Nimipäivät
Back in 2009 a punk band was formed in Helsinki on a charity workshop for people with mental disabilites. The band consist of four members: Pertti Kurikan, Kari Aalto, Sami Helle and Toni Välitalo.
Pertti Kurikan started playing punk, and because it was his name day, he decided the name of the band would be "Pertti Kurikan's Name Day", or "Pertti Kurikan Nimipäivät" in Finnish.
In 2012 the band was portrayed in the documentary " The Punk Syndrome" (Kovasikajuttu), about how mentally disabled people live and express themselves through music. The band also performed in "Vähän kunnioitusta" ("Gimme Some Respect"), a feature film directed by Pekka Karjalainen and released in 2010.
Kari Aalto, singer
Kari writes lyrics, sings and talks. He loves motorcycles, hates pedicures and lives in a club home wealthy neighbourhood of Töölö. Kari describes the group home and its depressing surroundings in his lyrics: »I live in a group home in Töölö, but I don't like it because the area is too quiet. People in Kallio are nicer and there are records stores and bars.«
Pertti Kurikan, guitar
Pertti writes riffs for the songs but doesn't always know how to play them. Sami teaches Pertti and Pertti gets pissed off. Pertti examines the seams in people's clothes and asks everyone to give him records on his birthday. Pertti is also the official organ grinder at Lyhty, a nonprofit organization that provides housing and education services as well as workshops for adults with intellectual disabilities. He'll crank anything from Abba song to opera, from Christmas carols to children's songs and Beatles tunes. Pertti won the silver medal in the Nordic countries' street organ championships in 2008.
Sami Helle, bass
Sami plays the bass, is politically conservative NGO activist and a member of the Centre Party of Finland. Sami is also a homeboy living in the same group home as Kari. He lived in New York when he was little, speaks English well and is thus an important person when the band tours outside Finland.
Toni Välitalo, drums
Music is everything to Toni. He's always playing, singing or watching his favorite soap opera on TV, but mostly playing. Sometimes when others argue, Toni wants to cry. Most of the time, however, it makes him want to laugh. Toni is 32 and lives in Espoo with his parents. His parents wish he'd become independent and move into a group home. Toni himself isn't moving anywhere; instead, he says his parents should move into an old people's home.
The song: Aina Mun Pitää
The song's title is "Aina Mun Pitää" meaning "I always have to". When reading the lyrics in English for the song, the title makes perfectly sense:
I always have to clean
I always have to do the dishes
I always have to work
I always have to go to the doctor
I am not allowed to go to the computer
I am not allowed to watch television
I am not allowed to see my friends
I always have to be at home
I always have to do chores
I always have to eat well
I always have to drink well
I can't eat candy, drink soda,
I can't even drink alcohol
I always have to rest
I always have to sleep
I always have to wake up
I always have to shower
The band will perform the song in Finnish language.
Click here for the lyrics in Finnish
. It is written by Pertti Kurikan Nimipäivät's band members.
The song only runs for 1:27 (one minute and twenty-seven seconds), and is the shortest song to be entered in the history of the Eurovision Song Contest.
You can follow Pertti Kurikan Nimipäivät here:
Homepage: www.perttikurikannimipaivat.fi
Facebook: www.facebook.com/PerttiKurikanNimipaivat
Twitter: @PKNimipaivat
YouTube: www.youtube.com/channel/UCtQt-CVjSznuH6uuT_1UHoQ
Finland debuted in the Eurovision Song Contest in 1961 and has participated ever since, except for six years, mostly because of last years bad position. The country has won the competition once, in 2006 with the song "Hard Rock Hallelujah", performed by Lordi. Since then Finland's best result is 11th place in 2014.