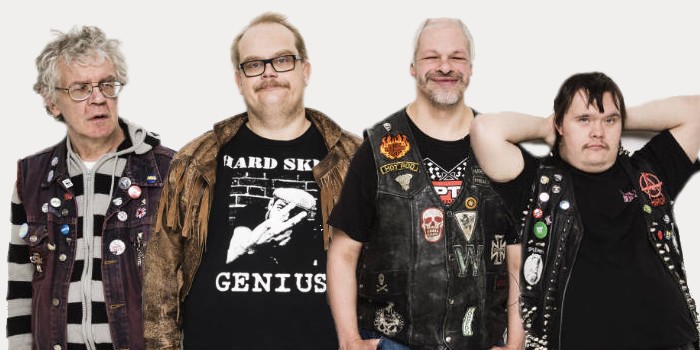 FINLAND
Finland: Pertti Kurikan Nimipäivät to Vienna
The punk band "Pertti Kurikan Nimipäivät", where all the members have Down's syndrome, wins Uuden Musiikin Kilpailu (UMK) 2015 and will represent Finland in this years Eurovision. They are among the favorites to win Eurovision Song Contest 2015
Tonight the Finnish televoters voted for the punk bank "Pertti Kurikan Nimipäivät" to represent Finland at Eurovision Song Contest 2015 in Vienna with the song "Aina Mun Pitää". The band members Pertti, Kari, Toni and Sami, are all mentally disabled and they play their music with a lot of attitude and pride.
Pertti Kurikan Nimipäivät will compete in Semi-final 1 on 19 May, and are among the top-3 to win Eurovision Song Contest 2015 according to bookmakers.
UMK 2015 result
Pertti Kurikan Nimipäivät – "Aina Mun Pitää"
Satin Circus – "Crossroads"
Opera Skaala – "Heart Of Light"
Solju – "Hold Your Colours"
Angelo De Nile – "All For Victory"
Jouni Aslak – "Lions And Lambs"
Norlan El Misionario – "No Voy A Llorar Por Ti"
Shava – "Ostarilla"
Järjestyshäiriö – "Särkyneiden Sydänten Kulmilla"
Pertti Kurikan Nimipäivät
Pertti Kurikan Nimipäivät consists of four members: Pertti, Kari, Toni and Sami, all having Down's Syndrome. The band was formed back in 2009 on a charity workshop for people with mental disabilites. In 2012 the band was portrayed in the documentary " The Punk Syndrome" (Kovasikajuttu), about how mentally disabled people live and express themselves through music.
Uuden Musiikin Kilpailu 2015
This years Uuden Musiikin Kilpailu had three semi-finals and one grand final. The shows was hosted by Rakel Liekki and Roope Salminen.
6 February: Semi-final 1
14 February: Semi-final 2
21 February: Semi-final 3
28 February: Final
Finland debuted in the Eurovision Song Contest in 1961 and has participated ever since, except for six years, mostly because of last years bad position. The country has won the competition once, in 2006 with the song "Hard Rock Hallelujah", performed by Lordi. Since then Finland's best result is 11th place in 2014.