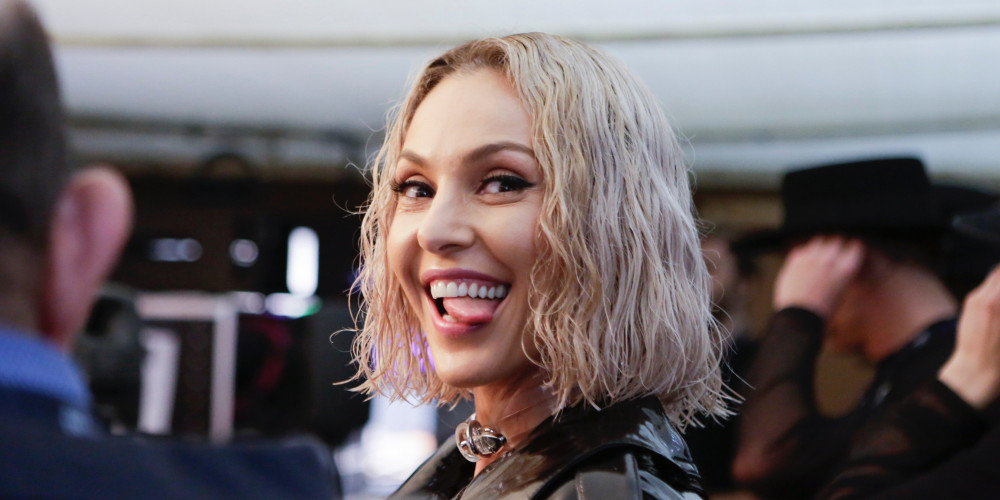 CYPRUS
Tamta was afraid of not going to Tel Aviv: "I got very scared"
Tamta feared that she could not go to Eurovision because of an injury in her back just 3 months ago. Now she's representing Cyprus in Tel Aviv, and she is more confident than ever: "I think it's my time"
The Georgian-Greek singer Tamta was internally picked by the Cypriot broadcaster to represent Cyprus at Eurovision Song Contest 2019 in Tel Aviv, with the song Replay, written by a hit team of composers.
We met with Tamta after her second rehearsal on the Eurovision stage. But how does she manage to take over the stage so powerful as she does?
– I feel good on the stage. I love being on the stage. I enjoy it so much, says Tamta, constantly smiling.
– And I think it is very important for an artist to enjoy what she does. And to love what she does, so I'm pretty lucky to be able to do something that I love and I am really really happy. I think this is one of the reasons.
Not much of a dancer
Sacha Jean-Baptiste is the choreographer and stage director for Cyprus, but Tamta is "not much of a dancer" as she has said earlier. She feels most comfortable just singing:
– Sacha was pretty aware of what I can do and what I can't do on stage, so she did a choreography that suited me. We did not even change anything. I was like: "I can do it!"
In February, just 3 months before Eurovision, Tamta went through a very tough and difficult time that nearly costed her the Eurovision journey. When she talks about this period of her life, it is the only time you don't see her smile throughout the interview:
I thought that I would not even be able to stand there and sing, or even to come here to Tel AvivTamta about her back injury just 3 months ago
– I had a disc herniation so I got very scared. I thought that I would not even be able to stand there and sing, or even to come here to Tel Aviv, she says and continues:
– It took almost 2½ months to get kind of well. I'm still not 100%. But at least I can move, and we just minimized a couple of things for me, to make it more comfortable because of my problem actually. But I feel good now.

"I haven't experienced anything like this"
Tamta is very much impressed by the whole organisation of a huge event like Eurovision Song Contest, and how smooth everything goes:
– I've been doing jobs, singing, for the past 15 years, but I haven't experienced anything like this. Eurovision is very organised, everything claps. You have to be on time everywhere. This is something that I really love.
Suddenly Tamta starts laughing, revealing that she has a very warm and likeable personality:
– You know, in Greece... we are a sunny country, and we are not always on time, things are pretty much last minute, which is really cool, Tamta says, while laughing loudly.
To come after Foureira
Last year Cyprus had huge success with Eleni Foureira's Fuego, which finished 2nd at Eurovision 2018. How is it to fill her shoes?
– I don't feel that i have to fill her shoes, at all. Cause I knew that was going to happen when I decided to come. If you are afraid of making decisions based on what people say, you go nowhere. You don't make any progress. I knew that was going to happen but I'm very lucky to have these people around me in Cyprus, because there's no pressure at all.
– I really enjoy what I do, and hopefully – I don't know about place – but I really want to make them proud with our performance and hopefully we will do it, she says.

It is not the first time Tamta attempted to go to Eurovision Song Contest. In 2007 Tamta tried to represent Greece, but finished 3rd in the Greek final with the song "With love". But she is happy that it is happening now:
I think this is my timeTamta
– Everything has its time, everything happens for a reason, so, there are no regrets at all, no regrets. I think this is my time.
On her favorite 2019 entry
Shortly after the end of the recording, Tamta held my shoulder and, knowing that I am Portuguese, said:
– Let's hope Portugal makes it through. I love the song!
Immediately I offered to explain to her the lyric content of "Telemóveis":
– No, I don't need it. The way it makes me feel is all I need. In fact, as soon as I got to the cocktail party, I went to search for the Portuguese delegation: "Bring them to me or bring me to them, please", she asked her team.
A picture was taken and she went on to explain on how much she immediately connected with Conan Osíris:

– Capricorn stuff. He was born on the 5th and I was born on the 10th!
It was amazing to witness a woman who was stuck on a room for hours talking and answering alike questions, sitting down to just casually speak about musical taste.

Since Cyprus debuted in Eurovision Song Contest in 1981, the country has not yet managed to win in any of the 35 times the country has participated.
Cyprus came close to win in 2018 when Eleni Foureira finished 2nd with Fuego, the best result so far.
Since the introduction of the semi-finals in 2004, Cyprus has qualified for 8 out of 14 Grand Finals.