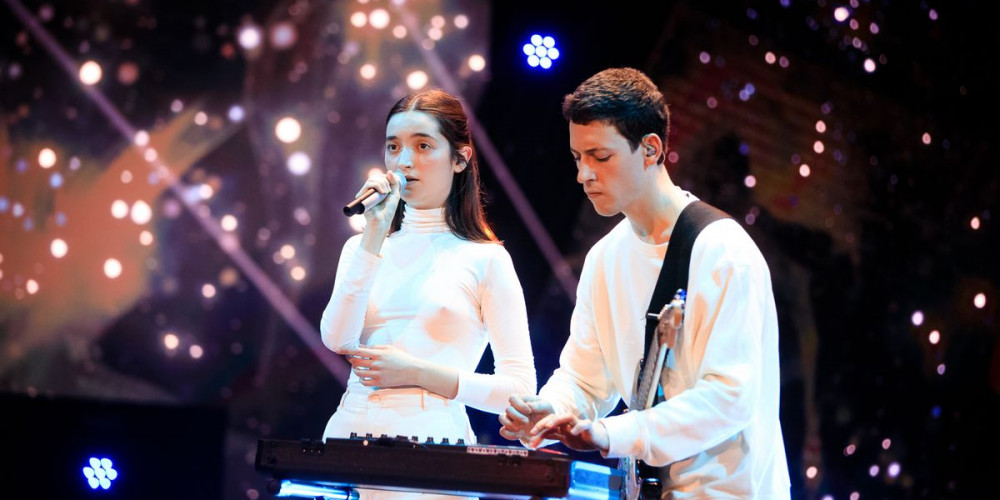 SLOVENIA
Zala & Gašper from Slovenia: "We are testing ourselves"
They've just qualified for the Eurovision's Grand Final but that wasn't something that bothered them even before. Slovenian's 2019 representatives spoke with Eurovisionworld a few days before their semi-final and revealed their thoughts in Eurovision and how they're testing their limits by participating in the competition
Zala & Gašper must be one of this year's most beloved artists. Wouldn't their relationship make the coldest heart melt away? When they're on stage, nothing else matters and one just gets caught up in their unique chemistry.
In fact, none of them can imagine doing music without the other:
– Not now, Zala answers me when I ask if she plans to go solo eventually.
– We both started our careers alone but now - that we are doing music together - I can't imagine it without you, she says while looking at Gašper.
– Yes, I wouldn't even want to have such a high profile alone. Without her it'd be too much and too overwhelming. We can now rely in eachother's shoulders. It's better, Gašper adds.
Just last Tuesday, Slovenia was one of the countries announced as qualifiers but the anticipation wasn't killing them, not even before the night:
– Having people that like us and that connect with our music is amazing. We're so grateful but we don't see Eurovision as a competition so we're not very concentrated in our score, Zala starts to explain.
– We are just here to introduce ourselves and our music. I don't even care if we go to the final.
Gašper agrees and adds:
– We just want our story to be told. This is a step for us but not our life goal.
The male of the duo is well aware that Eurovision's attention is solely temporary as well:
– As artists we have to be aware that our ratings will drop a lot after this. If we want to preserve our good relationship with fans, we need to build it with the ones that stay with us, those are the people we want to communicate with.
Eurovision: The need to adapt
Their first semi-final has already passed but it is expected that over 200 million people tune their TVs on Saturday to see the duo perform. It does shake up things a bit:
– That's actually very weird, Zala says.
– I think it's cool that people are the ones that want us here and not ourselves so much, Gaspar adds explaining that the timing is great and that he feels like they belong in the Eurovision world in a "weird way".
Nonetheless, Zala also admits that people are very understanding and respectful of their space:
– If people see that we need space or we don't want to answer something or a question, they understand and that's very good because we are very private people. We are not outgoing. We don't like that much attention but it's interesting because here - at Eurovision - we are testing ourselves to see if we're comfortable in this kind of show. So far, so good!
We are testing ourselves to see if we're comfortable in this kind of show.Zala Kralj
"Sebi" and how it relates to Eurovision
– This is a song about our whole journey together. It's a message that we want to tell, that everyone should live the life they want to and be who they want to be, Gasper starts to say.

Slovenia's entry is performed in their own language which is not a trend in this year's competition. Its calm and relaxing mood is the opposite of what one could expect from an Eurovision entry but, somehow, it works and relates to Eurovision:
– In this Eurovision circle, where we're surrounded by designers and all that, people tend to question who you are and advise you to change this or that. We have to remind ourselvs that we are already the best that we can be. This is what we really believe in.
Slovenia had its debut in Eurovision Song Contest 1993, and since then participated 24 times in Eurovision. They have never won the contest, and the best result for Slovenia is two 7th places in 1995 and 2001.
Since the introduction og Semi-finals in 2004, Slovenia only managed to qualify for the Grand Final 5 times out of 15.