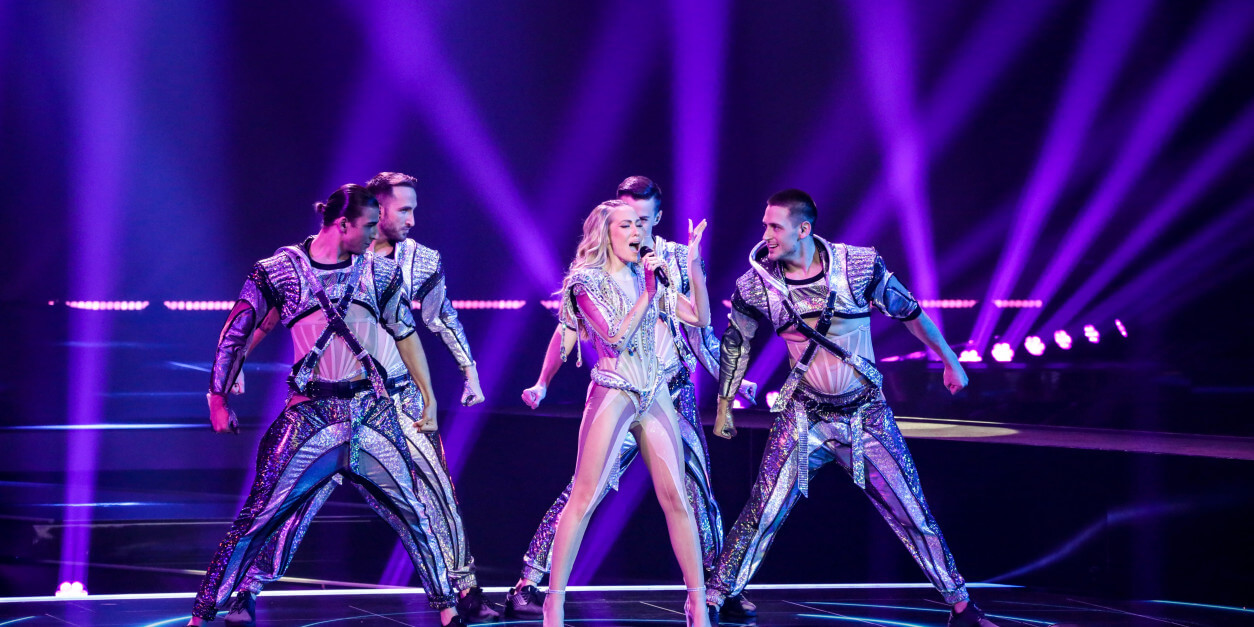 CROATIA
Albina from Croatia on first rehearsal: "I didn't feel like I was on the Eurovision stage"
INTERVIEW Albina is representing Croatia at Eurovision 2021 and has already rehearsed on the big stage for the first time. We caught up with the Croatian singer to get her reaction from her first rehearsal and assure that more surprises are yet to come
Tick-tock... It could be me singing the song Albina will represent Croatia with at this year's Eurovision but it's simply the sound of my clock waiting for Albina to join our Zoom interview.
Her vibe is contagious, she is all smiles and greets me with a huge "hey!" We introduce ourselves and you can tell she's genuinely happy to be where she is and proves me right when we speak about her Eurovision goal:
– Honestly just being here, watching all of those amazing performances and acts means so much to me. I am a music lover, a fan of Eurovision and of talented people who express themselves through art, she explains.
I am a very realistic person even if also a dreamerAlbina
– Of course I also have ambitions and I'd love to see myself in the finals but I am a very realistic person even if also a dreamer. I have to stay down-to-earth and realize that there's a lot of amazing songs at this year's edition.
The first rehearsal
Albina has already stepped on the big stage for the first set of rehearsals of "Tick-Tock" and what was, before arriving pressure, became confidence during those runs:
– I felt so natural and comfortable. I didn't feel like I was on the Eurovision stage, it felt like a day-to-day habit to me. In days like this being able to perform is a great thing, especially on such a huge stage.
Focusing on staging, a lot of adjustments were made from Albina's performance at Croatia's national selection Dora 2021.
To begin with, she has left her baggy pants home and is wearing a more sexy outfit on stage that makes sense taking in consideration the choreography of the performance:
– I am not very tall, I am actually pretty tiny. We wanted to emphasize my body lines because the moves of the choreography are very sharp. The bodysuit is also very feminine and the colours are vibrant.
I compare it with a super hero costume and hint at a girl power message:
– The song is really encouraging. Not just to women but to everyone to not be influenced by bad comments or bad relationships. There is, in fact, a certain connection with those graphic lines and Jedi's movements and colours. I think the story of the staging and of the song are properly connected.
If you're wondering what Jedi is, like I was, know it's related with Star Wars and the laser swords they own which is a fair comparison taking in consideration part of the effects used for Albina's performance.
We have touched the "girl power" subject and I want to know if Albina feels more pressure in Eurovision for being simply a woman:
– Maybe this year. I am in the second half of Semi-final 1 and I am joined by Israel, Cyprus, Azerbaijan and Malta... We all have four dancers and our songs are similar in genre so that adds some pressure but the songs are catchy and I think it's good to have healthy competition. Not to mention we all offer something different.
It's better when people notice a good staging and react well to it.Albina
One day after her first run of rehearsals, the bookmakers still believe Croatia will be one of the qualifiers from the first semi-final. How does she cope with the hype?
– You know, I think it was a good thing not to tease too much about the staging before arriving to Rotterdam. It's better when people notice a good staging and react well to it. I am really thankful and that means a lot to me because it boosts me even more to work hard.
I ask her if any changes will happen from the first rehearsal to the second rehearsal:
– We certainly have to do some more camera work but I believe everyone else will as well. After all, it's our first time there and we have to concentrate where the cameras are and all that. From the first rehearsal, our main concern is to make the catwalk more stable, it was moving a bit...
Besides the costume change from Dora, there's new elements onstage such as a catwalk where Albina remains for the majority of the performance:
– It is not very large and I am in high heels but it went fine all of the times we rehearsed so it shouldn't be a major problem.
A secret to keep
Since this is her main concern, what's the part she's most confident in?
– The Croatian part because it's when me and the boys get together and it's also the climax of the song.
I get ready to finish the interview but she quickly adds:
– But there's also another part that I won't tell... Well, but maybe you've seen it.
I confirm that I have:
– I want to keep it as a surprise because it's a very interesting part when I am alone onstage.
I know what she's talking about, and probably some of you too, but she asked for secrecy and I am keeping it.
Albina will take the stage to perform "Tick-Tock" in Semi-Final 1 on 18 May 2021.