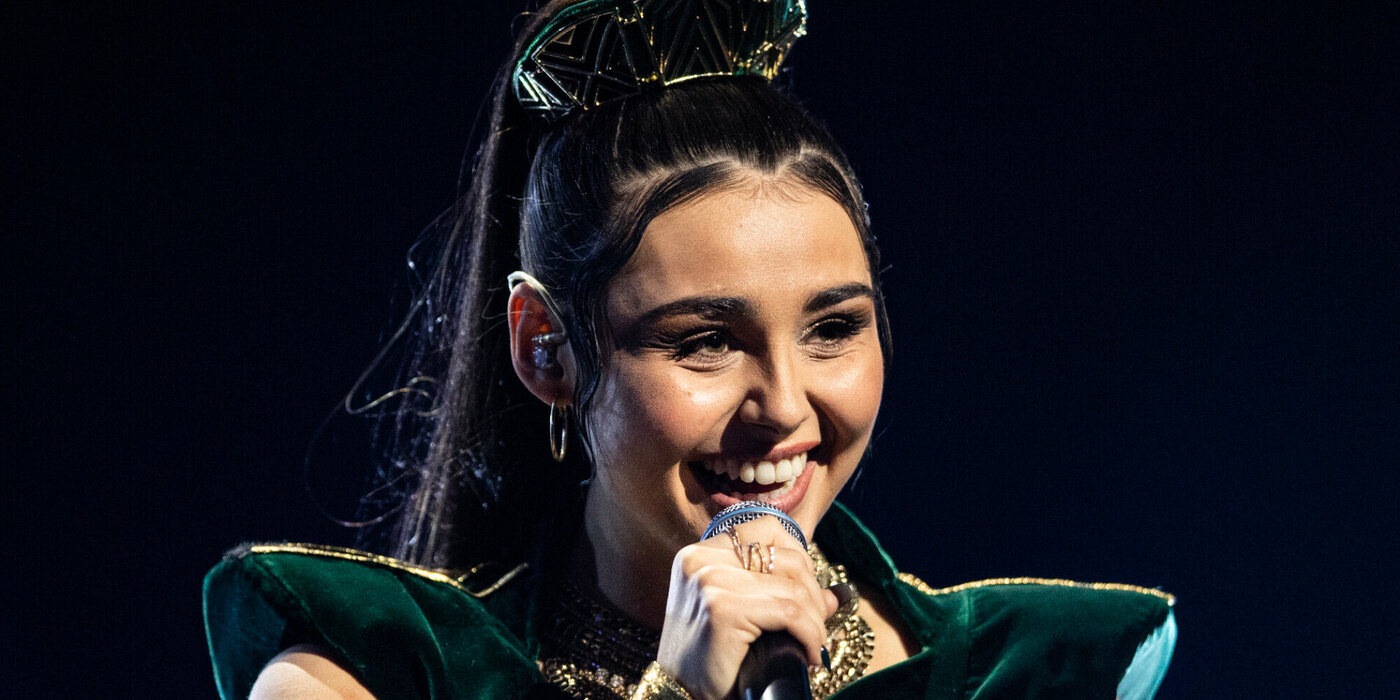 NORWAY
Alessandra from Norway: "We want to add some spice"
INTERVIEW Alessandra will represent Norway at Eurovision 2023 with her powerful song "Queen of Kings." In an interview ahead of her music video shoot, Alessandra tells us about the unexpected MGP ride, her words of comfort to Ulrikke, and her thoughts on her Eurovision song
Alessandra Mele won the Norwegian Melodi Grand Prix 2023 back in February with the song "Queen of Kings." The victory almost gave her royalty status, and her winning song went viral on TikTok and was played all over the world.
She's not just any Queen. She's extremely elegant, but not like a Queen in a giant gown in her castle with severe elegance. She's more of a people's person, and extremely relatable.
Shortly before the final of MGP, she wasn't feeling perfectly well. She didn't hold back sharing the truth on social media. But now, she's stronger than ever:
– Yes, yes! My stomach is way better and also my voice, I was sick before the final!
From The Voice to MGP
It's been a long musical journey for Alessandra even before her appearance on TV:
– My passion for music has always been here. It feels like an energy that keeps on changing all the time. I think I've always felt music in a different way.
Alessandra is a 20-year-old singer-songwriter born in Italy. It was just last year when Alessandra got her first taste of fame after participating in the seventh season of The Voice Norway.
She made it through the live shows, but ended up getting eliminated in the first show. However, being part of The Voice actually prepared her for MGP and now Eurovision:
– I think it prepared me a lot as it was the first time I worked on TV. It trained me on interviews and on how to contact with the audience. It helped me a lot as a musician, artist and on building my TV persona.
On the show, Alessandra joined Espen Lind's team. For those who aren't familiar with Lind's work, he's the singer behind the massive hit "When Susannah Cries" from 1997. Currently he's working as a music producer and has worked with megastars such as Taylor Swift, Selena Gomez and Beyoncé.
How was it working with Espen Lind?
– He helped me a lot. If it wasn't for him, I probably wouldn't even be attending the school that I am at right now where we make music everyday.
Alessandra is currently a student at the Lillehammer Institute of Music Production and Industries (LIMPI).
– I always remember what he used to say to me: "You don't have to use a loud voice every time you sing, you can also sing quieter" and that was so interesting because a lot of times, in order to show yourself, you do so much and you don't have to.
Not winning The Voice wasn't the end of the road for Alessandra. A year later she was announced as one of the competitors in Norway's Melodi Grand Prix.
– I thought it was a great way of getting better at what I love and to get experience. Why should I say no to something like that? It obviously took a lot of my time because balancing my life with studying, MGP and now Eurovision is hard but it's what I love to do and it's what I want to continue to do.
Did you expect to win?
– No. I don't think anyone ever expects to win because you never know what will happen. I knew that my song was doing great on the charts and on Spotify, and it was very satisfying, but you never know.
The Queen deserves it.Ulrikke Brandstorp
This year's MGP featured a former MGP winner, Ulrikke Brandstorp, who never got the chance to go to Eurovision due to the COVID-19 pandemic. Was winning bittersweet at any point?
– I didn't feel bad for winning, I was so happy, but of course I hugged her and told her not to stop.
Ulrikke hinted to Alessandra that she wants to come back for Melodi Grand Prix 2024, but quickly clarified that things change all the time:
– She was very sweet and assured me that I deserved it, something like "the Queen deserves it!" It was very sweet and I really hope she'll compete next year, I will fully support her.
The performance of "Queen of Kings" at MGP 2023 was choreographed in a way that fits the message of the song:
– It starts in a way where you don't see my face, the camera is far but comes nearer in order to show the powerful face of the Queen that is not perfect. The choreography was also created in that sense...not to look perfect. That's also what my song is about.
Queen of Kings
Alessandra co-wrote "Queen of Kings," and she identifies with the message behind it.
– I think the song represents me as an artist but also as a person. I am not perfect and I have been through a lot but I am also proud of the bad things that happened to me because it helped shape who I am.
– When I think of the song, I picture how it can translate to the audience. In this case, she can be the Queen but she's been through rough times in life. For me personally, it was probably not being accepted as queer. For the audience, it could be difficult relationships with parents or some other episode in life.
– I hope people can see themselves through this song...if you feel like a Queen, you should call yourself a Queen.
"Queen of Kings" went viral on TikTok and was played all over the world:

– I never expected that to happen!
– It's my first single and I don't think it has ever happened that a MGP song has done so well but honestly when it happened I simply didn't understand it. I was so happy and joyful but also confused...
– On one day I had no songs of my own and on the next day this happens to the very first one. I am very thankful and looking forward releasing more music.
So far, "Queen of Kings" has been streamed over 24 million times on Spotify alone.
Believe in yourself
Alessandra and her team have started the preparations for the Eurovision Song Contest 2023, and she reveals that we shouldn't expect drastic changes compared to her MGP performance.
– We have already started brainstorming on what we will change and what we won't change. It's very important to consider that because it has done so well that we don't feel like changing too much. People loved the performance and the outfit, so we want to add some spice but not too much.
If you feel like a Queen, you should call yourself a Queen.Alessandra about "Queen of Kings"
At MGP, Alessandra was joined by four dancers. While the same number of people on stage will most likely be kept, the ensemble may not be the same:
– We're still unsure because we're looking for dancers who can also sing in order to make the performance more impactful. We need to understand if the current ones can do so before proceeding.
At Eurovision, she'll be judged by the millions of viewers watching, and also professional juries if she makes it to the Grand Final. But that doesn't overwhelm Alessandra:
– I am honestly not worried. Instead, I am excited to see the outcome. You never know and I still believe in the song's potential and I believe it should be seen with potential too because we've seen it acting that way. I believe in it.
Norway is currently among the five favorites to win Eurovision 2023, something that does not seem to bother Alessandra:
– I don't really feel much pressure from it. At the end of the day, I am Alessandra, I can do what I can do and if people love it, then great. I just want to do better and I feel like if I add pressure to it, I will do worse.
For her trip to Liverpool, Alessandra will be joined by her family and her boyfriend:
– They are all very supportive. You should surround yourself with your people because it's a really big stage.
How do you see your chances of winning Eurovision 2023?
– I am not sure I have heard everything so far but I will just do me. People until now seem to have liked it and I believe that if you're just yourself, your chances are always high. You should always believe in yourself.
Alessandra will perform "Queen of Kings" at the first Semi-final on 9 May.