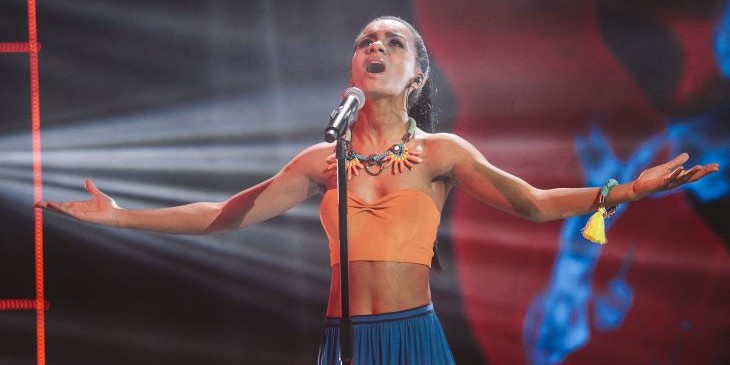 LATVIA
Aminata from Latvia: "Love injected"
See how Aminata's musical journey began and shows she's been competing in.
Aminata Savadogo - Aminata is 22 years old Latvian singer and songwriter. Young woman has got a mother of Latvian and Russian descent and father from Burkina Faso, but she considers herself as a Latvian since she was born in Latvia and her mother is half Latvian.
Aminata started singing when she was 13 years old, but she never knew that she could actually learn how to sing, because she was too busy thinking how to be a famous singer and not about the journey to get there. She also has competed in lots of different competitions in Baltic countries for children and teenagers. At the age of 15 Aminata took the part of a Latvian television show Krodziņā pie Paula. At the age of 17 she competed in another show called Muzikālā banka with Jay Stevers, who she sang a back vocal for and competed for Eurovision. She even took part in Koru Kari 3, the Latvian version of Clash of the choirs as the choir Golden. In 2013 she won the show Jaunā talantu fabrika as a soloist and was ready to start her career. The following year, she competed against other strong singers to get to the Eurovision Song Contest with her song "I can breathe", but she finished fifth. Now in 2015, she decided to give it another try and she succeeded, she won! She won with the song "Love Injected", she has got a very powerful and strong voice and like her fellow competitors she hopes to give her best in Eurovision since millions and millions of people are watching.

Your love revives my soul
And I know you choose it all over all
Your eyes are the mirror
Look under the cover
Love is above all
I'm safe into your hands
Let's move away, the urges expand

Complete lyrics for "Love injected"
Follow Aminata:
Facebook - www.facebook.com/savadogoaminata
Twitter - @aminatasavadogo
Youtube - youtube.com/channel/UCwm330TptF-tEf29j...
SoundCloud - soundcloud.com/aminata-savadogo
Since the year 2000, Latvia has being part of the Eurovision Song Contest for 15 years in a row. Latvia has won the Eurovision once in 2002 which was also their best result in Eurovision until now...no one knows what will happen this year. Surprisingly Latvia finished last 3 times, twice in a row 2009 and 2010 and three years later in 2013. Since 2004 they have qualified for final 4 times out of 11, but has never ended with 0 points.