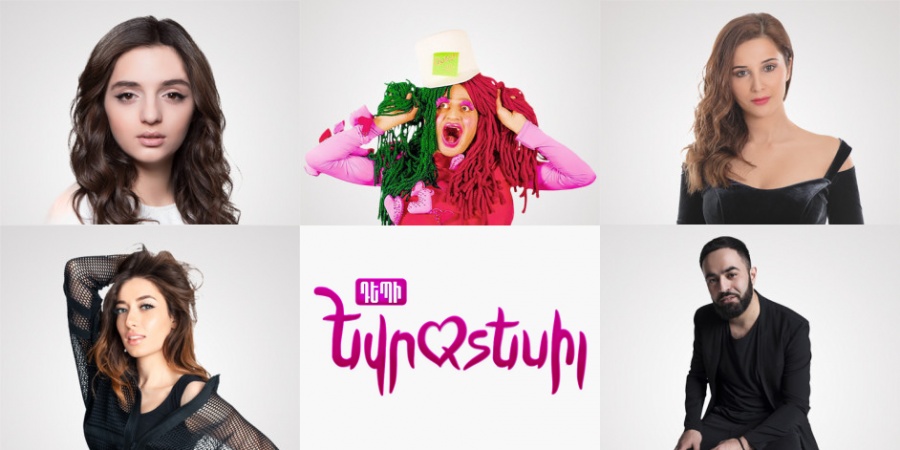 ARMENIA
Armenia: Last five finalists selected for Depi Evratesil​ 2018
The Armenian selection for Eurovision Song Contest, Depi Evratesil​ 2018, had it's second semi-final tonight. 10 more songs and 5 more qualifiers
The Armenian broadcaster AMPTV held the second Semi-final of Depi Evratesil 2018. 10 songs competed. Half of the songs proceed to the final.
The artists were chosen by more than 100 applications, and the 20 lucky ones were announced back in December 2017 and the songs released in January 2018.
The winner of Depi Evratesil will represent Armenia at Eurovision Song Contest 2018 in Lisbon.
Depi Evratesil – Semi-final 2
Kamil Show – "Puerto Rico"
Amaliya Margaryan – "Waiting for the Sun"
Sevak Khanagyan – "Qami"
Mariam Petrosyan – "Fade"
Asmik Shiroyan – "You and I"
Maria's Secret – "Escape"
Arman Mesropyan – "What You Hide"
Suren Poghosyan – "The Voice"
AlternatiV – "Stare at Me"
TyoM – "Follow the Ocean"
Depi Evratesil
This year, the Armenian broadcaster ARMTV has chosen to select its representative for Eurovision through the show "Depi Evratesil" (To Eurovision). The format selects both the artist and song for Eurovision.
Depi Evratesil 2018 consist of three rounds: Pre-selections, a semi-final and a final. The contestants will perform original songs, and the winner will be decided by an international jury along with public televoting (50/50). Hosts of all shows is Gohar Gasparyan.
19 February 2018: semi-final 1
22 February 2018: semi-final 2
25 February 2018: Final
10 artists compete in each of the two semi-finals, where the best five from each will qualify to the Final, held on 25 February 2018.
Armenia has been in Eurovision since 2006, participating 11 times (all the years except 2012), with very good results: 7 out of the 11 times Armenia finished in top-10!
Best results are two fourth positions (2008 and 2014). They have qualified for the Semi-final every year except 2011.